It is one of the many forgotten, ugly examples of the Bush administration's attraction to the rogue and the lawless. In early 2007, Charles Stimson, an attorney who was then the Pentagon official in charge of prisoners at Guantanamo Bay, called for a boycott of every attorney's firm representing prisoners there. He even read a list of law firms to target on the radio. It wasn't enough that the prisoners were already in a legal black hole where they could barely see an attorney, and to this day can't know their accuser or the evidence against them. Stimson wanted them to lose their most fundamental right. He should have been fired on the spot. Bush, saying nothing, lowered the bar of the permissible in American justice, as he did ceaselessly did for eight years.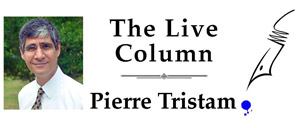 The American Bar Association condemned Stimson's remarks, as did deans from 130 law schools. Stimson offered a weak apology. A month later he resigned, eventually joining reactionaries' favorite conjugal collusion: Fox News and the Heritage Foundation.
The story is suddenly relevant locally because of discussion surrounding the local county judge race. Seven candidates are in the running, including Melissa Moore Stens. I don't want what I'm about to say to be interpreted in any way like advocacy for her. The candidates in this race are making it difficult to pick one because they are, on the whole, very good candidates, with relatively little risk that we'll end up with a clunker on the bench. But something must be said, without reserve, about Moore-Stens' right to defend whom she chooses. It's not about a political race. It's about our values.
She's part of the Daytona firm of Williams and Moore, which agreed to defend Paul Miller. Miller is the 65-year-old Flagler Beach man accused of shooting his neighbor Dana Mulhall last March in a ridiculous confrontation over barking dogs. Four of the five bullets were fired into Mulhall's back as he was crawling away. Miller is facing a second degree murder charge. In my book Miller is a perfect example of gun-wielding perversion in the equally perverted name of self-defense. And another man is dead for it. But I'm not on the jury, and it doesn't make Miller less deserving of the best defense he can find.
Instead, there's been attempts to link Moore-Stens's defense of Miller and her character, especially because of her suggestion that she might use a Stand Your Ground defense at trial. The attempts forced her husband to defend her publicly.
Any linkage between a lawyer's character and a lawyer's client is absurd. It's an offense against the Sixth Amendment's guarantee to a fair trial. That Moore-Stens and her partner are defending Paul Miller is no different than, say, William Kunstler choosing to defend the Chicago Seven, or even to defend Omar Abdel-Rahman (convicted of orchestrating the first World Trade Center bombing): Kunstler was no less of an admirable lawyer for choosing such clients.
Stephen Jones is no less of an admirable attorney for having defended Timothy McVeigh (whose execution was itself a federally sponsored murder, let's not forget, as state-sponsored capital punishment always is), or Bobby Wayne Collins before that. (Collins was Oklahoma's previous title holder for mass murder before McVeigh). The men Kunstler and Jones defended, like the many murderers Clarence Darrow defended, were heinous, despicable and the rest of it. Kunstler, Jones and Darrow were not: they are rightly regarded as part of the nobility of their profession, which must at times muck itself up with the worst of humanity because nobody else would do it.
Lawyers—like politicians, like journalists, like insurance salesmen—have their issues. But the day we start judging lawyers by their clients will be the day when the law may as well be enslaved to the mob, or its more polite version known as public opinion. It's the day when the law will mean nothing. Public opinion has its place. Even the mob does (where would Rupert Murdoch's fortune be without it?). But not in a courtroom, and not when it comes to the defense of an individual, no matter what the charges may be.
We're not much of a nation politically these days, and Paul Miller reminds us of the gun-toting barbarism in our midst. No argument there. But the Second Amendment is being abused enough. Let's not start abusing the Sixth.

Pierre Tristam is FlaglerLive's editor. Reach him by email here.