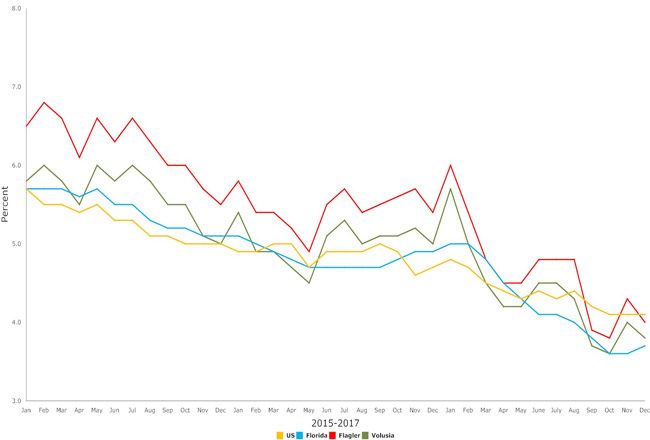 The national, state and local economies are in a steady, solid groove, adding jobs–not at a torrid pace, but at a pace good enough to absorb all new entrants into the labor force and then some.
Flagler County's unemployment rate in December fell to 4 percent, down from a revised 4.3 percent, and was down a healthy 1.4 points for the year: it had ended 2016 at 5.4 percent. The labor force has since added just under 1,000 workers, for a total of 45,751. Employment in Flagler grew by 1,500. That means 1,500 more people who live in the county hold jobs, compared to a year ago, but job-holders may be working either in Flagler or anywhere in the surrounding counties. And the numbers do not reflect only full-time work: anyone registering a single hour of work in the previous period covered by the unemployment report is considered employed for the month.
Month over month, the labor force grew by about 120 people, and the number of job holders grew by 119. There were 1,830 unemployed persons in Flagler–or at least unemployed persons who are following the process of registering for unemployment and seeking out work. The number does not reflect the people who have dropped out of the labor force but are still able-bodied, working age adults.
The Deltona-Daytona Beach-Ormond Beach metropolitan statistical area, where a large part of Flagler's workforce is employed, saw its combined unemployment rate fall to 3.8 percent, from 4 percent, in December, with total employment at 284,295, an increase of 9,500 jobs over the year. In short, Flagler itself and all its surrounding regions where Flagler and Palm Coast residents seek work are healthy, working regions.
Seasonally adjusted unemployment figures for Florida showed unemployment increasing from 3.6 percent to 3.7 percent. But that increase was driven largely by a substantial increase of 64,000 in the state's labor force, an indication that Florida is once again attracting new, working age migrants. Excluding the agricultural sector, the state added 27,400 jobs in December, but overall, seasonally adjusted employment declined by 1,000, to 9.753 million.
When the federal government's more accurate alternative measure of unemployment is taken into account–a measure that accounts for under-employment, including part-time workers who cannot find full time work and discouraged workers who have dropped out of the labor pool–Florida's unemployment and under-employment rate rises sharply to 9.5 percent, above the national average of 8.9 percent.
"I am proud to announce that Florida businesses concluded 2017 by creating nearly 30,000 new jobs for families across the state in December," Gov. Rick Scott said in a statement released this morning. As is usual for the governor, his figures were somewhat deceptive, as they reflected only private-sector employment, thus neglecting to mention that if the loss of 7,400 public-sector jobs was included in the overall figure (let alone agricultural employment), the 30,000 figure would not hold up. Scott has customarily ignored public-sector jobs even though those jobs sustain families, and the state economy, at least as much as do private-sector jobs, and in many cases more so, since public sector jobs in Florida tend to average a higher rate of pay than the service-economy jobs that dominate Florida's work landscape.
State government shed 6,300 jobs in December, local governments shed an additional 3,300. The losses were slightly offset by a gain of 2,200 federal jobs.
Hendry County remains the most stressed by unemployment, at 6.5 percent, though that's a far cry from double-digit unemployment of a few years ago. Flagler County used to hold that position for a few years, but now stands 18 spots from that cellar.
The full unemployment report for December is below.

Florida's December Unemployment Report.