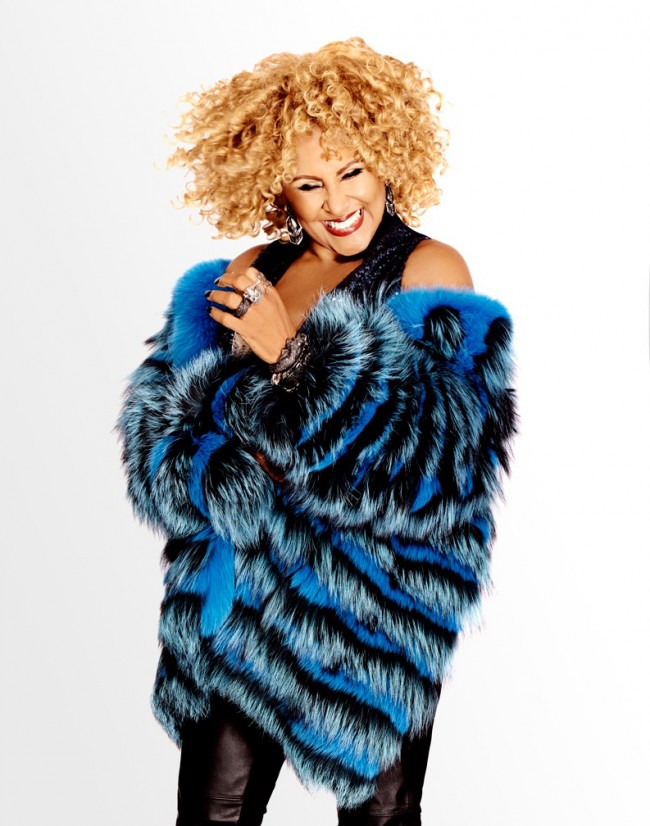 Even as the White House ponders a petition to deport Justin Bieber for reckless, narcissistic behavior, it's refreshing to remember that the over-the-top mindset of celebrities born yesterday doesn't set the standard for recording artists worth the label.
At the Flagler Auditorium
---
The Ten Tenors on Broadway at the Flagler Auditorium for two back-to-back performances, Saturday April 5, at 3 and 7:30 p.m. Tickets are $42 for adults and $32 for students. For more information, visit the auditorium's website or call 386/437.7547.
Click On:
---
Take Darlene Young. She began her career when Dwight Eisenhower was president and spent years helping shine the light on others, as part of what she says was the first black backup group, "The Blossoms." She sang for many of the greats, among them Sam Cooke, Dionne Warwick and Tom Jones, which helped her stay humble. The fact that producer Phil Spector, now serving time for murder, did not credit her and her group for all the work they did for him didn't speed her rise to stardom, either. (Ironically, it was Spector who gave her the catchy stage name Darlene Love. She was born Darlene Wright.)
But her breakthrough was a matter of time, and for decades since she's had the stage all to herself. And now the 72-year-old jazz, pop, rock star and sometimes actress will take over the Flagler Auditorium stage for one night only on Saturday (Feb. 15).
Love performs two different shows during the year. She has her "very exciting show," as she calls it, or just "the Darlene Love show," which is the one that's coming to Flagler. She performs all her signature hits, with some Gospel, the genre that got her started (she used to sing in church). The other is a Christmas show with its own pizazz. Every year on the Late Show with David Letterman, to ring out the old year, Love sings "Christmas (Baby Please Come Home)" from this show. She also sang a spoof of the same hit for a 1990s Saturday Night Live skit called "Christmastime for the Jews" (written by Eric Drysdale & Julie Klausner). The skit, now itself a tradition on SNL Christmas specials, describes how liberating it is for Jewish people not to have to deal with all the holiday folderol.
One of the many mega-stars Love quietly worked with was Elvis Presley.
Sex icon that he was, Elvis also was a lover of gospel music, which gave him his own start, and without which he likely would have been little more than a gel-haired Bieber of the 50s. "When he was coming up in the south," Love says, "he loved black gospel so much—the churches were all segregated back then, well, of course, to a degree they're still segregated even on Sunday morning. In the south, the churches, especially the black churches—we didn't have air conditioners, well a lot of churches didn't in the 50s—and he'd go by black churches late at night when they were having their evening Sunday services and go up to their windows and listen to their music." Love says Elvis appreciated that she understood this private side of him. They'd even play gospel together during their breaks from the songs they were recording.
---
Sharing intimate gospel moments with Elvis Presley before striking it big on her own.
---
To get singing work when it seemed she'd ceilinged out, Love was forced to become a cruise ship performer. "I said, 'Well, if they have entertainers on a cruise ship, that's where I'm going," she says. "People would come up to me and say, 'What are you doing working on a cruise ship?' I said, well so I can work." She was already 40 years old. But she had a family and obligations.
It's possible, she acknowledges, that if she'd done some things differently, she could have made it big sooner. "I was just one of those persons who didn't want to ask their friends for help," Love says. One of those people was Lou Adler, the famous American record producer, who Love had helped at the beginning of his career. At the beginning of their collaborations, "We did all of his records for him. And he didn't have a whole lot of money to pay backup singers. We worked for him for what he could pay us," she says, referring to The Blossoms. It was Adler in turn who put her in a position to land a role in the 2013 documentary, "Twenty Feet From Stardom," which premiered at the Sundance Film Festival and was nominated for an Academy Award. "It was a miracle because I helped him, he helped me, and then he helped me again," Love says.
When she first heard about the movie she was hesitant because, "as entertainers over the years, you always get people asking things and it's usually for free," she says, and you end up working harder than you would if you were getting paid. "When I saw the movie I was actually amazed that they did such a great job. When they do documentaries, you know, they never seem like they tell the whole story. In this one, they told a pretty good one about backup singers, the truth, what we really do go through. We're not just standing behind the singer."
The hardest part about it, she says, "just like any other job" with a boss, is pleasing the artist you're behind. If you can do that, you might have a future in the business. Her philosophy is another reflection of her still-radiant sense of proportion about show business. "Not letting them think you know it all, you're there to help them," she adds. "Making yourself available for singing parts maybe you don't want to sing, but this is what they want and you learn it and you do it."
Love also played a major role in the "Lethal Weapon" series with Mel Gibson and Danny Glover. She played Danny Glover's wife. "They'd been doing auditions, trying to find the right family for the black cop," she says. "They wanted the black cop to have the family, not the white cop. And they didn't want the normal everyday black actor who was in Hollywood, so they thought I could play the role."
As a singer, unlike many other stars of her generation, Love is still able to get up for performing because she chooses songs that are still meaningful to her. "When you sing those kinds of songs, you have to believe it first of all, and then if you're believing it, and you give it to your audience, they end up also believing it," she says. "It's on them to believe it and they usually get it." One song she is particularly in love with is "Marvelous," a gospel hit that really is all about gratitude. On the other end of the spectrum—which Auditorium ticket buyers can also look forward to—is the rock song, "River Deep Mountain High."
"There was a time," Love says, "when I did consider giving up and it gets hard—people see the end product when they see you on stage—but you know, getting to that point, it's tiring. You know, things you go through with people you're working for—or people working for you feel they're not doing their job—they're letting you know and as entertainers we can't do it ourselves."

Darlene Love at the Flagler Auditorium for one night only, Saturday, February 15, at 7:30 p.m. Tickets are $39 for adults and $28 for youths. For more ticket information go to the auditorium's website.