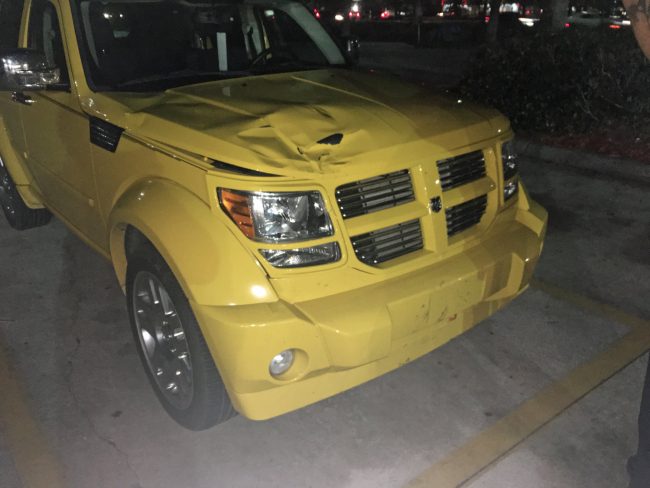 Tuesday, 8:41 a.m.
Richard A. Lee, a 59-year-old Palm Coast resident who was cycling Sunday evening, was struck by a car at the intersection of Palm Coast Parkway and Boulder Rock Drive just before 7 p.m. Lee, a resident of the B-Section, later died en route to a hospital.
Lee had started to cross the parkway from the northwest corner of the intersection. "Apparently the man was crossing where the crosswalk is to go toward Walmart, and got hit," a Florida Highway Patrol investigator said.
Nicholas Malkowski, 17, of Palm Coast, was at the wheel of a Dodge Nitro, driving west on Palm Coast Parkway. He had a green light, according to a witness who spoke with authorities. Lee violated his right of way, the investigator said. Malkowski, a student at Flagler Palm Coast High School, was going home on his way back from work at a restaurant in Flagler Beach.
Based on a preliminary investigation, Lee was not wearing a helmet. A responding rescue unit performed CPR at the scene.
Flagler County's FireFlight, the county's emergency helicopter, was not in service. (It's usually in service every day between 8 a.m. and 8 p.m., but Sunday night the pilot on duty had to attend to personal business, Flagler County's fire chief, Don Petito, said. "That happens occasionally," he said, noting that the county has only two pilots.) St. Johns County's Trauma One was called in, but it, too, was out of service. At that point Volusia County's Air One was called in, then cancelled when Lee went into cardiac arrest.
Lee was stabilized and taken to Florida Hospital Flagler, where a doctor ordered the patient taken to the trauma unit at Halifax hospital in Daytona Beach, Petito said. "En route to Halifax, the patient coded again so they diverted to the closest facility, which was Ormond." Code blue is when a patient goes into full cardiac arrest. The patient was then pronounced dead at Ormond Memorial hospital.
The scene of the crash itself was very quickly cleared, however: the crash took place a few minutes before 7 p.m. By 7:45 p.m., all responding units had left. The Flagler County Sheriff's Office, the Florida Highway Patrol, Flagler County Fire Rescue and the Palm Coast Fire Department had responded, as had the Palm Coast Fire Police. But it was only after the victim had died that FHP sent a homicide investigator to the scene, by which time the bicycle had been removed by a wrecker, and the driver of the car had been allowed to return home.
Crash scenes involving critical or fatal injuries are usually roped off and meticulously analyzed for several hours by crash-scene investigators. The Florida Highway Patrol, however, which handles such investigations, has been significantly short-handed, so traffic homicide investigators are called in only after a fatality has been confirmed. In the past, a traffic homicide investigator would be dispatched even in critical cases, right away, in case the patient were to die subsequently, thus ensuring a thorough investigation either way. In this case, the confirmation of the patient's death came in just as the scene was being cleared.
The initial report of the crash from Flagler County's 911 center was recorded at 6:51 p.m., according to dispatch records. (Malkowski himself called 911 and said he'd not seen the cyclist and had struck him by accident.) CPR was in progress at 6:56 p.m. When paramedics arrived on scene, they reported that the victim was not breathing. Trauma One was reported out of service at 6:58. Air One launched from Volusia at 7:04 p.m. and cancelled at 7:12, when the order was to transport the patient by ground to Florida Hospital Flagler. At 7:32 p.m., dispatch notes indicate the patient was sent to Halifax hospital. The crash scene was declared ended at 7:46 p.m. At 7:48 p.m., the hospital destination was changed to Memorial Hospital in Ormond Beach. That was when the patient had gone into cardiac arrest.
"Death notification" was made from the dispatch center to FHP at 9:03 p.m.
The victim's next of kin is out of state, and had not yet been contacted by Monday morning.
The fatality is the second in four days on Palm Coast roads: a 16-year-old high school student was killed and a 21-year-old friend injured as the pair, walking along Lakeview Boulevard the evening of March 2, was struck by a car.