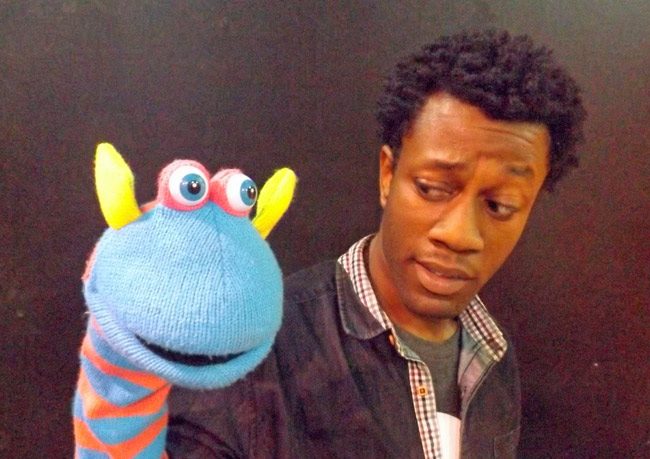 The cast and crew of "Hand to God," the dark comedy that opens tonight at City Repertory Theatre in Palm Coast, gleefully note it is not the troupe's first play to feature puppet sex. That honor went to City Rep's 2014 production of "Avenue Q."
But first-time director Beau Wade and his cast impishly note that "Hand to God" is the first City Rep production to depict sex by an id-addled, foul-mouthed puppet perhaps possessed by Satan.
Meet Tyrone, the puppet star of the dark comedy by Robert Askins that debuted Off-Broadway in 2011 and landed on Broadway in 2015, where it garnered five Tony Award nominations.
"Hand to God" tells the story of Jason, a shy teen whose father has recently died, and his mother, Margery, who runs the puppet ministry at a fundamentalist Christian church in a small Texas town. Jason, who has a crush on puppet club member Jessica, joins the ministry and discovers a talent for bringing the puppet Tyrone to life.
Soon, however, Tyrone assumes a life of his own, and a giddily fiendish one at that. Having taken up almost permanent residence on Jason's hand, Tyrone lewdly tells Jessica that Jason thinks she's hot. Tyrone tells Jason his father resented him. Tyrone bites off the ear of Timothy, a belligerent, troublemaking member of the puppet club.
As Tyrone's outrageous shenanigans grow to frightening proportions, those in Jason's orbit contemplate summoning an exorcist. But Tyrone's reign of terror only escalates, including a scene in which he and Jolene, Jessica's hand puppet, engage in highly vocal sex.
"This play allows you to explore relationships that we wouldn't be able to watch on stage if it wasn't the absurdity of a puppet saying these things," says Wade, a veteran City Rep actor who also portrays Pastor Greg in "Hand to God." "It's hilarious and a lot deeper than what most people would see it for at face value."
Brent Jordan, who portrays Jason – and therefore Tyrone, too – says the first time the cast read the play together, "we were just laughing at the words and stuff like that. It wasn't until we rehearsed more and more that we were all like, 'OK, they have some heavy-set stuff in here – it's not just some slapstick-type stuff.' There are a lot of psychological undertones and if you're really paying attention, you will understand there's more to this. It's like an iceberg."
Leigh Ann Singleton, who portrays Margery, says she was first introduced to the play "when someone texted me and said, 'Would you be interested in playing a role that's raunchy and sexy and fun?' "
City Repertory Theatre will stage "Scapino!" at 7:30 p.m. Friday and Saturday March 17-18 and March 24-25, and at 3 p.m. Sunday March 19 and 26. Performances will be in CRT's black box theater at City Marketplace, 160 Cypress Point Parkway, Suite B207, Palm Coast. Tickets are $20 adults and $15 students, available online at crtpalmcoast.com or by calling 386-585-9415. Tickets also will be available at the venue just before curtain time.
Click On:
---
She laughs at the memory.
"All three words caught my eye," Singleton says. "I read it and for me its digging into psychological aspects is really exciting. There are family dynamics. There are religious dynamics. There are sexual frustrations. Like the Carl Jung quote, it's about the darkness that we each have within us and how it can come out in different ways throughout times in our lives when we're dealing with heavy things like grief or stress or anxiety or pain. And that is what's happening in this show for each of us."
Still, there are those who say satirizing a particular religion is not only not nice – it can devolve into mocking and maligning a faith.
Critic Charles Isherwood, in his April 7, 2015, review of the play in the New York Times, noted that one couple walked out of the performance he attended, although their motive – the lewd language?, the puppet sex?, the blasphemy of the devil's ease in overtaking a Christian ministry? – remained a mystery.
"I don't think the show makes fun of anybody's religion," says Bruce Popielarski, who portrays the randy Timothy. "That's just a scenario and where the play is set. It doesn't really say anything about religion."
"I don't think so either," says Agata Sokolska, who plays Jessica and, therefore, the puppet Jolene. "I'm a practicing Catholic, and I love doing things that have even a slight idea of religious commentary and things like that. I like this play because it's challenging for people who are religious, who sometimes might be ignorant and just say 'Because the Bible said so.' Even if you are religious or whatever, the show is challenging, and I think it will bring people closer to their religion."
"I think it does say things about religion," Wade says. "But I don't think it paints religion in as negative a light as one might expect when you describe a show as being 'It's about a puppet that gets possessed by the devil.' I think it looks much more favorably on religion and asks it to answer the questions that we would ask of any institution that tries to get us to hold ourselves to a higher standard."
The play asks any such an institution "to hold itself to that same high standard," Wade says.
City Rep co-founder John Sbordone, who abdicated his usual director's role to provide Wade his first shot at that opportunity, has been listening in on the interview and suddenly decides to speak up.
"I'm going to interject because the word that hasn't come up enough with all this psychological profiling is how @#*% funny this show is," he roars in a bear-sized voice. "This play is funny!"
Still, Singleton allows that "we expect" that people may walk out of the show.
"We have a show here that is very interesting and also hilarious enough that people will understand why the language is used, and why the themes and why it's going in this direction," Wade says. "Even if something in them is saying, 'Oh, I maybe shouldn't watch this,' they will just be enthralled and laughing too hard. I don't think anybody's going to walk out. I want to make them want to walk out and also make it impossible for them to do so."
— Rick de Yampert for FlaglerLive

"Hand to God," directed by John Sbordone, staged by City Repertory Theatre at 7:30 p.m. May 3-4 and 10-11, and 3 p.m. May 5 and 12. Performances are at CRT's venue in City Market Place, 160 Cypress Point Parkway, Suite B207, Palm Coast. Tickets are $20 adults, $15 students. For more information or tickets, call the CRT box office at 386-585-9415 or easily book tickets online here.