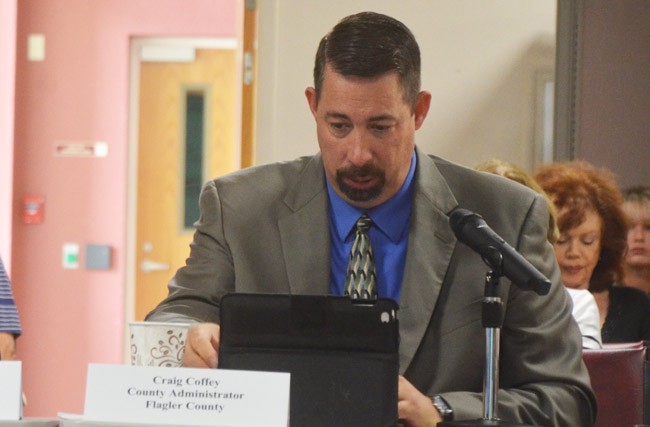 The last time the contracts for County Manager Craig Coffey and County Attorney Al Hadeed were up for renewal, back in 2012, they were placed on the "consent" portion of the agenda–that portion where numerous items are approved in one swoop, without discussion by county commissioners, unless one of them chooses to pull an item for debate.
This time, the two contracts are headed for another three-year renewal without even appearing on the commission's agenda. The administrator and the attorney are the only employees in county government that county commissioners hire, evaluate and fire. Evaluations are conducted in November. If none of the commissioners mention the contracts at tonight's meeting, they will automatically renew, as stated in a clause in each contract. The commission is required to inform Hadeed and Coffey by Oct. 23, in writing, if it were to choose not to renew or alter the terms of the contract. Since commissioners cannot act unilaterally or outside of a public meeting, the effective deadline for any changes to the contracts is tonight's meeting.
The commission hired both men in 2007, though it was an entirely different commission then but for one member: George Hanns. Jim O'Connell, Milissa Holland, Jim Darby and Bob Abbott were on the commission at the time and have since been replaced. Current commissioners have voiced little displeasure with either employee. In Coffey's last evaluation, he drew an average score of 4.7 out of 5, with two commissioners giving him straight 5's and a third close to that. (Hadded's was even more positive.)
Four of five commissioners interviewed today said they had no issue with the contract renewal, though Commissioner Charlie Ericksen said he found the sequence of a contract renewal preceding the evaluation of the employee problematic. (A fifth commissioner, George Hanns, did not return calls.)
"I haven't seen anybody suggest changes," Ericksen said. "I told Mr. Coffey I'd like to see more workshops like the city of Palm Coast does to talk about subjects before they come up, and get stuff off the consent agenda."
Update: Ericksen at the end of this evening's meeting brought up the contract issue and made a motion to delay its extension until the administrator's evaluations were completed in November. But each commissioner in turn then spoke in defense of Coffey and against delaying the renewal. One commissioner–Barbara Revels–suggested to Coffey that if there is dissent in the ranks, he should find ways to work it out. "My motion was not to bash the county administrator, because I too share some of the comments that some made right here on the board," Ericksen said. "I just wanted to make sure we're doing what we should. As far as that appraisal form and those questions, it's very hard to get any objective measurements out of those." Revels and Commissioner Frank Meeker agreed with the description of the evaluation form, but suggested that the form be a separate issue. The commission took no action on Ericksen's motion, which died.
Commissioner Nate McLaughlin then moved to renew the contract, which drew rebukes from members of the public over the fact that the contract was not added to the agenda. "I have never heard of contract renewal where it was not listed on the public agenda," one resident said. The motion passed unanimously.
Coffey was asked in a brief interview this afternoon why his contract was not appearing on the agenda at this evening's commission meeting: "I don't know why" it would, he said, "none of them have indicated their displeasure with trying to terminate me." He pointed to his consistently high evaluations over the years, and noted that in some governments, as with Jim Landon, the Palm Coast city manager, contract renewals never come up for discussion. In Landon's case, Coffey said, "he's manager for life until he resigns or they fire him. Actually a lot of them are that way." (Landon's contract states that it is in effect "until terminated," which means it never expires until then.)
Coffey said his contractual arrangement is no different than Hadeed's, and he was critical of reporting that in the past singled out his own contract's renewal while Hadeed's "just floats through." The last time the two contracts were on a commission agenda, in 2012, was to comply with a new state requirement that severance pay not exceed six months.
---
The contract renewals will be automatic unless a commissioner brings them out for discussion.
---
Coffey's tenure has been relatively stable since he was hired in 2007, with one exception, when in a surprise move at a meeting in 2010 Holland attempted to fire him. She only got two votes. Coffey hasn't come close to any such public displays of doubt about his work, though privately commissioners let him know when they're displeased–as they did during the debacle over the Princess Place Preserve being potentially handed over to an extreme sports company earlier this summer, for an event coordinated by the county's tourism office. Coffey swiftly scrapped the plan when the political fallout became untenable.
"I feel I give my input into Craig's evaluation not necessarily once a year but on a daily basis," Commissioner Barbara Revels said. Like Commissioners Frank Meeker and Nate McLaughlin, she said she has no intention of bringing up the contract matter this evening. (Ericksen was less clear after at first saying he, too, had no intention of doing so.) Revels acknowledged that Coffey at times may stumble, especially in the public eye. She cited the example of the recent issue over communication towers. The county wanted to locate three new towers in various locations, and got heavy criticism by residents along John Anderson Highway. That location was scrapped. But Coffey then went to work looking for an alternative, ensuring that it would appease residents and meet the needs of the county's emergency communications. (The county is looking at a location on Old Kings Road, not far from the Palm Coast utility plant near the Woodlands.) "He's been working very diligently on it," Revels said. "He does a lot of things behind the scenes that people don't hear about."
Meeker, who chairs the commission, said whether the contract appears on the agenda or not makes no difference. "We can fire him at any time, right? It may renew for three years but nothing says someone couldn't make the motion next month saying you know what, we've had it, he's gone," Meeker said. "I've been working with Craig for the last year pretty successfully, we had that minor blip with the city of Palm Coast, we went in and worked it out pretty successfully with a joint meeting, I've got no complaint." (Palm Coast and the county, and particularly Landon and Coffey, were at odds over water issues at the county airport. That matter appears resolved.)
All commissioners received at least one if not two anonymous emails last week from someone purporting to be a county employee, raising issues with Coffey's administrative style. "Speaking for myself and those that have no voice in this administration," the email from a "Flagler Resident," sent from a Yahoo account, states, "the morale of the staff is at an all time low as a result of years of mismanagement, micromanagement and mishandling of funds. Those are strong allegations and come without specific examples for fear of retribution. I am certain if you were allowed to poll the staff and they were given anonymity you would find an overwhelming vote of no confidence in both Craig Coffey and Sally Sherman." The email blames that management style for the loss of "many talented and dedicated employees," and calls it "an insult" that Coffey got a 5 percent raise last year, when county employees got 1 percent. The email asks commissioners either not to renew the administrator's contract or extend it for one year, enabling them to conduct their own investigation.
Commissioners were largely dismissive of the emails, saying they'd never been approached by disgruntled employees. Revels said she would take such allegations very seriously if she had conversations with employees, though she spoke cautiously about having such conversations. McLaughlin said simply: "I don't do anonymous." He added: "That could be anybody. I haven't been approached by any employees about any complaints about Mr. Coffey."
Meeker said in his experience all government executives are micromanagers and have to be, while Coffey cast some doubt on the authenticity of the email. "I have 350 employees, I deal with employee issues, some I make happy and some I'm sure not," he said.
FlaglerLive, however, corroborated the substance of the email with three high-level, managerial employees who spoke in much the same terms (while asking for anonymity to protect themselves). One of them said that while problematic, the managerial style "gets things done," which is what commissioners see.
Last year Sherman and Joe Mayer, the head of human resources, pitched a 10 percent raise for Coffey to the county commission, claiming the raise request was from county employees at large. That was not the case: no other county employee put his or her name to the proposal, other than Mayer and Sherman. The contract amendment would have also given Coffey an automatic 3 percent merit raise each year. A divided commission ended up giving Coffey a 4 percent raise (5 percent, when added to the 1 percent he'd already received, in line with what the rank and file had received), saying it would revisit the issue this year. That brought his salary to to $152,238 (just shy of Landon's base salary), not counting his car allowance and benefits.
The commission has not revisited the matter.