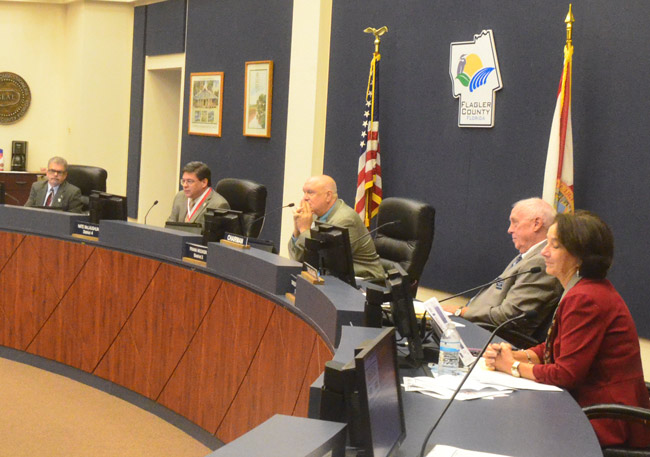 Something strange happened during the Flagler County Commission's discussion earlier this week of its legislative priorities for the year.
The discussion is usually routine. It focuses on the wish list the commission submits to lawmakers in Tallahassee every year before the Legislature's session, which begins in January. This year's list isn't much different from last year's. The priority is a $2.5 million request for the Malacompra drainage basin, to address chronic flooding in the Hammock. The county can't afford the project on its own. The Legislature appropriated $600,000 for it this year but Gov. Scott vetoed it. The second priority is $2 million for the Agriculture Museum, for capital improvements. The list goes on to list policy priorities—on public records, the cost of juvenile detention, disaster funding, and so on. (See the full list below.)
Minutes into the brief discussion, Commissioner Barbara Revels spoke up.
"On our major funding request I was looking for an item three to be Plantation Bay water," Revels said, referring to the $4 million the county is looking for to pay for improvements to the derelict Plantation Bay water and sewer plant the county now owns. The plant serves 1,600 customers, who are upset at the murky quality of their water. "Why we don't have that. Why are you shaking your head?"
County Administrator Craig Coffey looked displeased. "I'll get with you, talk with you about that," he told Revels. "There's some issue behind that, so I'd like to talk with you if I can."
"It's OK," Meeker says, as if placating Revels. He knew something she did not—which was part of the problem.
Revels dropped the matter. Meeker spoke of a different issue. Then it was Commissioner George Hanns's turn.
"You know every time we bring this legislative priorities up, it seems like we have more questions every time," Hanns said. "It should be said which way we're going, and as we always do, the number one should be the one that's most likely to be accepted and passed on. So with keeping with that, Ms. Revels asked a question about that and you said you'll get with her. Why don't we get with her right now? I mean, I want to hear the answer. It's not like, classified, is it?"
"It's a strategy," Meeker said.
After a brief moment of silence Coffey again spoke up: "We're taking a different approach with that item and I'll be happy to explain it to you guys one on one, but we've been asked not to put that one forth in a public forum the way we're doing now."
---
Some commissioners got the memo, others didn't.
---
"I see," Hanns said.
It was a startling statement from the administrator, who frequently speaks to commissioners one-on-one, outside of commission meetings—it's entirely legal and part of the process—but rarely if ever suggests in an open forum that he cannot talk about a certain issue when asked about it directly. It would be illegal if a government administrator was working on a matter of public concern and kept it from the public, let alone from commissioners. There are exceptions, as with discussions about economic prospects or negotiations with employee unions, but in both cases all elected officials are usually clued in.
Monday's discussion, or lack of it, was revealing that some commissioners—namely, Meeker and Nate McLaughlin—were aware of the issues surrounding the Plantation Bay utility, while others (Hanns, Revels and Charlie Ericksen) were not. That sort of selective information-sharing rankles commissioners who are excluded. It wasn't the first time that Hanns was making an issue of it. Ericksen has made an issue of it in the past.
"I chastised him afterward about it," Revels said of Coffey's handling of the issue in a brief interview. "I felt I was bad girl speaking out of turn, it was all handled pretty poorly." She added: "I think I caught him off guard, I really don't know. That's what I spoke to him about later. That was his take on it. It reminded me that's kind of what they were saying to us at the end of last session."
As it turned out, while Coffey was overly cryptic about the Plantation Bay questions, there was nothing sinister about it, as he later explained to commissioners and in an interview. "I made it a lot more cryptic than maybe I should have been," Coffey said.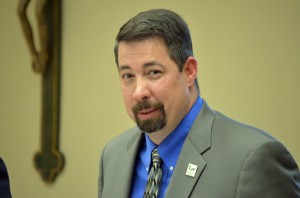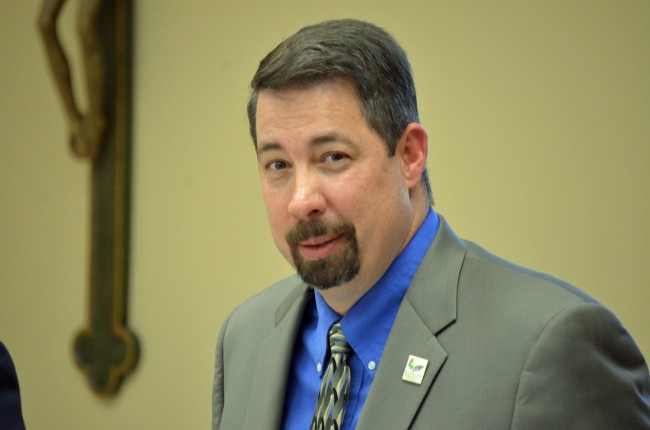 It came down to this: Sen. Travis Hutson and Rep. Paul Renner, who form Flagler's legislative delegation in Tallahassee, told Coffey that the county gets only a limited number of funding opportunities. It has two. It should not add extra ones. Rather, the county, to hope to secure some money for Plantation Bay, should go directly through the state Department of Environmental Protection and attempt to steer grant money from there to Flagler, even though ultimately the appropriation is through the legislature. "We're going to address it, we're just going to try to address it a diff way. It kind of came out a lot weirder than it needed to," Coffey acknowledged.
Coffey had spoken of that strategy with Meeker and McLaughlin, but not with the rest of the commissioners. Coffey says a $4 million loan for Plantation Bay improvements can easily be secured. But the county is trying to stay away from a loan as that would automatically mean yet another rate increase for Plantation Bay customers. "The goal of trying to get it through the Legislature and get grants is really about rates," he said.
Revels noted another reality Flagler must contend with. Aside from having several costly needs, it has a team of rookies for representatives, as both Hutson and Renner are about to begin their first full terms in their respective jobs. "Our legislative delegation doesn't have a lot of legs in Tallahassee yet, so I think we were trying to be very realistic and try not to put up a long list and go with a couple of items that we really need,"  Revels said.


<![if !IE]><![endif]>