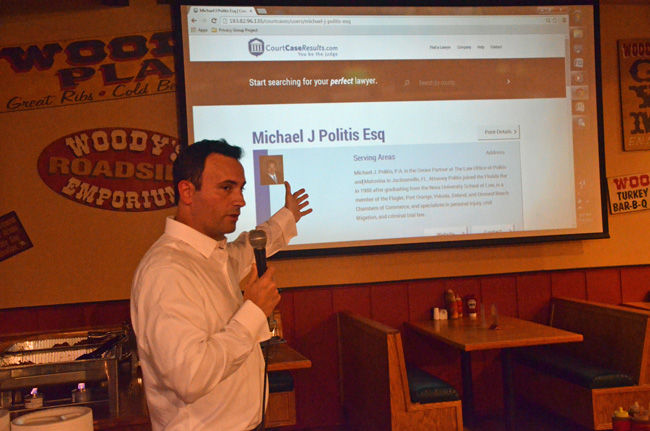 Finding a lawyer is easy. They're everywhere. Finding a good lawyer is trickier. Google locates them. It doesn't rate or rank them. There's always word of mouth. But that has its limitations. One client's experience in one case doesn't speak for a lawyer's record in 1,000 cases. You can shop around. But lawyers themselves may not necessarily be upfront about their success rate in any given field. You could always research them. But it can get so complicated that you may need a lawyer to do even that.
What if there was a place that did it all for you: listed the attorneys practicing in your county, classified them by case type—felony, misdemeanor, traffic, DUI–and ranked them by experience, by acquittal rates, by plea bargain rates, by conviction rate, and so on. All easily and freely accessible on the web.
Now there is. It's called CourtCaseResults.com. And two young entrepreneurs from Flagler County launched it Monday, in what they say is just the beginning: the database currently includes court cases in Flagler and Duval, and will soon grow to include every county in the state. And after that, possibly every county in the nation.
Remarkably, the entrepreneurs say, this type of accessible database ranking lawyers by experience and case type has not existed until CourtCaseResults.com. They have a patent pending for the idea, which over the past two years has grown into a lot more than an idea.
One of the entrepreneurs is none other than Trevor Tucker, the 38-year-old, Flagler County School Board member (Gov. Charlie Crist appointed him in 2009 and he was elected in 2010; he's running again this year) and owner with his father and brother of Sun Country Pest Control. The other is Darren McGuire, a Flagler native who now works in Orlando as a mechanical engineer with Siemens, but still maintains close local ties. Both went to Flagler Palm Coast High School together.
"It really came about from wanting to be part of this business trend you hear a lot of these days called big data," McGuire says, "where big companies use analytics about website users to understand how people use their products and how to make better products." McGuire had a thought: why not flip that concept around and enable the public to use big data, so consumers can make better choices and better decisions? He started thinking about what sort of data could be turned to that benefit. The notion of court cases and lawyers' quality occurred to him—quantifying it all, visualizing it, and turning it over to public access easily.
McGuire and Tucker were playing golf one day. McGuire had gone to the Orange County Courthouse to retrieve the data he thought he'd need for the experiment. Court personnel turned him down, which was odd: the data is a public record and must be made available upon request. Tucker told him he'd try the same thing in Flagler. So he did. Flagler happens to have Gail Wadsworth as its clerk of court. Wadsworth has been among the state's pioneers in technology and data access. It wasn't long before the data was made available to Tucker.
"That's where the burst of that idea came from, and we've been running with it ever since," McGuire says. Monday evening at Woody's Bar-B-Q in Palm Coast—restaurant owners Joe Rizzo and Matt Crews are close friends with Tucker, who makes Woody's his dining room away from home—the pair launched CourtCaseResults.com before a cadre of guests who included County Commissioner Nate McLaughlin, Tom Bexley—Wadsworth's right-hand man—a few lawyers and others. McGuire walked the guests though the site on a big screen and spoke of its possibilities, not just locally.
"We plan on scaling it to Florida first," Tucker said, "and if it works well here, taking it to other states. We hope in the next two years to have all the counties in Florida wrapped up."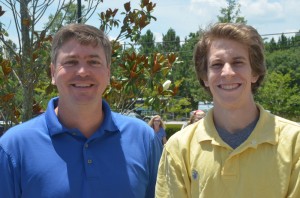 In two years of searching, the pair hasn't found anything like their idea on the web. "There are lots of places where you can go to get subjective recommendations on attorneys," McGuire says, "and if you want to get the actual court case records of course you can do that through the clerk's office. But it's not easily sortable and aggregated and quantifiable, like what we have.
"That's part of why we're so excited and exited for tonight." (McGuire was speaking on Monday, before the launch party.) "We feel like we're breaking some new grounds and providing a public service that hasn't been done before. And we think it's a benefit to attorneys as well," by placing potential clients in front of attorneys. "We want to make this a business but we'll keep working to that but one of our goals was to create something that was useful to the public. We're now reaching that milestone."
McGuire calculates that going statewide will require the company to hire some 50 people—about half locally, operating on the business itself, and the other half across the state.
Tucker handles the business side of the operation–a side that he intends to broaden through advertising, with law firms as his primary target. That's how the site will make its money, plus a $25 referral fee when a lawyer gets referred through the site. McGuire handles the technical side. But both have a secret weapon in Vincent Scerbo, who was a student representative on the school board five years ago, a product of the district's International Baccalaureate program, and a winning member of the Community Problem Solvers team that collected for Flagler the most national awards in the competition's history in 2010. Scerbo graduated and went to Harriett Wilkes Honors College in South Florida. He needed an internship. Working with Tucker and McGuire is it.
"This internship is my last three credits for college," Scerbo says. He's unpaid for now, but will likely be hired on as a full-timer soon: he's the business' bridge to every county courthouse in the state. He's the one who spends his days on the phone, arranging for what eventually turns into bug data dumps that can be churned into useful information for users. Some counties are easier than others. "I' m very passionate about making information available to the public that should be available," Scerbo says. "The biggest obstacle is finding the right people to talk to."
The subplot of Scerbo's work with CourtCaseResults.com isn't lost on Tucker: "To have someone from our school system go to college, come back, there's two great things about this," Tucker says. "One, there's something here that he can do, use his major on. Two, to find talent this good in Flagler, why do I want to look anywhere else? Why companies don't want to move here, is shocking to me." Scerbo, who also credits the school district for his success, plans on developing a political career in Flagler. Contending with courthouses is opening his eyes, though he's had it relatively easy in Flagler. "They are probably the most technologically progressive county that I've come in contact with so far," Scerbo says.
Wadsworth remembers sitting down with Bexley and her IT director to mull over the request, and it was quickly done. "I'm used to my IT staff and I know their structure and I know they get things done, but I don't like to criticize other offices," Wadsworth says. "I just don't know why this couldn't happen in a state-wide method." She added: "It didn't take a great deal of time and it didn't take a great deal of money to begin. As we move through this with them we will charge a fee for data extraction, simply because that's part of the way any office operates." But it's not likely to be more than a few hundred dollars a year.
Tucker and McGuire had the chance to get 30 counties' worth of data in one fell swoop. To do so, they would have had to have the approval of the state association of clerks of court. The association board met to discuss the request—and turned it down, inexplicably. So it's back to acquiring the data piecemeal.
The Flagler County database goes back two years, and lists every attorney who's seen a case through the local courthouse.
"I could have learned something about my own self that would have taken me years to compile that kind of information. I myself will now probably use to market to potential clients," Marc Dwyer, the Palm Coast attorney with Chiumento Selis Dwyer, said after McGuire's presentation. "In that respect some attorneys will find that tool very helpful when they themselves are trying to locate the positives in their backgrounds."
He then provided a fuller analysis: "As with any new idea, there are a lot of areas where I'm sure they're going to improve over time, and with more feedback from the industry itself. As with all information, if not filtered properly, it could also lead to perhaps a misleading concept, if the person looking doesn't know what is missing. But that's the case with any data, and that's something that takes time to sort of work through. It'll probably involve more disclaiming, so that the consumer is more fully informed. It's something worth working on and I'm glad to see that someone is working on it. Hopefully lawyers will try to contribute to make it more useful for people as opposed to immediately railing against it."