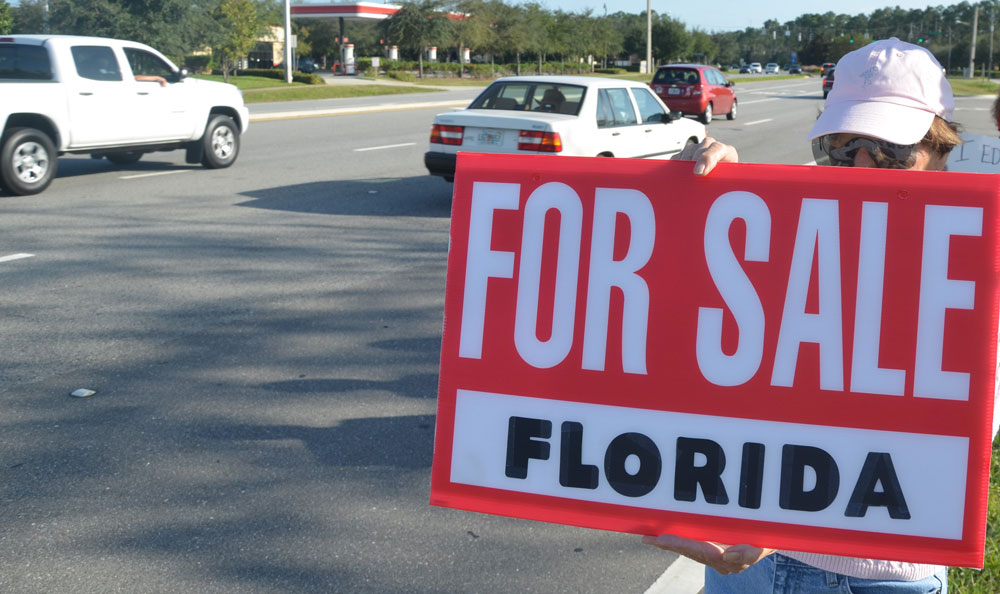 Palm Coast Council member Ed Danko is leading the charge on behalf of Realtors and other businesses to open up city rights of way to their advertising signs at least at set times such as weekends.
Fellow Council member Theresa Pontieri is warning that doing so would open up rights of ways to every sign imaginable, including hate signs–"the Mothers of al-Qaida Bake sale," as a city attorney described it–while overwhelming the city's Code Enforcement Department, which would be responsible for policing compliance with the window of time when signs would be allowed.




The council is divided on the issue, which is coming to a head as the city is rewriting its sign ordinance to comply with a 2015 U.S. Supreme Court decision that strictly narrowed how local governments may regulate signs, though not whether they may regulate them.
Governments are prohibited from regulating signs based on content. For example, anyone is free to put up any kind of obscene sign on their front lawn. But the city may still regulate the where, the when, and the size of signs, since none of these regulations touch on content. What the city may not do is say that Realtor signs are allowed on rights of way, but church or political or hate signs are not. The city may require homeowners to limit their signs to six, and to limit the total square footage of signage on a front lawn, as the proposed ordinance does. But what the city may not do is tell a homeowner (or a renter) what may be features in those signs.
"If we do make a content based distinction, we're subject to strict scrutiny," said City Attorney Katie Reischmann. "What that basically means is, you lose. Very rarely has any sign beat beaten the strict scrutiny standard."
Today, all rights of way, which belong to the government, are no-go zones for any signs except for the city's own directional or public safety signage. The city's recommendation is to keep that prohibition in place, or risk going down the road of litigation, clutter and code enforcement overwork. Realtors' signs are being liberalized in other ways: Realtors, based on the city's proposal, will be allowed to double the number of sale signs on residential and business properties.




But the Flagler County Association of Realtors wants to go much further. It is pushing hard for the city to open up its rights of way to signs advertising open houses and other types of property sales. Danko is proposing as an example a window of time, from 6 a.m. to 6 p.m. on Saturdays and Sundays, the window favored by the association. He trusts Realtors to self-police.
"Those signs cost a lot of money," Council member Cathy Heighter, a Realtor, said. "And trust me, at the end of the day, when they're finished with their open house, we backtrack and we pick those signs up because we paid $25 per sign. We have to use them and if we do open houses a week we need those signs were going back and picking them up."
Not all sign-planters will be Realtors, Pontieri said, and not all businesses or sign planters will be as professional, or as self-policing.
Reischmann briefed the council today on the proposed rewrite of the city's ordinance, as she did the planning board last month, starting with some context and examples from other cities. Two members of the council are Realtors (Mayor David Alfin, who was absent today, and Cathy Heighter). Danko's "better half," as he referred to her today, is also a Realtor. It's clear that Danko wants the ordinance changed to favor Realtors and businesses. It's pretty clear that Heighter is on the Realtors' side.
Pontieri, an attorney, is strongly opposed to going against the city's recommendation–on legal, aesthetic and pragmatic grounds. She doesn't want the city mired in litigation. She doesn't want rights of way mired in clutter and filth. She doesn't want code enforcement overrun, especially on weekends. Council member Nick Klufas, who questioned whether those closely tied to the Realtor industry should be allowed to vote on the matter (the city's attorney's answer: they're in the clear) appears to be closer to Pontieri's side.




The 2-2 split means that it'll be up to Alfin to break the tie, though the further research council members asked for today may be largely instrumental in swaying the council. Reischmann very strongly cautioned the council against opening up rights of way. Danko asked for case law supporting her approach. That'll be the subject of a future council meeting, its date not yet clear.
Meanwhile, today's debate set the tone for what's ahead on an issue that Pontieri appears to have framed cogently, with few, other than Realtors, wanting rights-of-way opened: "This is being spurred by the real estate community and I don't blame them, and I understand the necessity and the want for this," Pontieri said. "My point is that I think it's very dangerous and I think that at the end of the day, the benefits do not outweigh the negative products that we're going to get from this."
"Right now, nothing in the right of way," Barbara Grossman, the city's code enforcement manager, said. "Once you start allowing a real estate sign in the right away, you are allowing a garage sale sign, you're also allowing four to 5,000 businesses that have business tax receipts here, and all of those will be in the right of way." In fact, the city would be allowing any one of its 90,000 residents, or anyone within reach of Palm Coast, to put up signs.
"If we can find a way to do this, I'm all in favor of it," Danko said, referring specifically to realtor and business signs. "What we're trying to do here is find some reasonable solution to help our business community." Though he asked whether obscenity could be regulated–it may not be–he is not worried about the long-term consequences of that. Nor is he worried about overwhelming code enforcement.




"There may be people out there that are going to go out there and they're going to throw up 'Dump Danko' signs, maybe for a few weeks, and I hope you pick those up real fast, Brabara," Danko said. "But after that, though, I think they're just going to say signs cost money, and I'm tired of spending money. I got my message out, now I'll find a new shiny object to play with. I mean, I really believe that."
Pontieri disagrees. "We have a duty to keep Palm Coast beautiful," she said. City staff strove for a reasonable balance, which she said has been achieved with the current proposal. "I can foresee what's going to happen if we allow signs in the right of way during elections. It's going to be a hot mess. And the problem is on a larger scale. Now we're looking at staff resources that have to go and pick up all those signs and after hours no less, because if we're talking about 6 a.m. to 6 p.m., what does that mean that we now have to ask staff to go around in their white pickup trucks at eight o'clock at night on a Saturday to pick up signs." Code enforcement, she said, "is already overwhelmed."
Reischmann said the more the city carves out exceptions, the more it opens itself up to litigation. That goes for opening a right-of-way window on Saturday and Sunday, only to close it the rest of the week, because the city would then be saying: there's no aesthetic or safety problem with signs during that window, but there are problems the rest of the time. Reischmann could not cite court cases illustrating that, though some communities did open up their rights of way during specific time windows.
It would also open up rights of way in front of Palm Coast's 42,000 single family lots–33,600 of which have homes–to all sorts of signs planted by anyone who wishes to plant signs, not just the given homeowner, and without the homeowner's permission. Danko wondered whether those rights of way could be blocked from use dring sign-window allowances. That, too, would be problematic: "Every limitation you impose, it starts to gut your justifications for what you're doing," Reischmann said.




"There are exemptions and reasons for everything. This is why we have lawyers," Danko said. "So unless there's some kind of case law, history or rulings, there's nothing preventing us from doing something like this."
"I can tell you that there's just a boatload of cities and counties that have had their sign codes overturned, in part because of exceptions to the rule," Reischmann said.
There's little doubt that the attorneys will bring back research buttressing their recommendation's caution. But that may not be enough.
"In any event, we are not going to recommend that the city enact some type of ordinance that would put the city at risk to be sued," City Attorney Nyesa Borkert told the council. "We will tell you that. Whether or not the City Council decides if they want to move forward after that legal advice will be up to the City Council."

sign-ordinance-2023