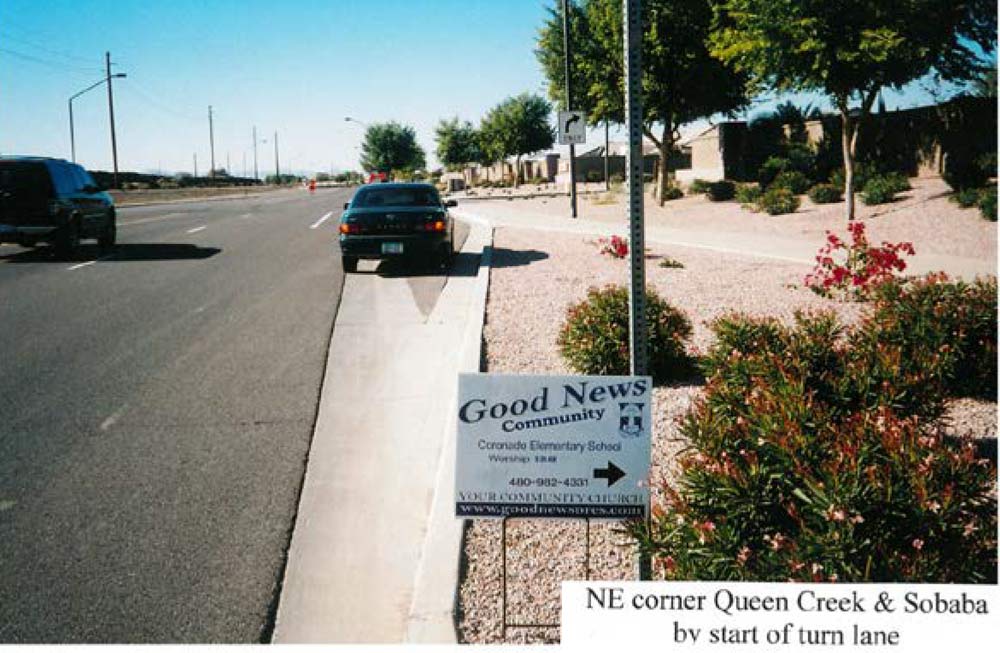 Palm Coast government is working toward loosening its sign ordinance. City officials say it is doing so to comply with a 2015 Supreme Court decision and avoid costly litigation.
A proposed rewriting of the ordinance would not change the look of the city markedly, preserving most of the restrictions in place now. But a draft ordinance–still very much a work in progress–will err on the more permissive than restrictive side, now that local governments are largely (but not entirely) barred from regulating what signs say.




Homeowners will get to express themselves more freely. They'll be allowed to plant up to six free-expression signs in their yards, and not just at election time. They'll be allowed to plant three flag poles, not just two, raising more flags–including Confederate and other hate symbols or, in an already coarser climate, more explicit versions of the Brandon variety.
The city worked closely with the Flagler County Realtors Association on the re-write, accepting some recommendations and rejecting others. (See that list here.) Realtors will be happier, but not as happy as they wish they could be. They and other home-sellers will be allowed to plant two, not just one, For Sale sign on lots or in front of homes, thus allowing corner lots to have more marketability, or to plant two signs on private property, directing people to open houses.
Realtors and businesses will also have somewhat looser regulations in commercial zones. In commercial zones, businesses currently limited to one non-commercial sign on their property will be allowed to have up to four signs of varying size, depending on the square footage of acreage of the business. Commercial properties for sale will also be allowed to have two signs instead of one.




Realtors wanted the ban on signs in rights-of-way to be removed. The city administration is not budging on that this time anymore than it did two years ago, when the issue was last brought up. But the council two years ago had no Realtors on it. Now, 40 percent of its membership is made up of Realtors, including the mayor. That plus Ed Danko, the council member who attempted to loosen right-of-way bans two years ago, would give that proposal a majority.
But it might draw pushback–if not from residents, then from the city's legal minds: opening rights of way to real estate signs means opening rights of way to all signs–political, ideological, religious, hate-filled, even commercial, since real estate signs are a sell. Any form of regulation would be a slippery slope opening the city to the risk of a lawsuit. Nix noted that by the time the 2015 Supreme Court decision was through, attorneys' fees had risen to around $1 million. NO city wants to risk that.
While the law forbids governments to control expression on signs, or to treat Realtors' signs differently from political or religious signs, it still allows governments to regulate the place, the time and the manner in which signs are displayed. That means a city may forbid all commercial or private signs on public property, as Palm Coast does now. A city may regulate the size and manner in
which signs are displayed. That means it may forbid all electronic signs, or all billboards, or require all signs identifying a shop to be no larger than a set size.




And it may regulate the time when signs are displayed, as long as the regulation applies uniformly. So if a government could previously require that political signs be limited to a particular season, while allowing church or Realtors' or open house signs to be displayed all year, it may not do so anymore: that would be content discrimination. "Everyone needs to be treated the same as far as what the sign says," City Attorney Jennifer Nix said.
"The majority of the changes you see are based on federal law reclassifying and categorizing signs," Ray Tyner, the city's planning.
The city's planning board got a 75-minute tutorial from Nix and City Planner Estelle Lens at a special workshop on Wednesday. The City Council will hold a workshop of its own on the proposal on Nov. 14. The next day, the planning board will formally consider the proposed ordinance and issue a recommendation to the City Council. And the council will vote on the ordinance in a pair of hearings on Dec. 5 and Dec. 19. In the meantime, residents and others will have occasion to weigh in–should the issue draw much attention. While it will affect every resident and every business in town, it will not necessarily generate proportionate attention or concern, not least because the ordinance's intricacies in its details.
In the main, however, the ordinance is not complicated, nor is its genesis.




Palm Coast's sign code was first approved in 2008 as part of the city's first comprehensive plan. "We've had a lot of complaints from 2009 to about 2012 from the development community," Tyner said. The code was re-written. Complaints stopped. Then came the Supreme court's Reed v. Gilbert decision in 2015.
The case was about a church's directional signs in Gilbert, Arizona, where Clyde Reed and Good News Community Church were planting temporary signs to direct people to services. Gilbert's sign ordinance imposed different size restrictions on signs, depending on whether they were political, ideological, religious or directional. The town didn't explain why some signs could be 6 feet high while others could be 20.
"Good News Community Church's temporary signs promoting church services receive far worse treatment than temporary signs promoting political, ideological, and various other messages, even though they equally impact Gilbert's interests in safety and aesthetics," the church's petition to the court summarized.
The court ruled that Gilbert's ordinance was unconstitutional because size restrictions based on content are a form of judgment about that content. "Content-based laws — those that target speech based on its communicative content — are presumptively unconstitutional and may be justified only if the government proves that they are narrowly tailored to serve compelling state interests," Justice Clarence Thomas wrote for the majority.
The court was unanimous on the illegality of distinctions, but it split, 6-3, on the rationale to get there, with Justice Elena Kagan finding the approach too sweeping and at risk of endangering innumerable, reasonable ordinances. She was right to the extent that the decision required a rewriting of local ordinances across the country, including in Palm Coast, though it's taken the city quite a few years to get there.




Why so long? Because Mayor David Alfin spurred the move for another look.
Nix summed up the meaning of the law as it stands: "If you do have to read the sign, it makes it a content-based regulation." (That is, if you're a government regulator and you have to read it to decide how to treat it, it makes it content-based.) That's not entirely disallowed. But if the government goes that route, "it has to be narrowly tailored to serve a significant government interest. That's pretty hard to do, it's a very high standard," because it has to meet and clear what the court calls "strict scrutiny" under that standard.
In an analysis of the Gilbert decision, Adam Liptak, the New York Times reporter, explained what Nix told the planning boards in language that has been quoted incessantly since: "Strict scrutiny requires the government to prove that the challenged law is 'narrowly tailored to serve compelling state interests.' You can stare at those words as long as you like, but here is what you need to know: Strict scrutiny, like a Civil War stomach wound, is generally fatal."
Commercial signs may be regulated more restrictively, but equality standards still apply. For example, the hospital could not be allowed to have an electronic sign while other businesses are denied. The old convention that enormously tall pole signs at highway interchanges could be allowed there but not elsewhere is also no longer tenable.
In the city's view, it's best to reduce all signs to three categories: temporary versus permanent, onsite versus offsite(for example, a sign on a business property about that business is onsite, a sign about that business on a right of way somewhere else is offsite), commercial versus non-commercial. "Slicing and dicing of sign categories will lead to litigation," the city finds.




The city cannot allow only American or government flags. If a person wants to fly the Confederate flag, a swastika flag or a hammer and sickle flag, those must be allowed. Alternately, it could ban flagpoles, but the ban would have to apply citywide. (Homeowner associations may have stricter rules.)
That doesn't mean that the government itself may not reject hate symbols: the same year that the Supreme Court adopted the Gilbert decision, it also ruled that government could reject specialty license plates bearing the Confederate flag, because the license plate, being government-issued, speaks for the government as a whole. But it was a 5-4 decision that hinged on a thin, and since vanished, liberal majority (with Thomas, who wrote Gilbert, in the majority).
And license plates are issued by the government. Flag poles and signs on private property are not, so government could not impose hate-speech restrictions there. Still, that's not yet very clear in the ordinance, which doesn't even mention the word "hate" because it can be subjective. What is clear is that a line in the existing ordinance under prohibitions–"Signs containing statements, words, or pictures of an obscene nature"–is removed in the proposed ordinance.
Currently the city handles obscene signs on a case-by-case basis. "It is very delicate," Tyner said. "Each one of these signs I know we take to our city attorney to make sure we are following the federal regulations. Each one is unique and different."
d

PPP-Staff- Sign Code Amendment (1)