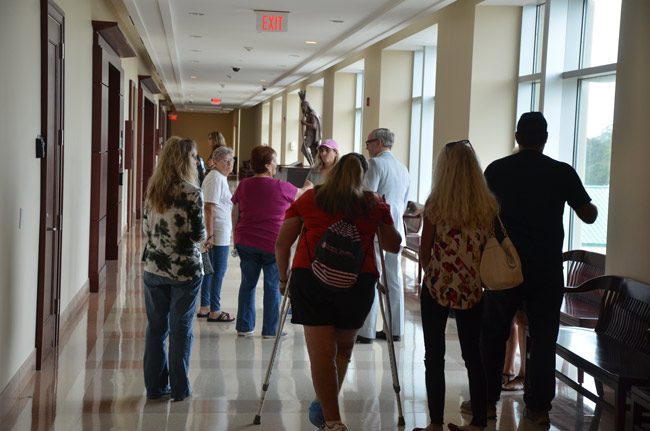 Prospects that Cooper the dog will live dimmed considerably today after a hearing before Circuit Judge Terence Perkins in Bunnell. Perkins all but told the dog's attorney and the dog's supporters what, ironically, the Palm Coast City Council has been telling them for months: that there's no alternative. The law calls for Cooper to be killed.
After one hour of arguments this afternoon, Perkins, who just last weekend adopted two shelter dogs, spoke as if he had not found a way out of Cooper's predicament. He did not render a decision: that'll come in days or weeks. But the outcome this afternoon appeared foretold.
"I've had dogs my entire life, including when I was growing up," Perkins said at the end of the hearing. "It's a precious relationship, and it's one of the most important relationships for many people, including for my family, my kids, and I looked really, really hard to figure out if there's some way within the bounds of the law to do something different under these circumstances." He repeated that he'd looked hard at the case and would continue to do so, but, he continued, "When I came out here today after having reviewed the entire file and done my own research, I was having a hard time finding the legal basis" to justify keeping Cooper alive. "Unfortunately just because I love dogs doesn't mean that I get to ignore the law. But I'll look at it and I'll get you a ruling as quickly as I can."
Meanwhile, Cooper, the 6-year-old hound that's galvanized a movement of supporters after Palm Coast Animal Control condemned the dog to die following the second biting incident against a human being in February, remains at the Flagler Humane Society, his death sentence stayed until the judge's decision.
More than a dozen of Cooper's supporters, including the dog's owner, Dottye Benton, two candidates for local office and City Council member Vincent Lyon, attended the hearing, which left Benton and her attorney deflated. Benton had filed the appeal to circuit court after a Palm Coast hearing officer in April upheld animal control's decision to kill the dog.
"The way it looks like is he's going to be put down," Benton said outside the courtroom after the hearing. She cited a line often paraphrased from an Isaiah verse: "I will make a way where there seems to be no way." But, she added, "We knew when we walked into the hearing April 19 that we'd lost." She was referring to the city's administrative hearing, when an administrative officer concluded in favor of animal control's decision to kill the dog. That's the decision that was on appeal before Perkins today.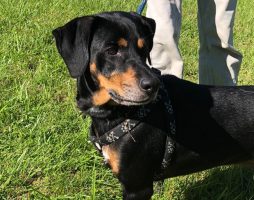 "I can tell you that I've resolved several other matters like this one, dog death-penalty cases, absolutely," in palm Beach and Clay counties, LaHart said, though she could not clarify whether those dogs had twice bitten others. (Florida law provides for reprieves from death after the first bite, not the second.) "Whether it's a one-step process or a two-step process, I don't recall. I know that both of the dogs were under death warrant."
Port Orange declared Cooper dangerous in January, before the dog moved to Palm Coast, where the second bite took place, at Benton's house.
Perkins wasn't explicit about whether the Palm Coast hearing officer ruled properly in April, without errors of law or procedure. But he didn't question Erin O'Leary, the city's attorney, nearly as rigorously as he did Marcy LaHart, the Micanopy, Fla. attorney representing Benton. Perkins's questions to O'Leary were framed around verifying what he already knew, testing LaHart's claims rather than challenging O'Leary's.
"The city and the hearing officer," O'Leary told the judge, "can't disregard the law, they have to follow the law, and the law gave them no option."
This, even though the Palm Coast City Council would have preferred that the dog be kept alive and sent to a shelter for dangerous dogs, and even though the judge himself said he found existing law "harsh" because it gives local governments no room to evade a dog's death sentence in such circumstances.
Perkins repeatedly tried to get LaHart to show him how and why Palm Coast erred in condemning the dog to death. LaHart couldn't. At least not to Perkins's satisfaction. LaHart argued to the court that Palm Coast didn't follow due process when its hearing officer reached the decision to condemn, that evidence in the case was never entered according to the rules of evidence, and that Palm Coast never met its burden of proof that Cooper was dangerous.
Regarding the January bite in Port Orange, LaHart argued that evidence of that or of the dangerous dog designation was never formally proven, and documentation about it was emailed to Palm Coast government, not correctly entered as evidence at the hearing. She called it "ex-parte communication," not admissible as evidence on its face.
Perkins disagreed. "Let's just make sure we define our terms," he said. "It's not ex parte communications. It's advance communication. It's not ex parte."
LaHart argued that killing the dog was the same as depriving its owner, Dotye Benton, of her property without due process.
"According to the rules of city codes the rules of evidence don't apply, but fundamental due process does," LaHart said. But again, the judge could not find where due process was violated without following LaHart outside the strict bounds of the case and into more peripheral case law about asset forfeiture. There is no case law directly supporting LaHart's argument on due process, involving dogs about to be put to death, she conceded. Perkins does not like peripheral reaches. But he was willing to explore whether the burden of proof was met.
While O'Leary conceded that the "clear and convincing" standard did not apply at the city's hearing, the standard could have been met based on testimony, including Benton's testimony, which certified even she had been at the Port Orange hearing that found Cooper dangerous–and that she had taken ownership of the dog after that first bite.
Perkins at times spoke as if he was eager to hear an opening, any opening, that would spare Cooper's life. "Here's what I'm trying to get you to articulate," Perkins told LaHart. "This matter was tried by the hearing officer. I've never personally met the hearing officer but I assume she came in, listened to the evidence then made some decisions. I read the transcript of that proceeding. I'm sitting here as an appellate court. This is an appeal. I don't get to do what I want. All I get to do is correct any misapplications of the law, that is if she said the law was x and it's y, I get to correct it, and I get to determine whether or not there is sufficient evidence to support her determination, not whether I would make that determination, just whether or not you can look at it and say, a reasonable person could come to this conclusion, right? That's the standard I have, so help me with that."
Despite LaHart trying, Perkins did not seem to have gotten the help he'd have taken: her answer to Perkins's plea was to say that Palm Coast needed to clarify the standards of evidence–that the city needs to put in its ordinance "that the special magistrate knows what it is, that the dog owner needs to know what it is, that the city needs to know what it is, and there was no standard applied."
"Is it in the statute?" the judge asked.
"No. The statute defers to local governments to come up with their own procedures to handle dangerous dog classifications."
Which left Perkins with nothing: today's hearing had nothing to do with what Palm Coast should put in its ordinance, but whether it followed its existing ordinance properly. Perkins did not get any indications that it had not. So he closed the hearing by preparing LaHart and Cooper's advocates for what appears to be inevitable, absent an unexpected interpretation of evidence already in the record.