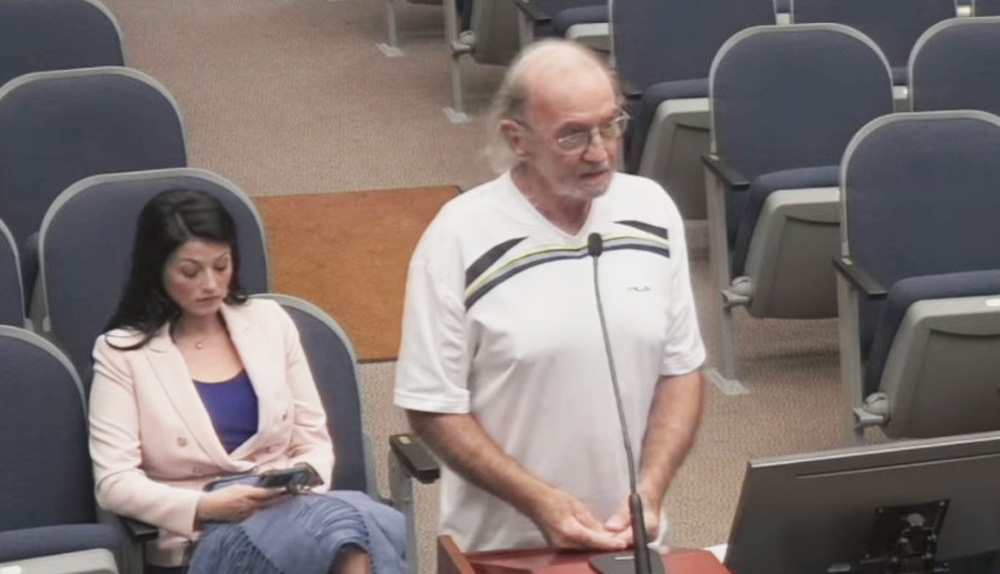 The Flagler County Commission in a pair of 4-1 votes this afternoon agreed to keep Heather Haywood as a member of the county's planning board, but boot off Jeff Davies from the Contractor Review Board on nationalistic grounds: he is not an American citizen, and thereby not a registered voter.
The commission had appointed both Haywood and Davies to their respective boards (Haywood's expires in February 2025, Davies's in 2027). A minor controversy swirled around the two volunteer advisory board members after Commissioner Leann Pennington revealed that Haywood was homesteaded in DeLand, though she has lived in Palm Coast for several years, as a renter. Davies's lack of a voter registration also drew attention, promoting the commission to seek out affidavits from both and to rethink its rules on advisory board qualifications.




Neither Haywood nor Davies had committed any improprieties when they applied: the county's application forms did not ask the questions that would have revealed that their eligibility for service could be questioned. "We have two individuals who have proven that they want the jobs and they're not lying about anything," Commissioner Dave Sullivan said. In fact, the commission had waived some requirements for them to serve on the two boards.
But "there's a question as to whether there was a true waiver of the requirement when they were originally appointed because it wasn't expressly stated in the agenda memo," Assistant County Attorney Sean Moylan said.
Once those questions arose after the appointments, they turned unnecessarily personal, especially regarding Haywood's marital status: she had owned the DeLand house with her husband, then divorced four years ago, but maintained her homestead there "as a legality," she said. (See: "Heather Haywood Is Homesteaded in Volusia But Serves on Flagler's Planning Board. A Commissioner Questions That.")




"I have dealt the last five months of rumors being spread by Leanne in the community about my divorce, who I was in good graces with, whose back pocket I have been in," Haywood said, addressing commissioners this afternoon. "I have spent the last five months answering extremely personal questions via text message from the people that she has chosen to speak to, and Mr. Hansen, I answered your very, very personal questions via Facebook Messenger, despite the fact that I felt that they had very much crossed the line. My divorce is none of anybody's business."
Pennington said today that she'd not had a conversation with Haywood–ever. "I had only one single question which is are we really going to allow someone who is homesteaded elsewhere to serve on our board? The issue remains the issue," Pennington said, seeing both Haywood and Davies "in conflict with our requirements." She added: "I'm sure we can find qualified, talented residents who can serve that board that don't have the appearance of a conflict. A Volusia county homesteaded person should not be involved in decisions for Flagler County residents."
Haywood, who is backed by the local chamber of commerce, had–like the chamber director–tried and failed to gain an appointment to the Palm Coast Planning Board before gunning for the county position, though today she made it sound as if she only had eyes for Flagler: "I am one of the many residents believe that this community is meant for so much more and praise that it stops being being the forgotten city of Palm Coast."
It would be Hansen who, not long afterward, would push to retain Haywood on the planning board, a vote that carried, 4-1, with Pennington in dissent. Commissioner Donald O'Brien said he would not support a re-write of the rules that would make having a homestead a requirement of service on the planning board.




That requirement does not exist for county commissioners, and appears to be discriminatory against renters: home owners are not a better breed of residents than renters, though local residents often dog-whistle to that effect.
Davies told commissioners that though his father is American, he only found that out five years ago. Davies is now 72, and said that though he applied for citizenship, he missed that window due to an arcane requirement. Nevertheless, he said, "I've been a responsible citizen here. For 35 years I've been a member of many advisory boards and quasi judicial boards in Orlando before I came here, and I applied to the Contractors Review Board because I was the chairman of the Building Codes Board of Appeals in Orlando for several years and that kind of fitted with my my experience, and background. And I've also been a member of a board in Flagler Beach and the economic development board. I've always done my best to be part of the community–not because I derive any benefit from that. I just feel I want to feel part of the community, and never claimed to be an elector. "
Commissioner Andy Dance considers the residency matter a "secondary issue," since Haywood is clearly a Flagler County resident, but the elector issue a primary one. It looked for a while as if the commissioners would allow both Haywood and Davies to serve out their term, but in the end Dance made the motion that Davies does not meet the requirements "and will not complete his term." Sullivan was the only dissenter. Pennington had been the only dissenter in the vote to allow Haywood to complete her term.