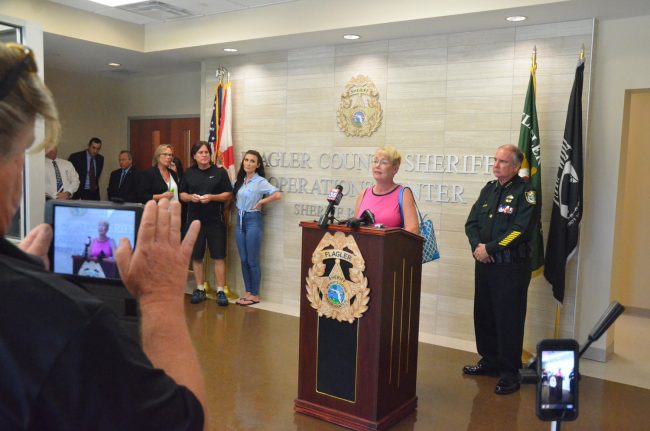 Joseph Colon, a 34-year-old Palm Coast resident with a long history of drug dealing and imprisonment, was indicted Tuesday on a first-degree murder charge in the death of Savannah Deangelis, 23, who overdosed on heroin and possibly fentanyl in late October, mere minutes after taking delivery of a packet of drugs allegedly sold by Colon at her Grand Haven home.
It is the first time in Flagler County history and in the Seventh Judicial Circuit, which includes Volusia, St. Johns, Putnam and Flagler, that a drug dealer is charged with the murder of a person who's overdosed. The Legislature passed a law (HB 477) expanding such charges last year to include death by fentanyl, methadone, opium and other drugs, and to impose a first-degree felony charge even for possession of such drugs in amounts of 10 grams or more. Florida joined 19 other states with similar "drug-induced homicide" laws.
Those laws vary by state, three of which apply them only when the victim is younger than 18, though in six states, including Florida, the minimum penalty is life in prison. The laws have generated a degree of controversy and are difficult to prosecute, but such cases have more than tripled since 2011, with Midwestern states leading the way, according to the Drug Policy Alliance.
The first person to be indicted and found guilty of a similar charge in federal court, Christopher Sharod Massena, of Lake Worth, was sentenced to 30 years in prison in December 2016 after a jury found him guilty of selling the fentanyl that killed 23-year-old Christian Hernandez.
A grand jury indicted Colon on the first-degree charge Tuesday. He was served at 1:02 p.m. at the Flagler County jail, where he's been held since his arrest on a traffic and drug charges on Nov. 8—as Savannah Deangelis lay dying, on a respirator, in a hospital.
---
"We're here today to bring justice to a family that has suffered a terrible loss."
---
"The defendant Colon has a history of trafficking and sales in narcotics," State Attorney R.J. Larizza said at a press conference at the Flagler County Sheriff's Office this afternoon. "It is unfortunate and somewhat troubling that our victim, Ms. Deangelis, was placed in the drug court program, and two days later her path crossed with the defendant, and subsequently she died of an overdose. We also have other overdoses linked to this defendant, that have not been charged, but luckily in those particular cases the individuals survived." Two people had come forward during the investigation to report that they had survived violent overdoses after buying drugs from Colon.
Deangelis had not only been in drug court: she had also been a resident at WARM, the recovery program in Bunnell. But she had been released on furlough in the days immediately before Hurricane Irma. She relapsed during that furlough—even though her parents implored the program to keep her during the storm, where she would have been safer than in Grand Haven anyway–and was expelled from WARM.
DeAngelis's family—her mother Renée, her father Charles and her sister, Christina—were all by Flagler County Sheriff Rick Staly's side this afternoon as he announced the charge on Colon and spoke of the work his detectives carried out to secure the indictment, chief among them detective Nicole Thomas and Cmdr. Steve Brandt. Renée Deangelis also singled out Thomas, calling her "an angel" after putting her arm around her as she addressed the cameras today.
"We're here today to bring justice to a family that has suffered a terrible loss," the sheriff said during the press conference. "Nothing I say or our agency can do will bring back their daughter. But I hope this arrest will give you some closure, knowing that he cannot hurt any one else's son or daughter." (The sheriff had to collect himself at one point before resuming his summary of the case. The Deangelis family, standing to his right, was not in much better shape.)
It was around noon last Oct. 28 that sheriff's deputies had responded to 19 Front Street in Palm Coast, where Deangelis's father had found Savannah on the floor in the family's bathroom, unresponsive. She never regained consciousness and died on Nov. 13. That day, at 11:33 a.m., Colon was seen on surveillance video entering the subdivision. At the gate, the name he gave was "Joey." He's alleged to have stopped in front of Savannah's house. She runs out. She takes a packet from the driver. The Driver speeds off. Charles DeAngelis found her at 11:55 a.m., surrounded by an empty plastic bag, a syringe, and a substance that tested positive for heroin and another "which we believe to be fentanyl," Staly said.
Staly spoke of the skyrocketing rates of overdose deaths in Florida, particularly from fentanyl, a drug from 50 to 100 times more potent and fast-acting than heroin, developed in the 1990s to treat severe pain, especially after surgery, but under equally severe, controlled circumstances. Fentanyl derivatives are developed in illegal labs and are sold as a powder or mixed with heroin.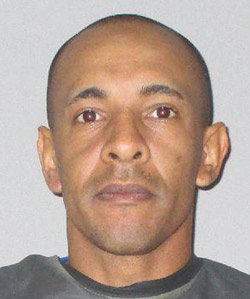 A House legislative analysis last year found that "fentanyl submissions to law enforcement increased 494 percent in Florida (from 33 to 196) between 2013 and 2014, while the state also experienced a 115 percent increase (from 185 to 397) in fentanyl-related deaths during the same time frame. Fentanyl analogs, specifically, were implicated in 49 drug overdose deaths in Florida between January and June 2015. The CDC estimates the numbers and rates of fentanyl deaths, relating to Florida specifically, are also underestimated because testing for fentanyl and fentanyl analogs is not systematic statewide"
Those numbers have been well surpassed since. In Flagler County alone last year, the Sheriff's Office handled 60 overdose cases.
In Flagler, Staly is directing that all overdose deaths be handled as as murder investigations. "If you peddle poison in our community," Staly said, directing his comment to dealers, "we are coming after you. If you murder someone with your drugs, we will find you, track you down, and arrest you for murder. It will be our goal that you spend of your life in prison." Notably, the sheriff this time did not lace his comments with his more folksy overtones, underscoring the gravity of the issue. He had this to say to Colon in particular: "I hope you rot in prison until you die and [are] never able to hurt someone else with your poison."
To the Deangelis, their daughter's death and Colon's arrest is not an end. "I want this to be the beginning of my family's fight against this horrible epidemic," Renée Deangelis said, "and we want to be able to reach other parents and other families through this. We need this to be a crusade and have some kind of good come out of this tragedy, right Savannah? We're going to start today, baby. Love you."
She said the case helps whether as a means of showing other parents that they may have a way to hold drug dealers accountable or to send a message.
Florida law provides for charging a death by overdose as a capital murder, but Larizza said he will not seek the death penalty in this case, saying it "we don't believe it's appropriate under the circumstances to seek the death penalty, we don't think it would qualify for the death penalty." And absent a conversation with the family, he said it's not yet the time to talk about what pleas the prosecution would take. Jennifer Dutton is slated to be the assistant state prosecutor on the case. Her last high-profile case in Flagler was winning the conviction of Anna Pehota, the 76-year-old Hammock woman, on a second-degree murder charge in the killing of her husband of 57 years in 2015. She was sentenced to life in prison without parole.
Of Savannah herself, her mother described her as "tall enough to be a model," and with a "hilarious sense of humor."
Renée Deangelis continued: "I miss the fact that I won't have any grandchildren from her, I miss the fact that she won't be a mother, she won't get married, and this is something for the drug dealers to think about, what they're robbing families of. My daughter here who's married and has a child, I will never have that with my other daughter. Savannah was a very strong person. What can I say? We miss her sense of humor, she loved animals, she loved babies, she was just a wonderful human being. She was more than somebody who had a drug problem. She was a wonderful person, as I think it becomes overlooked sometimes when people become involved with drugs. But she was a wonderful person, and she was my baby at one time. All people who are drug addicts were somebody's child and baby once, and we have to look at it like that and help them with their illness. They're good people underneath. If I can help any parent, reach out to anybody, if anyone wants to reach out to me, I'm here to help. That's my mission in life now, at this point. I need to help people so they don't have to go through what I did, or if they do, at least I can help them through it."
Savannah's father Charles appeared too overcome to speak.