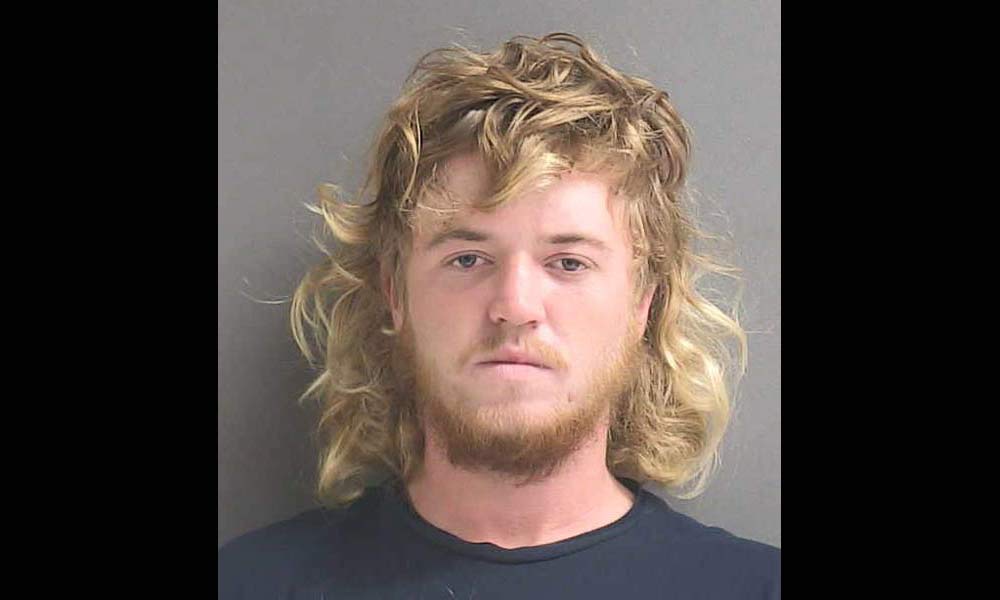 Colin Calvert, the 21-year-old man who stole a rifle, robbed a Palm Coast convenience store of nearly 5,000 in cash, which he put in a Happy Meal box, spent all the money at a strip joint, then burglarized a gun store, was sentenced to 10 years in prison on Thursday, followed by five years on probation.
Circuit Judge Terence Perkins imposed the sentence at the Flagler County courthouse three days after Volusia Circuit Judge Leah Case sentenced Calvert to 10 years in prison for burglary, three counts of grand theft, criminal mischief and dealing in stolen property. Both sentences resulted from a plea agreement that encompassed the Flagler and Volusia charges and that, all told, resulted in a lenient punishment: Calvert faced life in prison had he taken his case to trial and been found guilty.




But he will not be eligible for gain time, or early release: he will have to serve the sentence day for day, with just 242 days' credit for time he has already served in county jails. His spiral from petty to violent criminal was swift and concentrated in a matter of days. The evidence against him was overwhelming, and his cleverness pulling of the crimes underwhelming.
It was mid-evening a few days before last Christmas. Calvert, a resident of Ormond Beach who was barely 21 at the time, walked into the Mobil convenience store on Pine Lakes Parkway in Palm Coast brandishing an assault-style AR-15 rife–a rifle he'd just stolen–and demanded of the clerk all the money in the cash register.
Calvert had covered his face with a "neck gaiter," according to his arrest report, and wore a Flo Grown shirt imprinted with the Florida state flag on top of the American flag. Calvert was almost polite with the clerk, telling her she was going to be ok. "You don't know how much this will help," he told her. "Have a blessed day." He walked out with $4,783, put the money in the Happy Meal box, and ended up later that night at Grandview Live, the "gentlemen's club" in Daytona Beach.




The Flagler County Sheriff's Office released footage of the robbery, which on Christmas Eve led to a crucial tip from a woman who recognized Calvert, who had stayed with her the day of the robbery. They'd gone to Atlantic High School together, their families were close, they'd remained friends. Best friends, as she described him.
She owned an AR-15 Sport II valued at $800. It was missing after Calvert left. She'd reported it stolen to the Port Orange Police Department, and knew Calvert had stolen it once she saw the video. She recognized him from his movements and bearing in the store.
Calvert would later claim to detectives that he'd gone to his friend's place drunk, and woken up later in his truck with the gun net to him, only then realizing that he'd stolen it. He said he was going to sell the gun to a friend for $250, but on his way, saw the convenience store on Pine Lakes, and decided to commit the robbery.
Thanks to the friend's account, detectives identified Calvert's vehicle, and using license plate reader technology, determined that his Ford pick-up truck entered Palm Coast the night of Dec. 19 at 8:13 p.m. off of I-95, at State Road 100. Traffic camera footage traced his trip to the Pine Lakes Parkway gas station, matching the 8:41 p.m. time of the robbery. The Ford was traced leaving Palm Coast at 9:16 p.m. after it went to the city's aquatic center for an undetermined reason.
Calvert himself would later tell detectives that he'd spent all his money at the strip joint, waking up in a daze and realizing he had nothing left to hire a lawyer. He then decided to burglarize the gun store. He said once he saw there were no bars on the window of the store on Ridgewood Avenue in Port Orange, he smashed the window, got startled by the alarm, hurriedly stole three shotguns and drove off. He sold the three shotguns to his boss for $550.




Calvert was then arrested in a traffic stop on Herbert Street in Port Orange that led to minor drug charges and the impounding of his truck. Flagler Sheriff's detectives went to Port Orange and elicited a confession from Calvert: he'd burglarized Gunfire Inc., a gun store in Port Orange (where he wore clothes similar to those worn in the Palm Coast robbery), stolen the AR-15 from his friend, committed the robbery in palm Coast, then sold the rifle to a man detectives spoke with. The man, acknowledging that Calvert had sold him the rifle, described Calvert as acting like a "crackhead" at the time. The rifle was eventually recovered.
"Great work by the FCSO Major Case Unit, Port Orange Police Department, the Bureau of Alcohol, Tobacco, and Firearms (ATF), and the State Attorney's Office for bringing these cases to a close with convictions and a strong prison sentenced," said Sheriff Rick Staly. "We couldn't be as efficient and effective without the help of our local law enforcement partners."