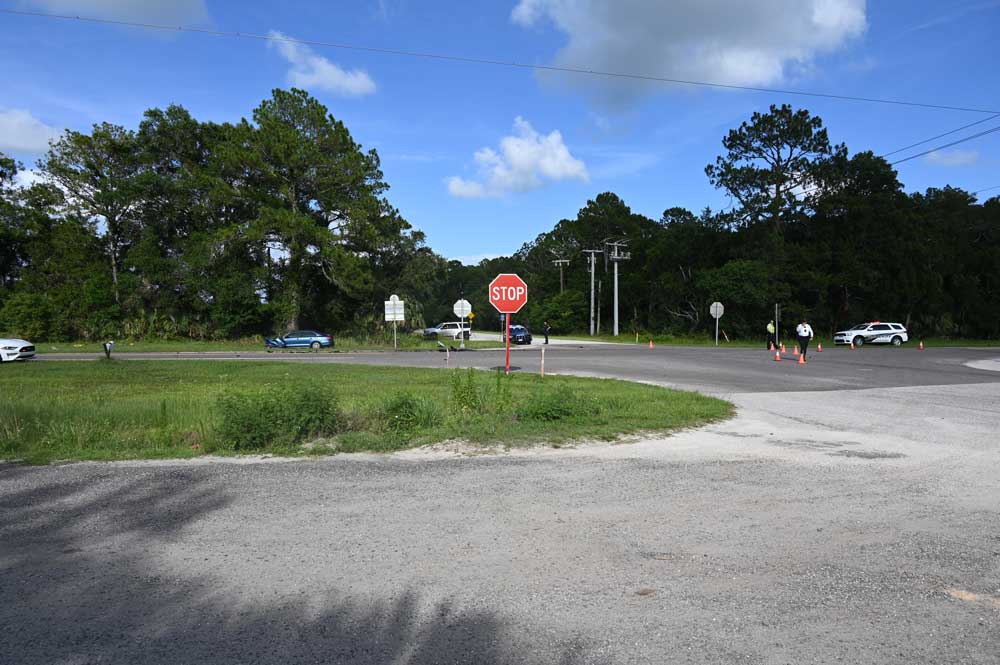 Last Updated: 4:17 p.m.
Cody's Corner, the intersection of State Road 11 and County Road 304 in southwest Flagler County, was again the scene of a fatal crash Sunday afternoon as a 44-year-old woman lost her life in a t-bone collision.
The crash took place at 4:45 p.m. F.S.E., an Orlando pharmacist, was driving west on CR304 and had stopped her Toyota SUV at the stop sign with SR11, then pulled into the path of a Ford Mustang, according to the Florida Highway Patrol. An 82-year-old man was at the wheel of the Mustang, with a 79-year-old woman as passenger, both from The Villages.
The Mustang struck the SUV's right side, causing the SUV to overturn onto the west shoulder of State Road 11. One of the vehicles took down a stop sign as a result of the collision. All vehicle occupants were wearing seat belts, according to FHP.
F.S.E. was pronounced deceased at the scene. Both the man and the woman in the mustang were seriously injured and transported by ground to Halifax hospital in Daytona Beach. FHP is continuing the investigation.
Cody's Corner remains one of the county's deadliest intersections. It claimed a life on May 31 after nearly a identical collision, when Kristi Oliva Spaulding, 32, was in a t-bone crash with a vehicle driven by Oscar M. Garcia, 53. In that case, Spaulding was driving east on 304, Spaulding was driving north. Spaulding failed to stop at the stop sign, according to FHP's crash report.




The state Department of Transportation had planned to build a roundabout there several years ago. It was designing it in April 2018. Then, citing vague reasons, the department gave up. It built roundabouts at U.S. 1 and Old Dixie Highway, and at U.S. 1 and Matanzas Woods Parkway, which had been the county's other deadlier intersections. The two locations have been the scene of one fatality since: last September, Noah Gabriel Garlovsky, a 40-year-old Ormond Beach resident, "for unknown reasons" drove his BMW onto the roundabout as he drove north on U.S. 1, according to an FHP crash report, sending the car airborne before it overturned several times. The crash took place around midnight on Sept. 14.
Roundabouts drew public opposition in Flagler before they were built, but not since. Roundabouts are credited for drastically reducing (but not eliminating) severe and fatal crashes at intersections.
A DOT spokesman this morning said the agency would provide an update on the status of the roundabout, if any. Shortly after 3 p.m., DOT spokesperson Tim Freed wrote: "Safety is at the heart of every effort the Department undertakes. FDOT continues to pursue the goal of reaching zero fatalities and serious injuries on our facilities and there are many tools available to enhance safety for drivers and other road users. As with any project, the Department wants to evaluate all available options within the context of each individual community and situation. The Department is currently reviewing options to improve safety at this intersection and will work with Flagler County on next steps."
The Flagler County Sheriff's Office this morning in a release said its data show a 75 percent increase in traffic fatalities on Flagler County roads this year, compared with last year, with 21 deaths from January 1 to September 31, compared with 12 during the same period last year. It documented three more fatalities so far in October, including Sunday's, for a total of 24.
This spike in traffic deaths comes despite a slight decrease in reported traffic crashes in the county: 2,349 accidents so far this year, compared to 2,361 last year.
"This trend concerns me greatly," Sheriff Rick Staly is quoted as saying in the release. "These deaths didn't have to happen. I can't stress that enough. Safety should be the main priority when you're driving, not speeding or thinking it's OK to drive after a few drinks or looking at your phone or any other kind of distraction that keeps your attention off the road. If we all embrace safe behavior while behind the wheel, we can reverse this trend and prevent future tragedies."
The Sheriff's Office as a result is conducting a special version of Operation DRIVE (Distracted & Reckless Intersection Violation Enforcement) prior Halloween. The one-day county-wide traffic safety operation will take place Tuesday (Oct. 25) in coordination with
the Florida Highway Patrol, the Flagler Beach Police Department and the Bunnell Police Department. To bring extra attention to this month's enforcement, education and awareness effort, a Flagler County sheriff's deputy will wear a Halloween costume while doing speed checks at intersections where crashes are most frequent, with particular attention to the following:




• Old Kings Road & Palm Coast Parkway
• Palm Coast Parkway & Cypress Point Parkway
• Belle Terre Parkway & Palm Coast Parkway
• Belle Terre Parkway & East State Road 100
Operation DRIVE is normally done once a month. The goal is to enhance the safety on all roadways in Flagler County by focusing on distracted driving and reckless driving in high-traffic areas, ultimately providing a safer travel environment for those in vehicles as well as pedestrians and bicyclists.
With this month's operation taking place close to Halloween and during National Pedestrian Safety Month, Staly says there will be a bigger focus on pedestrian safety. "Walking around getting candy is always fun but having more people than normal on foot in the streets does increase the risks of traffic and pedestrian collisions," he said. "That's why we give this friendly reminder to be extra cautious in areas with heavy foot traffic, including school zones. Don't speed and don't drive drunk or distracted. Pay attention while behind the wheel!"
Reader Interactions