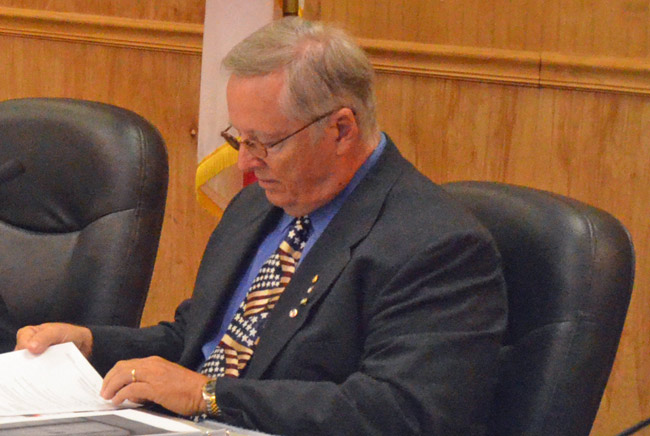 If some customers who rudely address city employees were to speak likewise to his wife or daughter, Palm Coast City Council member Bill McGuire says, "I'd probably be in jail."
At McGuire's urging, the city is putting together a task force to come up with a plan to better protect government employees from what he says has become routine abuse in person, by phone, by email, and out on the streets where government workers often interact with residents.
City Manager Jim Landon is equally eager to address the matter. "This society seems to think it's OK, at least a portion of it, to abuse a very large employment base, and that is government employees," he said.
Landon will lead the task force, which will at last count, according to McGuire, include Barbara Grossman, the city's code enforcement manager, Bill Reischmann, the city attorney, Virginia Smith, the city clerk, and Mark Carman, the sheriff's commander of the Palm Coast precinct. McGuire may sit on the panel if asked, he said. If not, he'll follow its proceedings closely regardless.
The incident that led McGuire finally to ask for action on the matter involves 66-year-old Palm Coast resident Lorenzo Fields, who's had issues with his water service at 4 Bay Road and who, judging from a sheriff's office incident report, has difficulties addressing others, women especially, without being sexist and using some of the vilest, sexually-explicit obscenities in the language. Fields could not be reached Thursday: the phone number he provided the sheriff's office for the incident report was disconnected.
McGuire personally witnessed one of Fields's outburst. But there have reportedly been several.
Some months ago, the incident report states, a water line ruptured beneath his house while he was away. The rupture damaged his house and led to a large water bill. Since a property owner owns anything beyond the water meter and toward the property, the city was not liable for the ruptured pipe nor, for that matter, for the cost of the lost water. Fields demanded that the city compensate him for the large water bill. The city agreed to reduce the bill to $200, and later to $50. Fields refused to pay. Eventually, as is the practice with non-payment for city services, the city turned off the meter.
Fields then parked his truck on top of the water meter in hopes of denying it access to city employees. It may not have been an issue had the water meter not been paired with that of another, active address. But it was. Fields also called the county administrator's office, even though the county has no jurisdiction of the matter, and told county officials that he would dump a load of gravel on the meter to keep city workers from reading it. In another conversation with county officials, he said that "someone is going to get hurt soon," according to the report. (On May 27 a city employee, with a sheriff's escort, was able to access the meter unhampered. Fields was not at the house.)
Fields repeatedly called utility department employees, harassing them, being obscene, making threats, and leveling sexually obscene insults at women who work there. (See the report for the language he used.) He told one employee to call her boss, Richard Adams, and proffer an obscene proposition to him, too. On May 27 around noon, with Fields being disruptive in person at city offices, sheriff's deputies warned him to stop harassing city employees. On June 1, Fields appeared before the county commission and said he'd sue the city, though by then he'd paid his bill and water service was restored.
Fields's behavior is the one that "broke the camel's back," McGuire said, but it was by no means isolated. He said eight to 10 times a month, authorities are called to city offices to address disruptive customers. (The Fields report at the Sheriff's Office was a rare instance of a documented such encounter: similar reports are very rare.)
"In the last three or four days I've been in contact with some of our city employees and I've observed some behavior that bothered me greatly," McGuire told the council on Tuesday. "Our employees that deal with the public directly are being abused. They're not being treated well at all. They're subject to verbal abuse, profanity. I don't want to get into a lot of detail, but I guess what I'm saying especially in a month when we're supposed to be celebrating civility, I was taken aback and the more I got into it, the more I found that this is a day to day thing."
In an interview Thursday, McGuire said the abuse "runs the gamut anywhere from code enforcement to their billing to obtaining a permit. People usually when people come in to place a complaint they're already angry when they walk in the door, and our staff in place tries to calm them done a bit. But often times it goes to where they have to summon for help."
McGuire wasn't sure what a task force could determine as effective means of preventing abuse, but one starting point could be clear signs that tell visitors to city offices that abuse would not be tolerated. Another possibility: better training for city employees on how to deal with abusive customers. McGuire likes especially what he described as a "no-fly list" that Grossman, the code enforcement manager, keeps: on it are the names of people who have been abusive of her office, and with whom she will not interact, McGuire said.
Then there's the legal question of how far the city can take its authority not to take abuse, in a public office. That's why Reischmann, the city attorney, will be sitting at task force meetings.
"We don't hire people with the intent of putting them in a combat zone," McGuire said. "We should do a good job for the citizens but doing a good job for the citizens doesn't accommodate being a punching bag for them to vent their spleen." Employee training meanwhile he said, is all slanted one way: "We teach them how to be nice and give positive body language and all that sort of things to the citizens, but we don't give them any training on what to do if they become abused."
McGuire said there are no intentions to develop a siege mentality at the new city hall, nor will there be an armed guard at the door. But "diplomatically and in a spirit of cooperation," he wants protective measures.
"With the new city hall I think is where it would make a lot of sense to take a look at our operations and making sure it's addressed there," Landon said. "But it's not just at city hall. It's utilities, it's out on the street, where you have construction crews and maintenance people, etc., and sometimes the abuse they take."
McGuire concedes that a generally anti-government attitude on ideological TV shows and in social media—not to mention online comment sections, where anonymity amplifies viler attitudes—has contributed to the more permissively insulting posturing against government workers on an everyday basis.