It started with the display of a nativity scene. There's nothing wrong with nativity scenes. We had one every Christmas in our living room in Beirut, each year more elaborate than the one before because in our homes fathers put together nativity scenes the way mothers put together Christmas dinners. It was a macho thing. My manger is bigger than your manger, and so on. But it was all in god fun and it was private, as all displays of religious flamboyance, like sexual flamboyance, should be. That's conservatism I can live with.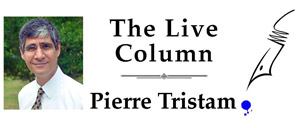 The problem with the Florida Prayer Network is that it wants to be in our face. Cram its crucifix down our throat. So it proposed putting up a nativity scene the size of a small barn in the Florida Capitol, with Christ already in place no less. In our day, not wanting to upstage Mary's labor pains, we only placed Christ in his bed of hay at midnight on the 24th. It was inaccuracy enough, considering the real birth's occurrence in the warmer months of the year.
The state Department of Management Services regulates what may and may not be displayed in the Rotunda's free-speech zones. It could have said no to the boxy nativity scene. It wouldn't have infringed on the First Amendment. The display is in clear breach of the separation of church and state, to say nothing of its breach of common sense and religious sensibilities that don't hew to Baby Jesus mythologies. But like the Florida Prayer Network, Gov. Rick Scott likes to stick it to those who don't see things his way, and use public venues not his own to do it. Scott and the prayer network could have found a zillion other places, all of them extremely public but not on public ground, to advertise their cult. But insecure believers always need to impose. So for the first time in history, a nativity scene went up in the Capitol.
Mel Brooks and Monty Python together couldn't have scripted what happened next. First came the Festivus pole, a phallic obscenity made of beer cans stacked on top of each other and rising several feet, its obscenity of course being that it was made of Pabst Blue Ribbon cans instead of more spiritually acceptable beer, like something German or monk-brewed-Belgian. The Festivus holiday is one of the great inventions of Larry David—whose existence is argument enough to make Jews of all of us—as part of his Seinfeld creations, which are as good as the gospel of modern American comedy. Since the state had accepted the nativity scene, it couldn't exactly refuse the Festivus pole. Up the Rotunda's arcs it went.
"And see if I will not throw open the floodgates of heaven," goes the verse in the Old Testament's closing book, "and pour out so many displays that there will not be room enough to store them." Sure enough. Next came the Church of the Flying Spaghetti Monster, which set up a mound of thickish sauceless pasta-looking stuff on a rolling red chair and plunked a pair of bug eyes on it to make it look like a monster, though it looks more like something out of Sesame Street. I've lost count of the number of displays from atheist organizations that the state had to accept, though the way Rick Scott has been running this state is enough to make you lose faith in all gods, not just those made of spaghetti. Before long the rotunda started looking like an unintentionally elegant homage to the polytheism of the pre-Christian world, a scenery more Herodotus than New Testament.
Finally came the Satanic Temple with its display. To that, the state said no. Go figure. I don't mean to be flippant, but there was nothing theologically offensive or inaccurate about the display–inasmuch as theology and accuracy can ever be bedfellows–unless you consider certain passages from the Bible offensive. The Satanic Temple's devilish nativity scene was the recreation of a verse from Luke, the same Luke who gave us the fictions of Bethlehem and the Virgin birth, and another from Isaiah. It shows an angel's fall from heaven, rendered no less flamboyantly, or vulgarly if you prefer, than the prayer network's rendition of Luke's makeshift NICU verses. As I recall Dante's Inferno owes its existence to Isaiah's same literary DNA, and no one is proposing to keep Dante from little children's stockings this season. (We can dream, can't we?) Anyway, the state called the Satanic Temple's display "grossly offensive" and banned it.
What until then had been all good fun, a limitless display of what happens when you open the door to religious idiocy while claiming impartiality, immediately showed up the hypocrisy of the thing, not to mention the state's biblical illiteracy—a crowning irony to the rules of thorns the state couldn't stick to. The line it drew against the Satanic Temple was discrimination, pure and simple, unless it had been drawn against the prayer network's nativity scene to start with, as it should have. It's all or nothing: allow them all, however extreme or "offensive," or allow none.
Lost in the salad was the purpose of the First Amendment's establishment clause. It exists not to turn the state into an arbitrator of cults, but the keep the state from playing that sort of god, a game it cannot win without sooner or later taking sides and making an ass of itself, or worse.
The blessing of the First Amendment's establishment clause, when it's respected, is that it keeps us from degenerating into state-sponsored sectarian madness (the sort of madness I came from), the sort of madness that's had that poor Holy Land—the same Holy Land of Hallmark cards and Midnight Mass—soaking in blood because its accursed trinity of Christians, Muslims and Jews haven't learned in thousands of years what the founders between one tavern trip and another figured out in a matter of weeks in Philadelphia that summer of 1787: that you can believe all you want, anywhere you want, whenever you like. Just leave the state out of it. Even in Bunnell. The state isn't and never should be in the business of beliefs, whatever they are. Beliefs certainly don't need the blessings of the state to thrive.
With those 16 words ("Congress shall make no law respecting an establishment of religion, or prohibiting the free exercise thereof") the founders did more for peace on earth than all the words of the Bible, the Koran and other best-selling worship manuals combined. Those 16 words have generally worked out beautifully, except when the likes of our governor want to play Lord and Savior to their favorite religious clique, opening floodgates to imbecility they cannot close. The founders could only contain arrogance, not eliminate it.
The state made a mess of Christmas in the Rotunda. Let's not make a mess of it here. So let me wish my readers a very merry Christmas and a merrier new year, along with the happiest of holidays under the sun, whatever those may be—as long as you believe responsibly, and choose your beer wisely.

Pierre Tristam is FlaglerLive's editor. Reach him by email here. A version of this piece was broadcast on WNZF.