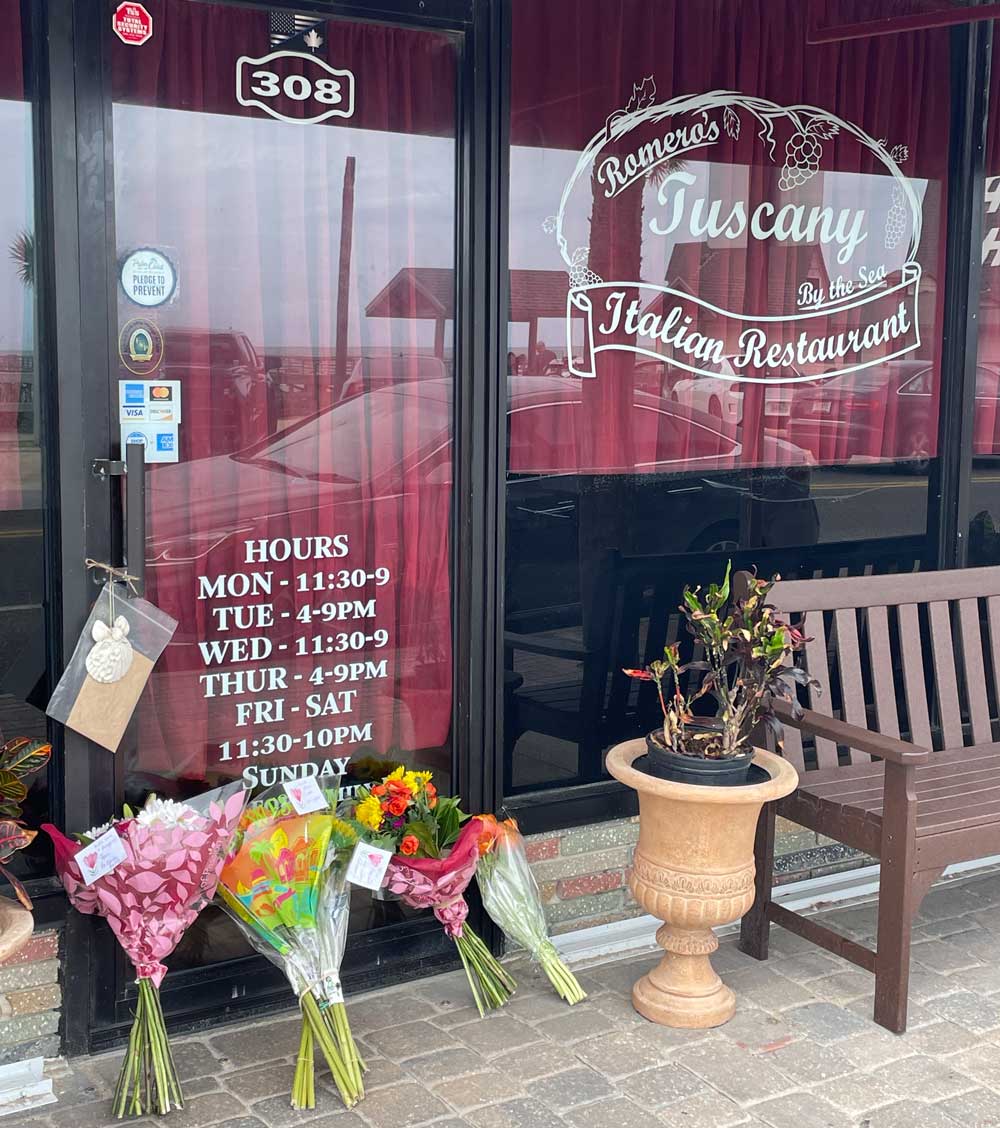 Christian Romero, 23, a Flagler Palm Coast High School graduate and the son of Dawn and Miguel Romero, owners of Romero's Tuscany By the Sea restaurant in Flagler Beach, died in a two-vehicle crash caused by a 15-year-old driver's inattention in Orlando early Sunday morning, according to the Florida Highway Patrol.
The crash was reported at 4:36 a.m. at Dean Road and State Road 408.




According to FHP, Romero was driving a 2016 Toyota 4Runner, traveling east from the S.R. 408 exit ramp to Dean Road, in the inside left turn lane. He was traveling alone. He had a green light, and proceeded accordingly.
The 15-year-old at the wheel of a 2015 Hyundai Santa Fe, with five passengers aboard–all between 13 and 16 years old–was traveling south on Dean Road, approaching State Road 408 in the outside lane. The 15 year old was traveling southbound on Dean Road, ran the red light while traveling above the posted speed limit, and struck the left side of Romero's 4Runner, catapulting it against the center-median curb and causing the SUV to overturn on its right side.
The passengers included three girls, 13, 14 and 15, and two boys, 13 and 16, all from Orlando with one exception, from St. Cloud. The 15-year-old driver and four of the five passengers were taken to Arnold Palmer Hospital with non-life-threatening injuries. The fifth was taken to Orlando Regional Medical Center, also with non-life-threatening injuries.
Christian Romero was pronounced deceased at the scene.
The Orange County Sheriff's Office reported that the 15-year-old girl was driving a stolen Hyundai. (A 15 year old may qualify for a learner's permit. But under Florida law, the 15-year-old must always be accompanied by a licensed driver age 21 or over, and may not be driving after 10 p.m.)
It is the second time in five months that the family owners of a downtown Flagler Beach business has lost a young adult child, with the community rallying around the family. The Romeros opened Tuscany By the Sea in 2019, after a six-year absence from the restaurant business. This morning, bouquets of flowers were accumulating at the door of the business, shuttered because of the loss.




"As a neighboring business," Flagler Beach Commissioner Eric Cooley, who owns the 7-Eleven a few steps away, "I want the family to know we send our deepest condolences. In this tight-knit community we will be there for anything they need during these sad and trying times. Pulling together for others is what Flagler Beach is known for."
Karen Dion, a family friend, has launched a GoFundMe account to help support the family through the closure. "Sadly, the restaurant will have to close its doors due to the heartbreaking loss of their son, Christian for at least 7-10 days. This closure means that the staff will not receive any income during this time, and the Romero family will also lose business during their time of grieving," the fund-raiser states. "We know that the Romero family would never ask for help themselves, but we are reaching out to the community to support their employees who will be struggling without their regular income. We are asking for donations to help support the staff and family during this difficult time."