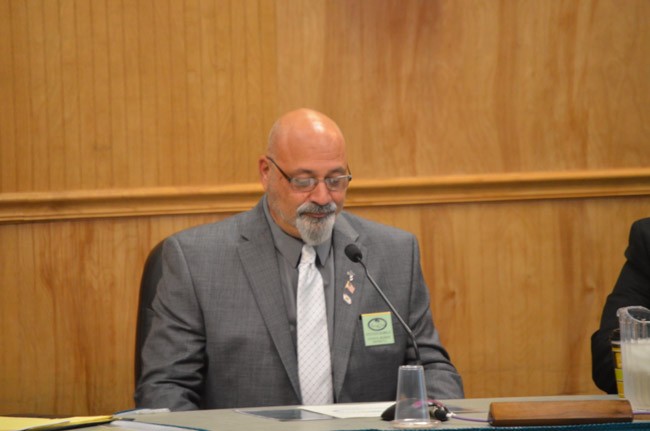 There will not be a charter review in Palm Coast. Two motions attempting to create a review—one that would have been conducted by a citizens' panel, one by the Palm Coast City Council itself—failed to garner so much as a second Tuesday morning during a strident segment of the council meeting.
It was an ugly end to a messy process dating back to council member Steven Nobile's first attempt to launch such a review in May.
Nobile started the discussion this morning by asking for a vote on a charter review committee made up of residents. The committee would have been appointed by the council, but would then have acted independently, with city staff support, with the authority to draft charter amendments that would then have been placed on the next election ballot for voters to accept or reject.
Council member Jason DeLorenzo said he'd spoken to previous council members and other elected officials to get guidance on what makes the most sense. "I find myself conflicted because the actual charter review and the civic part of a charter review, I actually find to be a good idea," he said, after seconding Nobile's motion only for discussion purposes. "But I still cannot get over the fact that this is in my mind, this is still a political ploy, and nothing more than that. And I really think very little good other than arguing will come out of this. And that is why I cannot support it at this time, and I rescind my second."
"Pfft," Nobile reacted, "that's pretty interesting. I take offense to that political statement because when I first made statement that I thought we should do a charter review, had I not been so brutally attacked because of the fact that this council was threatened by a third party, and they decided they were going to take action against me, because of what Dennis McDonald came into this council and said." Until Nobile's pitch for a review, the only other person to propose the idea to the council was McDonald, a director with the Ronald Reagan Republican Assemblies—the extremist Republican group that now dominates much of the local GOP committee structure—and a three-time candidate for various local offices who's also sued the city twice. The Reagan assemblies have distanced themselves from Nobile's charter proposal.
"So I take offense to that," Nobile continued, his voice now booming. "I do not pander to anyone. I did not ask for a charter for no one's request, but people who live in my district, Democrats, Republicans, Independents and like I stated last time, every single person who stood up here and said I'm against a charter review, ended their statement with—but if we do do one, I'd like to see this changed. This is not political. This is basic process that this council has decided on its own it will not do, and for that reason I continue to fight that because I am here fighting for the people who want their voice heard, not just the council. They want the council to represent them, not to tell them what they want. That's why I brought it forward, not for any political advancement. That has been a ruse by many people in this town who have put it through the newspapers and have advanced their straw-man attacks on this, that Steve Nobile and his small group want to take over the city. Just how absurd does that sound? Does that not sound absurd to any of you?"
The council did not engage Nobile. Mayor Jon Netts immediately went to the procedural question, seeking a second to Nobile's motion. He did not hear one. Shipley then proposed a different option: the council's review. Shipley was not interested in committee appointees that would "think exactly like us" and don't work in the council's setting. She preferred a council-led review over the next few meetings, taking the charter segment by segment. That motion died too.
Netts said the charter is effectively open to discussion and informal review at every council meeting, whether by council members or by members of the public. The discussion might have ended there, but DeLorenzo wanted to make further points—that he represents close to 20,000 people in his district, and just because he did not hear from them, he felt compelled to represent and "protect" them as well.
Council member Bill McGuire was befuddled over what, precisely, had to be fixed through the charter review. "What cancer am I trying to cut out of the charter and what am I trying to fix?" he said. "It's like if my wife comes home and says I need a new car. Well why do you need a new car? Well, everybody at the VFW says I need one, so I guess I need one."
"You can't compare that, please, come on, it's like your retirement plan," Nobile interrupted, prompting a rebuke from the mayor. McGuire then went on. "If there are specific things in the charter that cry out for correction, tell me what they are and I'll probably get behind them, but just to have a charter review just to have a review, doesn't make any sense to me. We've got real problems in this city that we're trying to address every time we have a meeting, and while I commend you, Mr. Nobile, for your dedication, no one has as yet told me what's broken."
Nobile suggested that the right comparison, rather than to a car, is to a retirement plan, or to a strategic plan—which is reviewed every year. "So please, with the straw man stuff, I mean the comparisons are terrible," he said, discrediting the notion that decisions should be made based on email responses.