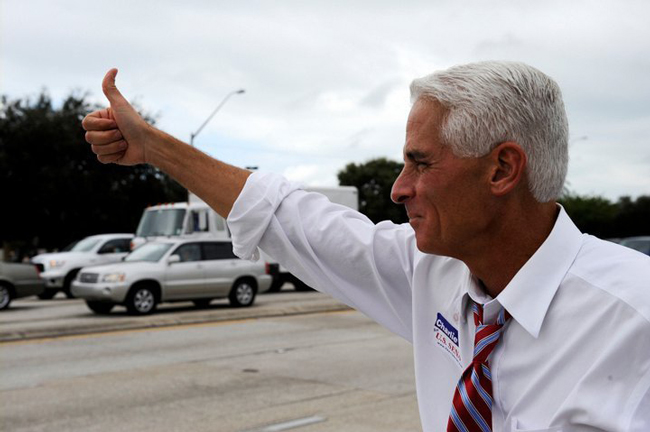 Amid speculation he will run as a Democrat for his old job, former Republican Gov. Charlie Crist on Wednesday said he supports allowing same-sex marriage.
In a message posted on his Facebook page, Crist wrote: "Some great news: On Tuesday, Delaware became the 11th state to allow marriage equality. And just a few days ago, Rhode Island adopted a similar measure, which followed victories last fall in Maine, Maryland and Washington. I most certainly support marriage equality in Florida and look forward to the day it happens here." The message, initially reported by the political site SaintPetersblog, did not elaborate on Crist's thinking.
Crist hinted at the position in December, after becoming a registered Democrat. He said at the time that he regretted signing a petition in support of a 2008 ballot initiative that put a ban on same-sex marriage in the state Constitution.
The status update, posted around noon Wednesday, had generated some 260 comments by early evening today and 1,403 likes, and had been shared by other Facebook users at least 135 times.
Among the comments: " Run Charlie, Run!" (by Adam Saben). "Union contracts are one thing. Marriage is ordained by God between a male and a woman. I love all people but sin is still sin" (Tia Nia). "Charlie, you are headed down the wrong road!! There can not be any such thing as 'gay-marriage'. Straighten up and fly right. You have lost your way" (Paul Cenedella).
"This state, I am afraid is too backwoods, bible thumping conservative to be so progressive and forward thinking as to allow equality for all. Sad" (Melinda Cay Bernt). "[N]ot sure if this is a good thing, charlie, you don't have to do this to win, TRUST ME" (Reid Meh-Status). "Charlie why don't you leave politics alone and go back to chasing ambulances?" (Jim Henderson).
George Elfter asked: "Why not let the people vote for or against?"  But voters in Florida by a 61 percent margin approved in 2008 an amendment to the constitution banning gay marriage. And Crist  himself in 2006 had signed a petition to ban gay marriage by way of the constitution, as the St. Petersburg Times's Adam Smith notes, just as Crist had underlined his opposition to gay marriage in campaign fliers. But Crist, after becoming a Democrat, said he regretted signing the petition.
And there was this exchange: "I read my Bible and when it tells me that it is OK for man to sleep with Man or woman to sleep with woman I will support it also. Did you know that the human species is the only specials that will do that? When was the last time you saw a bull or a stud horse have sex with each other. How about to male pit bulls having sex? No chance in hell that would happen! To each there own but the time will tell that they should have just got counseling and not went down that road regardless of how they thought they were feeling" (Bob Eytcheson). "Bob, the fact are the Homosexuality is found in over 450 species. Homophobia is found in only one. Which one seems unnatural now?" (Jim Nixon). "I liked you a lot Charlie, until this post. Go ahead and give gays rights via a civil union or something but marriage has always been between a man and woman and should remain as such, in my opinion" (Don Cronk). " If you have real guts, you will run for gov. On the issues YOU really believe in. Bring this freak state to where it needs to be… Reasonable" (Mich Sullivan).
The Republican Party of Florida blasted Crist after the December comments, sending out an email that said he was trying to have it "both ways."
"Once again, Charlie Crist is showing he has two faces on any issue," the GOP said in the December email. "When Charlie Crist wanted Republican (and Independent!) support, he took a strong, pro-family stance against legalizing gay marriage. But today, he flipped yet again."
Crist, who unsuccessfully ran for the U.S. Senate in 2010 instead of seeking a second term in the governor's office, joined other politicians who recently have changed stances to support same-sex marriage. Among the most notable have been President Barack Obama (thanks in large part to Vice President Joe Biden), Sen. Bill Nelson and Ohio Republican Sen. Rob Portman.
It remains uncertain whether Crist will run next year against Republican Gov. Rick Scott. But Crist has taken steps for months to boost his visibility and support among Democrats, including playing a prominent role campaigning for Obama last year.
While states are quickly adopting gay marriage (as are nations: France last month became the 14th nation to do so) Florida has resisted the trend. There was a feeble attempt at the Legislature this spring to allow for civil unions, but the bill by a South Florida Democrat was pulled before a committee vote that would have killed it anyway.
–FlaglerLive and News Service of Florida