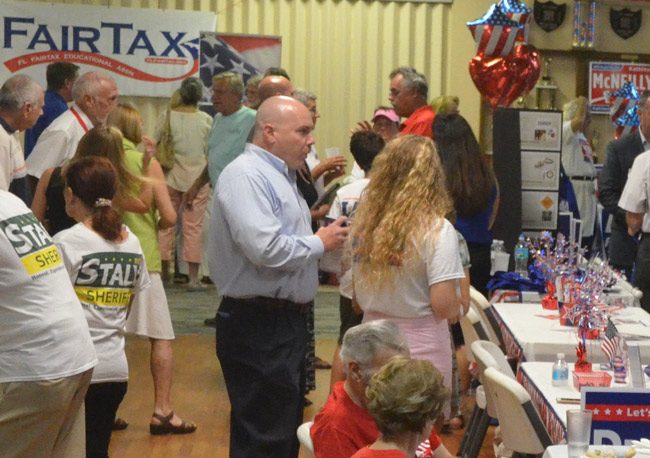 The final hearing in the case of alleged judicial misconduct regarding Circuit Judge Scott DuPont ended after two days in Jacksonville Tuesday.
The fate of DuPont, who sits in Flagler and Putnam counties, now rests with the Florida Judicial Qualifications Commission, which will decide whether to file charges or sanctions against DuPont and what level of guilt or punishment to recommend to the Florida Supreme Court. That order is due in 30 to 60 days. Should the qualifications commission recommend sanctions or charges, it'll be up to the Supreme Court a few months later to decide whether or how to discipline DuPont, who will also get to make his case before the justices.
The Judicial Qualifications Commission is the investigative arm of the state's judicial system. It is prosecuting the case against DuPont, who is represented by attorney Liles Gavin of Jacksonville. The two-day hearing featured a long list of witnesses for both sides, some of the witnesses called by both, including seven judges called by the qualifications commission and 12 called on DuPont's behalf, almost all as character witnesses. Each side also called on its share of lawyers as witnesses, creating the unusual dynamic where the individuals who usually appear before judges or who sit as judges were instead in the witness box.
The hearing took place in Courtroom 603 at the Duval County Courthouse, with the six-member panel hearing the case, and chaired by Eugene Pettis, an attorney. The panel is made up of two judges (Steven DeLuca, a county judge in Broward, and Robert Morris, a judge on the Second District Court of Appeal in Lakeland), two attorneys (Pettis and Michele cummings) and two lay members (Harry Duncanson and Nancy Mahon).
The qualifications commission launched the case against DuPont a year ago with five findings that he may have acted recklessly and unethically during his 2016 re-election campaign, when he faced Malcolm Anthony. The commission alleged that DuPont had spread false, unsubstantiated and scandalous information about his opponent and failed to himself verify the information before it was posted electronically. The commission also alleged that he made statements inappropriate for a judge about the constitutionality or unconstitutionality of statutes.
The allegations were n not necessarily a surprise to people familiar with DuPont's style and philosophy. He was an aggressive lawyer and is an aggressive judge, doctrinaire down to the strict way he manages his docket and the duration of hearings before him. But he also has a loyal following, and drew on that following to support him in his final hearing. Those he called on included Tom Bexley, the Flagler County Clerk of Court, and Tim Smith, the clerk of court in Putnam, Judge Dennis Craig (though Craig was identified as a mere attorney in the formal filing to the qualifications commission). DuPont also called on Jeffrey Hardy, a former Putnam County sheriff, among several law enforcement officers, Terence Perkins, the former chief judge of the Seventh Judicial Circuit (which includes Putnam, Flagler, Volusia and St. Johns), and Hugh Grimes, president of Bethune-Cookman University.
The accusations against DuPont were serious but not catastrophic in that they did not reach into the courtroom, and could have been ascribed to the missteps of a candidate playing a political role in a race for an office that is decidedly non-political, even though judicial candidates are formally trained in how to ethically conduct their campaign. DuPont had initially sought to downplay the allegations against him pertaining to the election season, but eventually owned up to them. "I have had time to reflect on my actions, and think about my behavior, and in doing so I fully understand I was wrong. I should have conducted my own independent research and analysis of what was on my web site to guarantee that it was accurate in all respects. In this regard I fell short," he wrote in response to the charges against him.
But in mid-August, the qualifications commission filed an amended set of charges. Those were significantly more serious. Several addressed DuPont's courtroom conduct directly. And one of the charges including a reference to two judges having cautioned him against publishing some of the allegedly scandalous material referred to in the original set of charges. The judges were not named in the complaint, but were later revealed to be Judge Matthew Foxman, who sat as Flagler County's felony judge for a year, and Judge Howard McGillin, who sits on family court in St. Augustine.
DuPont in one of his pre-hearing motions tried to have the testimonies of Foxman and McGillin quashed. He failed. He succeeded in removing one charge—a vague charge that he had in his 2010 campaign "engaged in a personal attack against your opponent and published misleading campaign material." His opponent at the time was Don Holmes.
DuPont also sought to have two additional charges addressing his conduct as a judge dismissed: in one case the charge alleges that in a domestic violence case, he'd ordered one of the parties—the party not responsible for the violence—to undergo a psychological evaluation and even though the party was indigent, found her in contempt and humiliated her in court, ordering her jailed. The Fifth District Court of Appeal reversed his decision. In a family law case, when a party declared indigence, DuPont ordered a bailiff to search the party for any money or anything of value, then and there, and to seize it. DuPont claimed the cases were immaterial, not relevant and too far removed from "to bear upon the current charges" and his fitness to serve. But the qualifications commission disagreed. The charges are still part of the case to be decided.
The attorney prosecuting the case for the commission is Henry Coxe III of Jacksonville, with Michael Schneider of the Judicial Qualifications Commission. Meanwhile, DuPont continues to preside in family court in Putnam and Flagler.