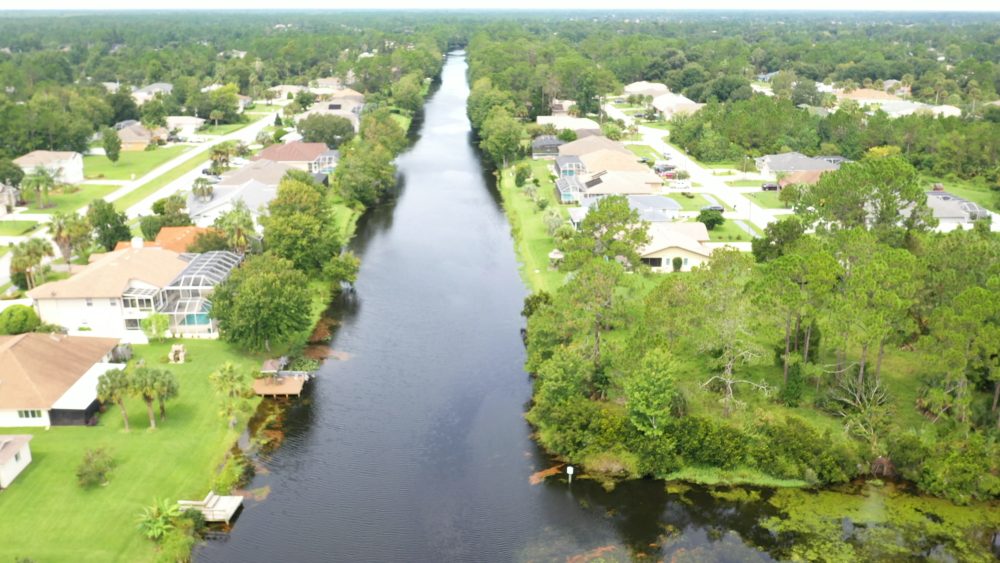 It took the intervention of Carmelo Morales, a rank-and-file city engineer who either got a hero's reception or a dressing down from his directors when he got back to the office earlier today: he charged city council members with "micromanaging" an  $8.2 million contract, and risking leaving the city begging for contractors. But in the end, the council approved the contract and conceded Morales's point without giving up its responsibility to oversee contracts and know when contractors are cashing in on overruns, at taxpayers' expense.
The council had ample reasons to raise eyebrows and questions and lower thresholds.




The London Canal flood-control project in the L and B Sections, which includes the construction of a lake between London Drive and Leaver Drive, was estimated less than a year ago to cost $4 million. The Palm Coast City Council today approved an $8.2 million contract, not including an additional $1 million for engineering and contingency.
It awarded the contract to Custom Built Marine Construction, the company mired in long-delayed Belle Terre walkway and piping project near Buddy Taylor Middle School, which as of last May had doubled in cost and was nearly a year behind schedule.
Both the surging cost of the London Canal project and its winning bidder shocked some council members.
Council member Theresa Pontieri called it "gouging" and just stopped short of accusing the contractor of profiteering off a public contract–a claim, made in public, that took aback Morales, the lead city staffer on the project. She wondered if bidding contractors had not been tipped off that the city was spending some of its federal aid money on the project, the implication being that the bounty of money would encourage bidders to inflate their prices. And she raised questions about awarding a contract of that size to a contractor the city has been wrangling with on the Belle Terre project.




London Waterway expansion is a four-year-old project, part of the stormwater master plan the city identified as part of its necessary improvements to water flow and water quality in the city. It's also called the Jefferson Waterway and the London Waterway. It collects water from the L and B Sections (everything north of Bird of Paradise), sending that water under London Drive and U.S. 1 on its way to the Intracoastal Waterway. This project will–in part–excavate land to create the lake. The excavated material will be trucked two miles away to the city's new future public works facility, saving the city a significant sum in fill. In essence, the project will increase flood-protection to the L Section, improving water quality and creating a passive neighborhood park.
The city has $6.2 million in American Rescue Plan dollars (that's the Biden Administration's $1.9 trillion 2021 Covid relief package) . The Stormwater Fund–fed by that $22.27 a month stormwater fee on your utility bill, soon to be $28.34 a month in October–will contribute $2.1 million. The project was designed last year. It has a poor bidding history. The first request in October drew no bids. The second one in February drew one. It was $5 million over the preferred budget. A third issue in May drew two bids, with the low bidder at $8.24 million. That was Custom Built Marine Construction.
"So they're behind on the Belle Terre project, and now we're going to hand them another $8.2 million to do more work in our city, and it's $4 million over the engineers' estimate," Pontieri said. "I just want to make it clear that I will be watching this contract and their work going forward."




She added: "I think it just needs to be known that we're not just going to rubber stamp contracts. And maybe that's just needs to come from here because we get contractors that see city monies, we're not exactly a broke city and can do this type of thing. And I'm not saying that they are, but it feels that way in this specific contract." She asked that any contingency of over $50,000 come before the council, even though the council was set to approve the total contingency amount of $702,000 in contingency. That would be the lowered threshold: $50,000. It would also go against the contract language, which spells it how change orders, or unexpected spending, is handled.
Council member Nick Klufas had no issues with Pontieri in principle but worried about the ramifications of the council stepping in to that degree, and possibly sending the sort of message that would make future contractors apprehensive to work with the city. Mayor David Alfin sought to "to hold city managers toes to the fire," while keeping council members aware of any scenarios Pontieri was concerned about. So the manager could simply report what sort of contingencies are requested, starting at the $50,000 threshold.
By that point, Morales, who sat at the staffers' presenting table in front the council, could not hold back, and did something rarely seen at City Council meetings, at least from staffers other than the city manager: he directly and repeatedly challenged council members in blunt terms.
"I don't really feel very comfortable about this. I think this is setting the wrong precedent," Morales said. "If you guys are thinking that contractors are rolling over on us, you clearly haven't been in the meeting where we discussed change orders with me. That's not the case at all. I argued for the city and argued for every dollar that I can get and I don't like this. This is a micromanagement, to be quite honest. This is the way I see it. If you're going to start ruling out contractors because they're delayed, we're going to run out of contractors. I'm sorry, I got to speak my mind. That's how I feel." No one, he said, mentions Custom Built Marine Construction's third contract with the city, which is under budget and ahead of schedule.




"Mr. Morales, with all due respect, we're the ones that are on the firing line when these are taxpayer dollars," Pontieri told him, while thanking him for speaking up. "This is an expensive contract. It's not just ARPA funds, it's $2 million of taxpayer dollars." Actually, the entire $9.2 million is taxpayer dollars.
She said she did not want to micromanage, but could not dismiss the reality of the Belle Terre contract. Staying on top of the contract, she said, was not micromanaging. "I appreciate my staff and my council members kind of pulling me back and saying no, we don't need to approve every little thing but let's go ahead and keep an eye on it," she said.
"I don't think we're micromanaging, because we're just asking to be informed," Council member Ed Danko said.  "It's not like I don't tell my better half not to go out and buy things. But like if it's over a certain amount I want to at least be informed, and I know you're listening here, sorry."
"Is it a $50,000 threshold for you too?" Klufas, who loves to needle the easily needleable Danko, asked him. But Danko was quick to respond top the council's Tesla owner and apostle: "If there's a new Tesla in the driveway, I should have been told about it."
That done, Alfin took a Solomonic approach: oversight and additional information are not micromanagement, he said, while City Manager Denise Bevan reminded the council that updates on such contracts has been "a priority in the past," made so by previous councils. "We know the public is eager to know what's happening in their backyard. We have a wonderful Map Viewer that's available to the public that actually gives a status to every capital project that we have underway. It provides a percent complete, what we've gotten accomplished, pictures, all these things. So we know it's important to update the public on what we're doing from our capital improvement program. Absolutely."
So any "dipping" into the contingency for $50,000 or more will be an information item to the council. It won't be part of the contract. Construction will start in October, by which time the Belle Terre project is expected to be completed.
Morales was complimented by the mayor, Klufas and Pontieri for speaking up, though it is unlikely his homage to Spartacus from the well of the council's chamber will see a repeat soon. The council approved the contract on a 5-0 vote.

marine-construction-contract