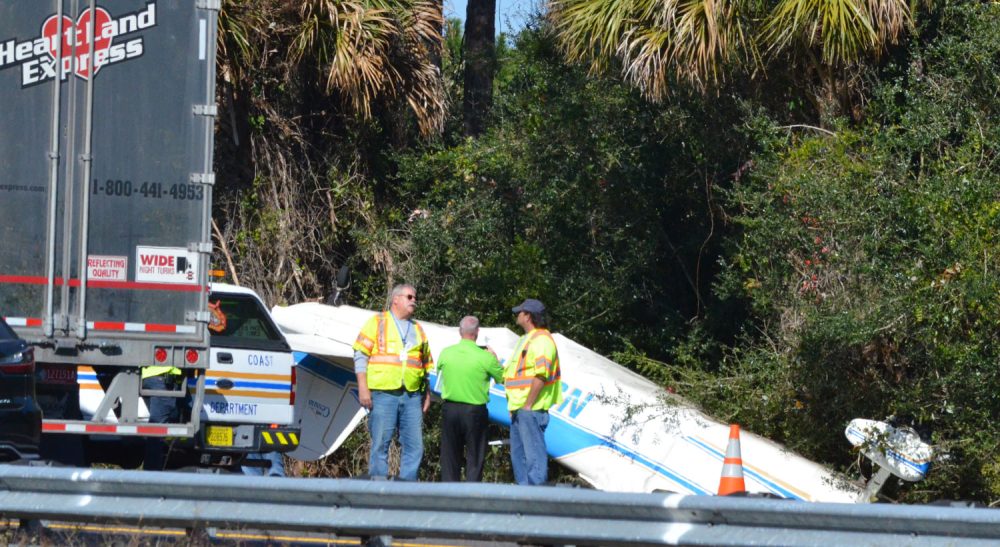 Two occupants of a single-engine Cessna suffered only minor injuries when their plane crashed on I-95's northbound lanes a little before 1 p.m. today, between the State Road 100 and Old Dixie Highway exits.
The plane's engine failed about three miles from Flagler County Executive Airport.
"Preliminary investigation has revealed that, for reasons still under investigation, the aircraft lost power and the pilot was attempting an emergency landing on the northbound lanes of I-95," FHP reports. "As the pilot was attempting this maneuver, the aircraft's wing collided with the tractor trailer combination and was redirected into the tree line."
Tina Darville, a Palm Coast resident, was driving her black Ford F-150 northbound, heading for the Palm Coast Parkway exit, when she suddenly saw the plane almost on top of her pick-up truck. She did not see the collision with the tractor trailer.
"I probably was going about 75 or 80," she said, "and I looked in the rearview mirror and my side mirror and I noticed an airplane was coming right for me, trying to land on the freeway. It got real close to where the cab of the airplane was almost on top of my tonneau cover for the truck, that's how close the airplane was to me."
Darville never heard a thing aside from the normal sounds of driving. "I always look at my side mirror and my rearview mirror, I'm always keeping my surroundings in check," she said. She had been traveling in the middle lane. Somehow, there was no traffic ahead of her. "So I gunned it, thinking either go to the side or gun it, and I gunned it as long as I could, and I knew I couldn't outrun a plane for goodness' sake. When I started to go into the side he did too, and that's when I saw it flip into pieces. I really didn't think he would make it. So I pulled over to the side of course. I was pretty far up there when I slowed the truck down." She called authorities and told them what happened.




"I did not see him come down, he was just there. It seemed like the plane was shaking," she said. She was convinced she'd get hit.
She was shaking, too. She called her husband, trying to calm herself down. She was immensely relieved when she got a call letting her know the two occupants of the plane–Scott Buchart and Daniel Kriedeman–were safe. "When they said that they were not hurt I couldn't believe it because it just wasn't feasible in all the trees, you know," Darville said. She did not know what had happened to the plane–there will be an investigation by the National Transportation Safety Board, which usually takes months–"all I knew is I needed to get out of the way, but I put my truck up to 120 and that's a miracle."
A diesel truck was on the wing of the plane, she said, its occupant slowing down to avoid involvement in the scene, then pulling over to lend help. "Everybody seemed to be really helpful," Darville said.
Darville, who is originally from Arizona (she and her husband moved to Palm Coast a few years ago for work) said she'd always driven a pick-up truck and knew she would stay in control, but felt guilty about being in the plane's way. "I know he tried his best. If I wouldn't have been in his way I felt he could have made a safe landing on the freeway," she said. "I could not do nothing but cry, I've never seen anything like that in my life."




According to Federal Aviation Administration records, the plane, manufactured in 1949 with a reciprocating engine, is registered to Kriedeman, of Port Orange, and was issued a certificate on Set. 21, 2020. Buchart and Kriedeman had taken off from New Smyrna Beach and were heading for Flagler County Executive Airport.
The northbound lanes were briefly closed, then a lane reopened, though the crash snarled traffic well past the Old Dixie Highway exit. Several agencies responded to the crash, including the Flagler County Sheriff's Office, the Palm Coast Fire Department, the Flagler County Fiure Department and the Palm Coast Fire Police, and the Florida Highway Patrol. FHP generally investigates plane crashes of this sort as traffic crashes, but the NTSB then takes possession of the plane and conducts its own investigation.
Oddly, planes crashing or executing emergency landings has not been an uncommon occurrence in the county. In November 2019, a student landed his plane safely on County Road 205 near Espanola. In 2017, two people survived without injuries when their plane crashed and caught fire on the Flagler Beach bridge. That year, two people also escaped injuries when their plane landed in a field off County Road 304.
In 2016, the pilot of a Beechcraft single-engine plane survived but with serious injuries after he crash-landed his plane in a field in Hunter's Ridge, at the south end of the county. That year, Joel Fallon, owner of Granny Nannies, was in a severe crash when the plane he was piloting with a co-pilot crashed in the woods of Plantation Bay. Both were gravely injured but survived.




In 2013, an instructor-pilot safely landed his plane after its engine stalled–on Palm Coast Parkway. And an experimental plane pilot survived without injuries after his plane crashed into Lake Disston at the west end of the county.
In 2011 a 66-year-old piloting an experimental plane survived a crash unscathed in the pines in West Flagler. And in 2010 a plane safely landed on State Road 100.
On March 16, 2001, a 23-year-old pilot and Embry-Riddle Aeronautical University student crashed their Piper Seneca twin-engine plane on Seminole Woods Parkway during a training flight, severely injuring–and burning–both.
The county has also been the site of several fatal crashes in 2013, when five people died, crashing just short of the Flagler County airport, and the following year when a man died after his plane crashed in the marshes of Pellicer Creek. In 2011, a pilot died during an air show at the county airport.
Reader Interactions