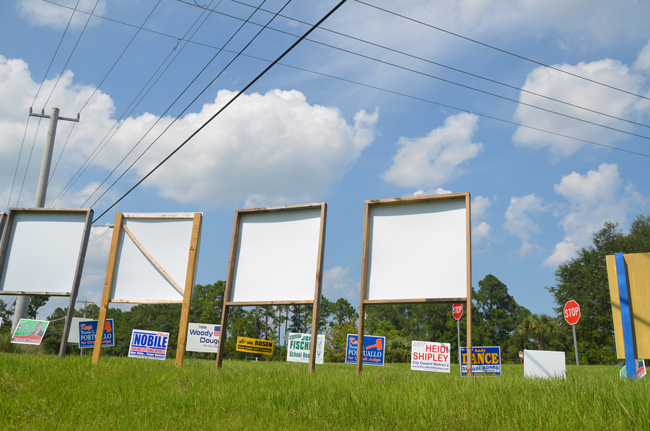 Every election season glaciers and polar ice caps melt a bit more from the hot air. But nothing rivals the pollution of political signs. Those things take over properties at the busiest intersections, spiking up from the ground in the shape of stunted billboards or deranged name tags. They assault the eyes, soil the landscape, mock the First Amendment and serve almost no purpose.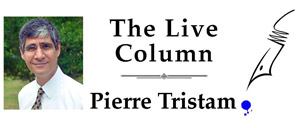 The signs say nothing. A name is just a name. It doesn't tell you whether the candidate is smart, compassionate, inquisitive, honest, ethical. It doesn't tell you anything about the candidate's history, the candidate's voting record, the candidate's work ethic. It may tell you a lot about the candidate's ego. The larger the sign, the more the candidate is trying to compensate for something. The more frequent the sign, the more insecure its peddler. And the more colorful or dazzling the sign, the more empty-headed the man or woman behind it, as dazzle usually compensates for missing substance.
I'm not knocking the right of candidates to abuse the First Amendment. But a little information would be nice. Every candidate claims to think outside the box. Show us how it's not just an awful cliche by starting to think outside the rectangle, because if any voter casts a ballot based on a sign, that voter is a pitiful excuse for democracy. That it happens must tell us quite a bit about where we are as a democracy.
For all that, I never thought I'd see the day when I'd hear anyone actually advocating for this blight. But in Flagler County, hell has a habit of freezing over.
The Supervisor of Elections wants more election signs. Not only that. But Kimberle Weeks and a couple of mercenary candidates from the Ronald Reagan Republican Assemblies claim that county government is trying to manipulate the election, silence political expression and keep voters from voting by, get this, forbidding political signs from being planted on public property, like at the public library.
The supervisor claims that disallowing signs increases "dangerous" interaction between campaign volunteers and voters. She claims that voters have actually turned tail and opted not to vote because of the intimidation factor. Of course, she can't produce a single actual voter who's done so. She's adopted the Reagan Assembly candidates' tactic of fear-mongering for profit and leaving the fact-checking to the afterlife. You expect this of Reagan Assembly fabricators. They'e only living up to their namesake's fondness for fiction. You don't expect it of your supervisor of elections.
She claims not to have aligned herself with the Reagan wannabes, that she's only looking to have all candidates treated fairly. But the fact is that it's only the Reaganites who are manufacturing this bogus issue, and Weeks's willingness to lackey for them at public meetings lends them the appearance of credibility. They do this sort of thing at every election. It's their hunt-for-red-October-like grasp for any screaming fit that'll get them attention, as their actual platforms have yet to graduate to coherence.
Now, I know there's been a few candidates who've acted like idiots out there. But for all their irritability, candidates are usually no more offensive than the woman at Publix who wants you to sample her lemon squares. And if voters aren't showing up at the polls, it's not because of zealous campaigners. It's because voters are bored, disillusioned, indifferent. All you have to do is look at this year's disastrous crop of candidates. It's a wonder anyone is voting at all, or making it out of the voting booth without a severe case of colitis.
Actually, they're not voting, and you can't blame them: after six days of early voting, just 2,156 ballots have been cast, and 2,500 absentee ballots received, out of almost 7,000 sent. That's fewer than 400 ballots cast per day at three locations. It's not the signs. It's the ballot.
And yes, the supervisor does have a point: the county is being a little heavy-handed by forbidding all signs all the time, even at polling stations. Half of us have Alzheimer's these days, and a little reminder of the usual suspects on the ballot isn't a bad idea before we walk into the torture booth. Palm Coast, surprisingly, which usually acts like North Korea on all matters of code enforcement, is the more tolerant one in this case. So it's not as if the supervisor and the county couldn't compromise a little on this one. But just a little, keeping in mind that signs don't make for better elections. Better candidates do.

Pierre Tristam is FlaglerLive's editor. Reach him by email here. A version of this piece was broadcast on WNZF.