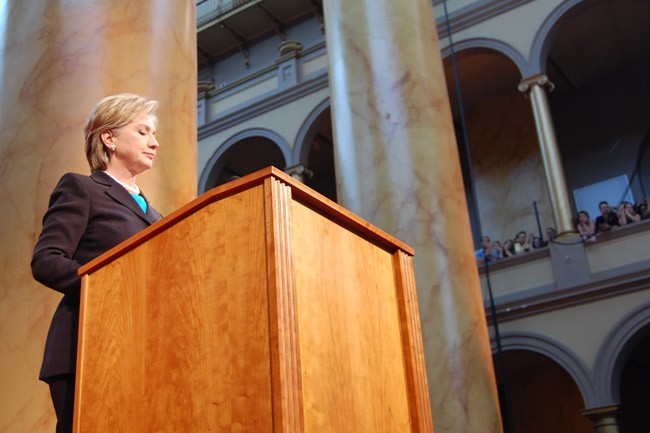 For the first time since the poll has been conducted with Hillary Clinton's name included, the former secretary of state is not ahead in Florida: Jeb Bush would beat Clinton, 45 to 42, in a head-to-head matchup, according to the latest Quinnipiac University poll, released this morning.
Clinton's honesty and trustworthiness also spell trouble for her: Just 41 percent of Florida voters consider her honest and trustworthy, compared to 54 percent for Bush. She does a bit better in Ohio, with 47 percent, but 49 percent of voters in Pennsylvania and 50 percent in Florida find her dishonest. Her favorability is also down.
But Clinton's dipping numbers should be put in context: lack of trust has never been an issue for a Clinton candidate or president. With Bill Clinton, it was part of the package. And while her numbers are weakening, Clinton remains the strongest candidate when her numbers stack up against those of other contenders in Florida, Ohio and Pennsylvania, three key swing states. Clinton would still easily beat Chris Christie, Scott Walker, Marco Rubio, Ted Cruz, Rand Paul, Mike Huckabee in all three states, and would easily beat Bush in Ohio and Pennsylvania.
The surprise of the latest numbers, if anything, is that despite the difficulties Clinton ran into after disclosures that she deleted thousands of official emails and did not maintain a Department of State email address in her years as secretary of state, the matter has not resonated much with potential voters—at least not nearly as much as it has resonated in media, where the matter has been significantly amplified.
---
Lack of trust in a Clinton recalls echoes of Bill, though it never hurt him much.
---
The prospective Bush campaign may have more to be concerned about. Bush has not yet announced that he would run for president. But he's done almost everything short of that to indicate that he will. Despite the attention, his numbers remain weak in Ohio, where Clinton would beat him, 47-38, and in Pennsylvania, 46-40. The poll pre-dates reports Monday and Tuesday that Marco Rubio, the Florida senator, will make an announcement on April 13 about his presidential ambitions. A Republican primary in Florida featuring Rubio and Bush (not to mention Huckabee, now a Florida resident) would be especially fractious and expensive for both candidates, possibly to Clinton's benefit.
But the Rubio candidacy may prove to be as potent a wild card in the early primaries, and as surprising, as Barack Obama's was in 2008. For now, Clinton would beat Rubio in Florida, 46-44, she would beat him in Ohio, 47-38, and would beat him in Pennsylvania, 46-42.
The numbers were also surprising regarding Scott Walker, the Wisconsin governor who has strong ties to the evangelical vote—as Bush, a Catholic, does not—and is seen as a tougher conservative than Bush, largely because of his taming of union power in a traditionally union state. Yet Clinton would still beat him in all three states by a margin of from 5 to 11 percentage points.
On the plus side, Secretary Clinton is considered a strong leader – a key characteristic for voters when picking a president, more so than her leading, but lesser-known, potential GOP opponents," Brown said. "But about half the voters in all three states question her honesty and trustworthiness. On the plus side, Secretary Clinton is considered a strong leader – a key characteristic for voters when picking a president, more so than her leading, but lesser-known, potential GOP opponents."
Majorities in each state think Clinton still has questions to answer about her e-mails: just 33 percent say she's provided satisfactory answers, with 56 percent saying questions remain. Voters are more evenly divided on the necessity of congressional hearings on the matter.
The gender gap remains wide as Clinton leads among women in every contest, by margins of 7 percentage points to 28 percentage points. Her margins among men range from a 3 percentage point lead to a 23-point deficit.
Brown points to another Clinton strength: "Secretary Clinton has virtually 100 percent name recognition in the Sunshine state, as 95 percent of Floridians have an opinion about her favorably or unfavorably. That means changing voters' preferences will be difficult."
The Quinnipiac University poll was conducted March 17-28, interviewing by cell phones and landlines just over 1,000 voters in each of the three states surveyed, with a margin of error of plus or minus 3 percent.