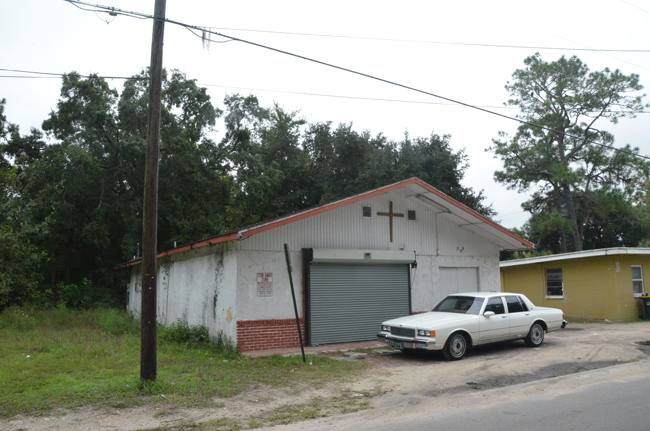 Last October it looked like a straight-forward, if not yet fully vetted, proposal that the Flagler County Public Safety Council wholeheartedly endorsed: A non-profit organization called Open Door Re-Entry and Recovery Ministry, in part led by Flagler County's well-known pastor and benefactor Charles Silano, would open a live-in recovery home for drug and alcohol addicts, and would do so in the heart of South Bunnell, in what used to be a mosque, then a church—at 309 East Booe Street.
The council includes local circuit judges, the sheriff, the public defender and other top executives of public safety agencies.
There were serious and unanswered questions about the plan, which was based on a model already developed in Kentucky called Friends of Sinners and run by Jim McBrayer, who intends to run the ministry in Bunnell as well. How it would be funded was unclear aside from Silano's pledge that local organizations would donate the money to run it. Silano said the house in Bunnell would be supervised by one person, to be paid $200 a month, along with an "overseer" who would run a 12-step recovery program for live-in residents. Residents would not be allowed to wander the streets unless they'd reached a point in their recovery when they could hold a job, and contribute to their expenses.
It all seemed routine until the Open Door Ministry went before the Bunnell zoning board to apply for a special exemption. The building on Booe Street is in an area zoned multi-family residential, which allows for "special care housing," but for up to only six residents. Open Door Ministry is looking to have 12 residents. With a special exemption, the zoning designation allows for board in and rooming houses, lodging houses or dormitories—even bed and breakfast inns and convenience store. But the city must first grant the special exemption.
It hasn't. Instead, it passed an ordinance that, to Open Door Ministry, looked as if it specifically targeted the non-profit to prevent it from opening its doors. Last April, Open Door Ministry sued the City of Bunnell in federal district court. An evidentiary hearing is scheduled in the matter on a motion for a preliminary injunction on June 26 in Jacksonville, before Senior Judge Henry Lee Adams Jr.
How it got to this point is a story of good will running into local stereotype, according to Open Door Ministry—or a story of an outside organization imposing its will on a local community without regard for local concerns, according to the city.
Open Door Ministry last Sept. 25 submitted a special exception application to the city, justifying the application by saying that "it needed to open the Booe residence to help save the lives of addicted individuals," according to court papers. Silano appeared before the zoning board on Oct. 15 to defend the application, only to be faced with a barrage of opposition from residents opposed to the application.
"None of the cited objections were based on compatibility or consistency with the city's rules or regulations governing the use of land," the ministry argued. "Rather, citizen comments expressed a discriminatory animus based on stereotypical characterizations of persons in recovery from alcoholism and substance abuse and unsubstantiated fears and biases about the har4m that individuals recovering from addiction would cause the community." There were fears that the residents in the ministry would endanger children or increase drug trafficking in an area already plagued by it. The zoning board tabled the matter to a future meeting.
It never took it up again, as the Bunnell City Commission, before a packed chamber on Nov. 25, unanimously enacted a moratorium on the Ministry opening its doors.
"It has come to our attention that jurisdictions in our immediate area are flat out prohibiting" recovery houses, Mick Cuthbertson, Bunnell's community development director, said at the hearing. "Bunnell serves Bunnell citizens and does not want to end up being a place where these programs are set up for citizens from all over."
It was only six weeks after that vote that the commission held a workshop on residential regulations. Again residents filled the chamber. "There's not a person in this room that doesn't have someone in their family who has been affected by drugs or alcohol," then-Commissioner Jenny Crain-Brady said. "These people are doing the right thing. Their heart is in the right place. My huge trouble is forcing something on the community that the community is rejecting, because it sets a precedent."
As a result of the workshop, the city's planning staff wrote an ordinance "with the sole purpose of excluding the siting of any recovery homes, including the Booe residence, from any of the city's residential districts," Open Door Ministry argues in court papers. The city went as far as demanding that the ministry remove a sign from the Booe residence that named the center after its organization, and included the line: "Christ centered recovery through biblical discipleship."
So the ministry sued. The ministry is charging discrimination under the Fair Housing Act and discrimination under the Americans with Disabilities Act, and demanding that the federal court declare that the city has acted illegally, and be enjoined from preventing Open Door Ministry from opening its doors.
"The City does not dispute the fact that the FHA and the ADA each include recovering drug and alcohol addicts within the protected class of 'handicapped' and/or 'disabled' individuals," Bunnell responded in court, "nor does the City contest that the relevant federal statutes provide housing protections for 'handicapped' and/or 'disabled' persons, including recovering addicts." However, Bunnell argues, the moratorium was not discriminatory, arguing, somewhat obliquely, because it did not directly address Open Door Ministry's point, that "The explicit terms of the City's Ordinance, although geared toward temporarily suspending a particular type of business, which may or may not have a handicapped or disabled component, do not prohibit persons who are handicapped from living in a specific residence of their choice during their recovery."
Bunnell, on stronger ground, countered Open Door Ministry's claim that the moratorium and subsequent actions by the city, including the ordinance, have done or could do  "irreparable harm" to the non-profit. Open Door Ministry, Bunnell argues, "alleges that it cannot obtain charitable donations from outside sources as long as Ordinance 2013-28 remains a viable law, yet [the Ministry] fails to provide evidence of a single charitable donation that has been lost due to Ordinance 2013-28, being in effect. Perhaps the lack of donations is likewise related to the lack of contractual obligations which would give credibility to Open Door's stated mission. It appears that there are plenty of obstacles in the way of Open Door's mission, the least of which is Ordinance 2013-28."
That last line was evident even at the meeting of the Flagler County Public Safety Council last summer.