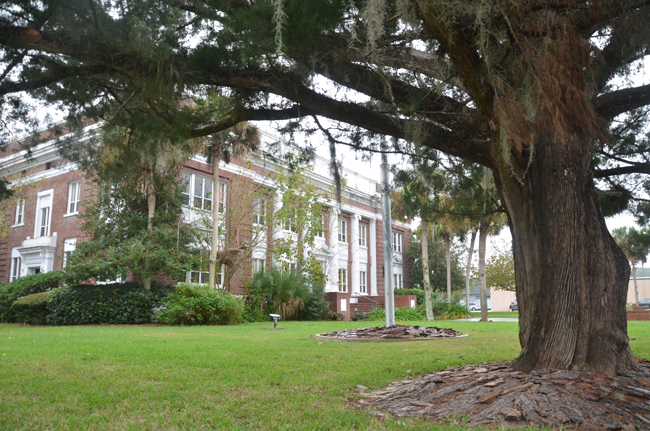 Less than five months after proudly accepting ownership of the old Flagler County Courthouse as the anchor to the city's civic and economic revitalization, the Bunnel City Commission Monday evening voted 4-1 to return the building to the county commission. The stunning reversal culminates months of doubt and disappointment about the building on city officials' part as they discovered a structure in more serious disrepair than the county had let on—from a leaky roof to mold to absent wiring—and tallied far more expensive bills ahead than the city could afford, if it were to keep the building.
"As your city manager, I recommend that the smart thing to do now is to give it back to the county and let's start going down a different avenue," Larry Williams told commissioners before the vote. "I do not think we can afford this. I think it was understating how we would have to raise taxes to pay for this." Commissioners Bill Baxley, Elbert Tucker, John Rogers and Bonita Robinson, serving in her very first city commission meeting after her March election win, voted to return the courthouse. Mayor Catherine Robinson dissented. ("I still feel like we didn't have all the facts and figures to make the decision," Robinson said.)
The rejection is an indication of how far the political pendulum has shifted in Bunnell, where just last year, under a different city manager (Armando Martinez) the courthouse acquisition was all but taken for granted. Martinez's firing and the March election, which ratified and solidified the political shift that led to his dismissal, along with the new finance director's analyses of the city's dire balance sheets, buttressed commissioners' will to revers course. The rejection also again puts the old courthouse's fate in doubt as neither city nor county want to bear its financial liability. The county spent close to $1 million either for repairs or to maintain the building since it was vacated eight years ago.
"I am very disappointed," County Commissioner Barbara Revels said. "While I have not seen the reports Bunnell commissioned I felt Flagler County had studied the building extensively and was comfortable that it was worth rehabilitating." Future uses of the building will depend on who may be interested in it, though it's likely that a cost-benefit approach will be part of the county's calculations, Revels said. "But it is a shame so much time has been wasted since the City asked to own it all."
Baxley tried to stop the city from acquiring the building in November, then led the charge to return it since. He was critical of the county for essentially dumping the building on the city, after itself finding that it would not house the new sheriff's headquarters there. "They spent almost $1 million in trying to figure out how to do it, and they never could come up with a solution, never could put anything online, so that they could make this building operable, so they could use it and quit going in the red on it," Baxley said. "So the next best thing they could do is let's get rid of it. So where did they get rid of it? Bunnell. And our pocketbok is nowhere near what the county's is, and there's no way we can afford to do this building."
Tucker said the city has no money to accomplish repairs. "I haven't changed my mind since the last meeting, except for perhaps getting the county agree to give us an unrestricted deed to this building so that we may have some more options," Tucker said. "At the moment our options are very limited as to what we can do with the building." He estimated that Bunnell would have to increase its taxes by 30 percent to shoulder the burden of the courthouse repairs. Tucker is not interested in raising taxes to that end.
"I agree with Mr. Tucker, we can't afford it," Williams said. "You can't get the price low enough where we can afford it. I don't think any of us sitting up here knew that there was a mold and mildew problem that existed in that building. I don't think any of us up here knew that that thing leaked the way it did," and it seems every time that Mick and I go bak there, there's more leaks. We definitely didn't expect leaks coming in the hallway the last time we were there, because it didn't leak there before." Mick Cuthbertson is the city's community development director. The potential for employee lawsuits over mold and other potential sick-building-syndrome issues would be prohibitively expensive for the city, Williams said.
Cuthbertson analyzed the roof-repair option as one example of the maze of difficulties the city would have to navigate. It's a rubber roof—cheap to install, but leaky and prone to frequent breakdowns. Replacing it would cost $600,000 to $650,000. But the annex roof was installed in 2007, the old courthouse portion's roof was installed in 2009, too recently to replace entirely. Despite being relatively new, "they leak," Cuthbertson said. While no one is recommending a complete re-roofing, he could not find a warranty on the new roofing jobs the county commissioned in 2007 and 2009. That means continued repairs down the line, though for now the county has been shouldering those costs.
For Bunnell, the end of the courthouse option means the city's offices must continue to squat around the city until a different option emerges. Some of those offices are at the county's and school board's Government Services Building. The county commission has been losing patience with Bunnell's presence in those spaces. Michael Barr, a member of the committee Williams delegated to study the city's courthouse options, seized on that issue to remind commissioners that regardless of where or how the city plans to have its own offices, it will have to find new money to pay for those offices—just as it would if it were to occupy portions of the old courthouse.
Barr, who has business interests in Bunnell, and developer Mark Langello, another member of the committee, have been pushing hard to keep the courthouse in Bunnell's hands, and advocated to that end Monday. Langello said he's not wedded to the old courthouse, but that returning it was premature, as hard numbers outlining precisely what it would cost the city to occupy still have not been crunched. But it was an indication of how far the city commission had soured on the building that despite lengthy presentations and comments by Barr and Langello, the commissioners had no questions and no comment for them. But Charles Gardner, the Bunnell appraiser and another member of the committee, spoke in favor of Williams's position.
More than a half-dozen additional people—some of them Bunnell residents, some not—addressed the commission, most of them against the acquisition. "If this was good for the county the county would be holding on to it, they would not be giving it to Bunnell," Hutch King, the former county commissioner said. "It's a money pit, guys."
Pete Young, a Bunnell resident, a former Bunnell city commissioner and a current state trooper, said: "If anybody in this room would love to have the courthouse, it would be me, because I have a lot of history in that courthouse. I was sworn in 40 years ago as a law enforcement officer by Zep Edmunson, in that courthouse. I was married, I got my marriage certificate in that courthouse. I adopted my two daughters in that courthouse. So if anybody would love to keep that courthouse, it would be me. I live here in Bunnell. But, when I was a commissioner, I was all excited about occupying that courthouse, at least being partners with the county, and that's what I thought we were going to be, is partners with the county, and hopefully maybe partners with Palm Coast and Flagler Beach." He said the city should give the building back, "start all over," but turn the courthouse into a countywide project, essentially supported by the county and all its cities.
Tucker, the commissioner, summed up the commission majority's position moments before the vote. Tucker had voted in November to accept the building. "I made a mistake when I made a motion to accept that," Tucker said. "If I knew then what I know now, I would not have accepted the courthouse." He said the building will always be a money pit.