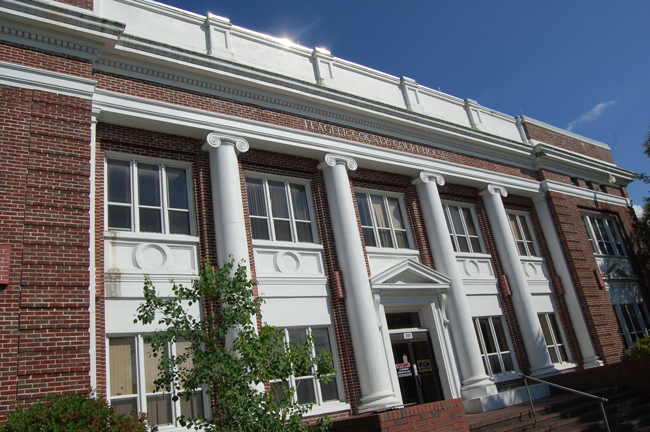 The Bunnell city administration has been without a home of its own since leaving its cramped and rain-soaked quarters on South Church Street last year. Part of the administration occupies, rent-free, 2,300 feet in the county's gigantic and underused Government Services Building on Moody Boulevard (monthly utilities fee: $400). The city's community development and utilities departments share 2,000 square feet in the Atlantis commercial spread on U.S. Route 1. And the Bunnell Police Department occupies a 1,400 square foot trailer along Moody. Judging from recent developments, most of them out of Bunnell's control, the city may be without a home of its own for a while yet, though city commissioners hope for better news when they hold a joint meeting with the Flagler County Commission Tuesday evening to discuss the fate of the old county courthouse.
That courthouse isn't their only option. It may not even be an option anymore.
Judi Stetson, the city's grants director and go-to administrator on a slew of issues, has been gathering additional options and data since October. She presented them in a Bunnell commission workshop Monday evening–seven options in all, six of them beyond the courthouse. Those include buying or leasing the following:
The old Bunnell Library, which has 5,000 square feet and is valued at between $200,000 and $400,000.
The old Flagler Hospital, 43,000 square feet and valued at $3.2 million, but would require total re-construction costs close to $6 million.
The Bunnell State Bank Building, a handsome, austere structure in the heart of the city that adds up to nearly 10,000 square feet and is currently on offer to the city for $595,000. A mortgage amortized over 15 years, or 185 months, would cost the city $3,970 per month after a $20,000 down payment. Lease options are also available, but at higher monthly prices.
The old stately house at 401 East Moody Boulevard, which has ample lot space for future buildings. The 1,820-square foot, 1930 house (that's living space only) was valued at $700,000 in 2007, but that was at the height of the housing bubble. The house sits on a 48,725-square-foot property.
The Atlantis Building, that commercial spread where the city's utility and community development offices are. Beyond the 2,000 square feet already occupied, the building has a connecting 1,000 square feet, and the owner-developer is offering additional custom possibilities at relatively low costs.
Hansen's Furniture, a building built in 1990, renovated 10 years later and now selling for $1.1 million. It has 11,800 square feet of living space on a 24,400 square feet of property.
A large house at 802 East Moody Blvd., originally built in 1936, with additions since, adding up to 4,110 square feet of living space. The house is priced at $400,000 (down from $525,000 as recently as November 2009). A lease option is also available.
The city is not like a prospective home-owner. If it doesn't have ready cash to buy property, it cannot take out a loan. It must float a bond–or rent, or lease. The recession has reduced revenue, and a bond would require voters' approval, which is not likely at the moment. So the city's options are limited.
In Bunnell's ideal world, the city would move into the old courthouse and share it with the Sheriff's Office and the county and historical libraries. Those plans have either collapsed or are a few handshakes from reality, depending on whom you ask.
County Commissioner Milissa Holland and Bunnell City Commissioner Elbert Tucker, who served together on a courthouse committee until last week, say they had a workable agreement with the sheriff until County Administrator Craig Coffey derailed it. Coffey disputes the accusation, saying he merely applied his analysis to the plan and found it lacking. The dispute came to a head in a county workshop last week that was meant to give Bunnell and the county a better sense of how to deal with the courthouse. It ended in a verbal brawl between Holland and Coffey instead, and the scheduling of yet another meeting on the courthouse–Tuesday evening's (at the Emergency Operations Center behind the Government Services Building, if you have a weakness for live theater.)
Two county commissioners were in the audience at the workshop, presumably as curious to know what Bunnell wanted to do with the courthouse as Bunnell is in the county's intentions. The commissioners were Barbara Revels, who replaced Holland on the courthouse committee, and Alan Peterson, who, for reasons he hasn't explained beyond saying that "it doesn't make sense," doesn't want to see the old courthouse shared by two government entities (even though the Government Services Building houses three government entities, including his).
Toward the end of Stetson's outline Monday evening, Bunnell Vice Mayor Jenny Crain-Brady said the old courthouse would be best, nostalgically speaking. But the choice may not be realistic. She wondered why one of the options didn't include negotiating with the county so Bunnell can stay put in its existing digs at the Government Services Building. It is rent-free, it is relatively spacious, it is accessible (Crain-Brady said she can walk there from her home) and it has that 4,000-square-foot chambers for commission meetings. "Where we're at is working unless there's a problem that I don't know about," the vice mayor said. Moving again would be "redundant," she said, if the city wasn't making the final move to its permanent home.
"If the board wants to go back to the county and discuss how long they want us to be here and at what price," Mayor Catherine Robinson said, "we can certainly do that."
In the end, the commission agreed to wait and see what would take place at Tuesday evening's meeting. Specifically, they all want to know what the sheriff intends to do. The sheriff has appeared at none of the public meetings regarding the courthouse. He doesn't want to be politically tainted by the merest possibility of conflict. But his absence has created a gaping void in the discussion, opening the way to assumptions and, twice (at the Bunnell City Commission earlier this year and at the County Commission last week) recriminations. The sheriff's presence would likely have answered the very questions that have been turning other elected officials and their administrators against each other.
Bunnell and the county hope the sheriff will show up Tuesday evening.