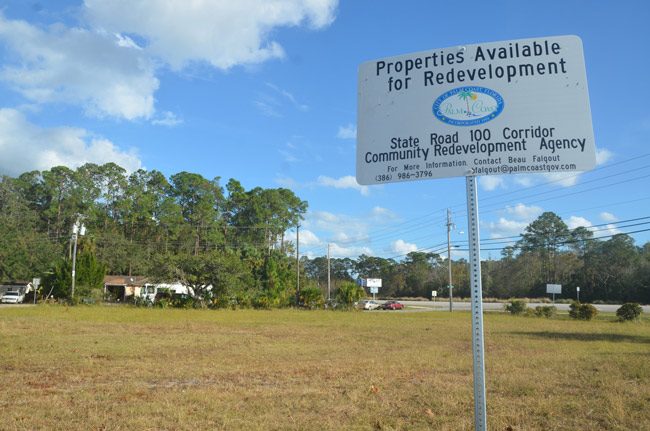 The Palm Coast City Council next week may approve a land deal that could be the linchpin for the redevelopment of the Bulldog Drive entrance to Town Center, with a Wawa convenience store and gas station potentially anchoring the corner at State Road 100 and a restaurant nearby.
But the proposal pairs substantial generosity and hope on the city's part with uncertainty on the developer's part: Palm Coast would sell land it owns for $575,000 less than it paid for it, the deal is conditional on the developer acquiring other privately owned parcels that are still being negotiated, there is no guarantee that retailers will follow, as imagined by the plan—or that a second, larger phase of the proposal will dovetail on the first. There is also no agreed price yet for the land Palm Coast would sell as part of Phase II.
The Palm Coast City Council heard the proposal from its administration for the first time in a workshop on Tuesday, and will be asked to approve the deal at its meeting next week. The plan was well received Tuesday and drew no skeptical reactions from council members.
"We watched and witnessed a very difficult economic time for many years," Mayor Milissa Holland said. "I am excited to see regained interest in commercial development in the city of Palm Coast, and I think to jump start that and to allow for that to happen today will not only generate an economic impact positive in our community but it offers more opportunity for our residents to shop. So I'm fine with the timeline as it's structured."
The deal is with Orlando-based Unicorp National Developments, the only company that responded to a request for proposal Palm Coast issued in August to redevelop that section of town. A slight hint of desperation in jumping on Unicorp, reflective of the city's difficulty in restarting development there since the housing bust, was not absent from the city's presentation Tuesday. "Really this has been the only proposal to date with a developer part that includes the private property for development, and more than just the corner, that's the reason we're bringing it forward to you," Beau Falgout, who's in charge of the city's economic development, told the council.
"The corner of Bulldog Drive and State Road 100, we could have sold that a long time ago. Everybody wanted that corner," City Manager Jim Landon said. The city's plan was "hold out until we're going to find a developer that's going to do the whole thing, realizing that there's no guarantee in the retail business." That conditional aspect was especially attractive to Holland.
The contract between Palm Coast and Unicorp calls for Palm Coast to sell to Unicorp the corner lot and another parcel it acquired previously for $800,000, even though Palm Coast paid $1.375 million for the two parcels in 2010 and 2006. That would be Phase I of the project. Phase II would spread to almost two dozen properties on the east side of Bulldog Drive, opposite Flagler Palm Coast High School, most of them acquired quite expensively by the city over the past decade, and would result in a 7.75-acre retail and commercial center with relatively well-known retailers.
The city, which sees the relatively generous $800,000 selling price as an incentive, estimates that should the properties in Phase I be developed, taxes will generate $676,000 over 15 years, or $45,000 a year, in county and city taxes. So the city is assuming that, so far as Phase I is concerned, even though the city is selling the property at considerably less than it paid for it, the $800,000 sales price plus the assumed $676,000 in county and property taxes it would generate would yield a 15-year total—what the city is calling an economic impact—of $1.476 million. The same calculation can't reliably be made since a selling price hasn't been set.
---
An Orlando-based developer with Trader Joe's in its back pocket.
---
The contract includes a condition that Unicorp will buy and close on the Kathleen McGann property—the current home of Airport Auto Used Cars, which fronts on State Road 100, "on or before" the day it closes on the larger property with the city. The city wants to ensure that more than the corner property gets redeveloped. The contract the city council will be asked to approve next week assumes Unicorp will be the buyer of the Phase II lands, but only states that the purchase price "shall be based on an appraisal to be obtained by the city."
Chuck Whittall, president of Unicorp, appeared before the council and acknowledged resistance from some of the private property owners, including one elderly woman who is refusing to sell outright, and ongoing negotiations with others. Even if there were to be hold-outs, the plan would be to build around those properties.
Whittall said his company brought Orlando's first Trader Joe's to the city and named other recognizable retailers and restaurants (Tijuana Flats, Shake Shack), luxury hotels and other glossy development. But he wasn't naming those coming to Palm Coast just yet. "It's really hard to figure out who your tenant is going to be until you test the market," Whittall said. But he also projected confidence. "We do a lot of these developments, and the tenants that are out there, we're going to have them," Whitall said. "We don't build ugly stuff."
There was not much clarity during the discussion about the impact of the state's separation requirement between alcohol-selling establishments and what businesses in the new development may sell alcohol, among them Wawa.
Wawa operates some 645 stores in six states (New Jersey, Pennsylvania, Delaware, Maryland, Virginia and Florida), a little over half of them selling gas. The stores had traditionally not sold alcohol except in Florida and Virginia, but have started expanding alcohol sales in Delaware and Pennsylvania this year. It does not appear that the Wawa or any potential restaurant that may serve alcohol, would be restricted by its proximity to Flagler Palm Coast High School.
Florida law forbids bars, or what it defines as "a location for on-premises consumption of alcoholic beverages," within 500 feet of a school's property (not just a school entrance). But the law makes an exception for restaurants where at least 51 percent of revenue is derived from non-alcoholic food and drink. It also makes an exception for a local governments that "approves the location as promoting the public health, safety, and general welfare of the community."
Inquiries about alcohol sales and private property owners aside, the council asked few questions and mostly listened, but responded, in Steven Nobile's case, with enthusiasm. "We have to enable this as best as we can, especially Phase II," the councilman said. "Phase II will give us linkage toward Town Center. If we don't get that linkage this thing just becomes a 100 project. We want the 100 project, that corridor is a big economic developer for us, but it's got to start bleeding into Town Center so we can do the same draw out that way."

Powerpoint of the redevelopment proposal with Unicorp.