"Bech in Rumania" (1966)
Reading John Updike's Complete Stories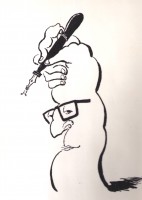 This series is a re-reading of John Updike's short stories in the wake of the publication of "The Collected Early Stories" and "The Collected Later Stories," the twin-volume set by the Library of America (2013). A comprehensive table of the complete stories with links to each story summary appears below. The commentaries include the Maple and Bech stories, most of which are excluded from the Library of America edition. Contact the editor for questions, debates or corrections. A hyperlinked list of the compete stories appears below.


["Bech in Rumania; or, The Rumanian Chauffeur," written in Ip[swich in 1966, was published in the Oct. 8, 1966 issue of The New Yorker, collected in Bech: A Book, The Complete Henry Bech, and the Library of America's Collected Early Stories.]
Bech must be getting tired already and he's yet to geographically go to Bulgaria, though thankfully for John Updike that trip is already behind him. After his four weeks in Russia, Henry Bech lands in Bucharest for four days in Rumania. It does not go well, starting at the airport, where the embassy personnel sent to greet him don't recognize him, and he doesn't help them. A Princeton graduate "noticing the rounded toes of Bech's American shoes" finally makes the discovery. He's handed off to Athanase Petrescu, "a smiling Party underling" and, behind the blue jaw and sinister glasses, a man humbly in love with books, a fool for literature."
In Petrescu Bech will be upstaged in this story by a more engaging, more intriguing and far more sympathetic character, a male version of the Bulgarian Poetess, though Updike doesn't dare push the bromance very far: he must not have intended Petrescu to so overshadow his hero. But he does, because Bech in Rumania is not interesting. He is bored, not clear about why he's there, not much interested in following the embassy's suggestions, and eager to leave. His recurring obsession, Ahab-like (Melville is Bech's favorite writer), is the assigned chauffeur, "this atrociously unrhythmic and brutal driver," who will terrorize Bech and Petrescu for four days.
The story is an itinerary. Petrescu takes Bech to meet with the leader of the Rumanian Writers' Union, a man as dour as his country, and as deceptive, who claims not to know Eugene Ionesco, the Rumanian playwright exiled in Paris. He asks to see some of the adventurous writers the embassy wants him to see, because Rumania, he's told, is a seethe of dissent. The leader tells him they're all off in the Black Sea, vacationing. He doesn't want Bech mingling. Bech and Petrescu go to Barsov. They sight-see. They spend time in the bar. They return to Bucharest. A museum. Some shopping, "shops, and everywhere Bech felt a desiccated pinkish elegance groping, out of eclipse, through the murky hardware of Sovietism, toward a rebirth of style."
They go to a Eugene O'Neill play. Here Updike displays some of his infuriating pretensions. This is how he informs the reader: "In the evening, they went to Patima de Sub Ulmi." There could have been two, maybe three readers who would have understood, without any other hint, what Updike was referring to. Why he wrote the name of the play in Rumanian without so much as adding O'Neill's name is beyond me. But it's Updike, the way he uses French (as he does on two occasions in this story) for no other reason than to show off. It's a few paragraph later that we learn that it's an O'Neill play, though we're never told it's Desire Under the Elms. For Petrescu, it's a badly executed play. He's mortified. Bech seems indifferent. They run into a couple. Petrescu embraces the man, kisses the woman's hand. The couple invite them out. Unadventurous Bech doesn't want to go. "It worried him that Communists never seemed to go home." They go to La Caverne Bleue, an underground, cave-like night club with all sorts of adventurous performers from all over the world, some of them mimicking Texans with guns. Bech seems unimpressed and bored, not grateful to his hosts. "My God," Bech said, "isn't this ever going to be over? Don't you Communists ever get tired of having fun?" The writer's wife told him, "For your money, you really gets."
Outside he decides to "confront" the writer by asking him what he writes. "Peasants." And you? "La bourgeoisie." That's the extent of their exchange. At the airport Bech learns from the embassy attache that the writer was precisely the sort of man the Americans wanted him to meet. "You spent the evening with him? That's fabulous. He's the top of the list, man. We've never laid a finger on him before; he's been inaccessible. […] For our money he's the hottest Red writer this side of Solzhenitsyn. He's waaay out . Stream of consciousness, no punctuation, everything. There's even some sex."
Bech lucks out, appearing to have landed the prize not only without lifting a finger, but while trying to evade it. It's the story's joke, but we don't laugh.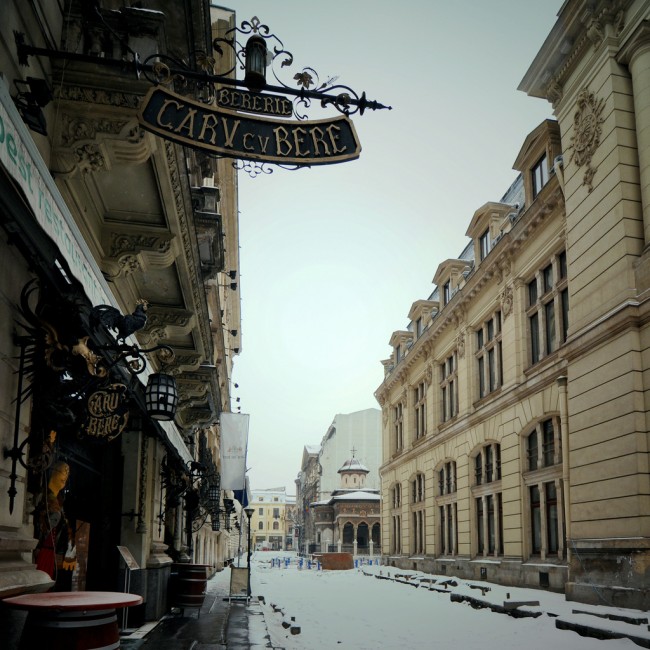 Again, it's the absence of themes, once teased and anticipated, that leave the reader dissatisfied, if not resentful. "Try to understand what the author wished to do, and do not blame him for not achieving what he did not attempt," Updike writes in his first of five rules of book-reviewing in Assorted Prose (1975), his second omnibus collection of essays and reviews. It's one of the most just rules of reviewing. But applying the rule precisely to "Bech in Rumania" leads the reader to that resentfulness, because Updike teases the reader with two themes that he never–out of laziness, inability, impatience to write the story and be done with it–develops.
Of the driver, who shares in the title of the story: "Bech's impression was of a stupidity so severe that the mind is tensed to sustain the simplest tasks." But the story never gets past the bad driving and the trigger of the driver's smile, which has Bech recollecting about a boy he furiously fought years before, in a quarrel over the making of comic strips.
Then there's this, a more serious tease that whets the reader's appetite for precisely the sort of intersections Bech's Jewish characters and Bech's travels should create, to–we have the right to expect–original effect: "Bech knew little about Rumania. From his official briefing he knew it was 'a Latin island in a Slavic sea,' that during World War II its anti-Semitism had been the most ferocious in Europe, that now it was seeking economic independence of the Soviet bloc. The ferocity especially interested him, since of the many human conditions it was his business to imagine, murderousness was among the more difficult. He was a Jew. Though he could be irritable and even vengeful, obstinate savagery was excluded from his budget of emotions."
It is the most searching part of the story. And it goes absolutely nowhere. Could Bech be that uncurious, that dense? In Rumania, he is. The story's most authentic touch, aside from the genuine warmth between Bech and Petrescu, is Bech forgetting to tip the terrible driver, though he'd intended to. "The leu notes Bech had set aside were still folded in his wallet, and his start of guilt gave way, as the runways and dark fields tilted and dwindled under him, to a glad sense of release. Clouds blotted out the country. He realized that for four days there; in that driver's care, he had been afraid."
Updike should have left it at that. But he couldn't resist one last nudge of pretension, one more spit of French, though he intended it ironically: "afraid. The man next to him, a portly Slav whose bald brow was beaded with apprehensive sweat, turned and confided something unintelligible, and Bech said, "Pardon, je ne comprends pas. Je suis Américain."

John Updike: The Complete Stories (Click on Links for Summaries and Analyses)
| Title | Year Written | First Published | First Collected |
| --- | --- | --- | --- |
| Ace In the Hole | 1954 | New Yorker, April 9, 1955 | The Same Door (1959) |
| Friends From Philadelphia | 1954 | New Yorker, Oct. 30, 1954 | The Same Door (1959) |
| A Game of Botticelli | 1954 | The Liberal Context, Fall 1963 | Collected Early Stories (2013) |
| Tomorrow and Tomorrow and So Forth | 1955 | New Yorker, Apr. 30, 1954 | The Same Door (1959) |
| Dentistry and Doubt | 1955 | New Yorker, Oct. 29, 1955 | The Same Door (1959) |
| Snowing in Greenwich Village (The Maples) | 1955 | New Yorker, Jan. 21, 1956 | The Same Door (1959) |
| The Kid's Whistling | 1955 | New Yorker, Dec. 3, 1955 | The Same Door (1959) |
| Toward Evening | 1955 | New Yorker, Feb. 11, 1956 | The Same Door (1959) |
| Who Made Yellow Roses Yellow | 1956 | New Yorker, April 7, 1956 | The Same Door (1959) |
| Wife-wooing (The Maples) | 1960 | New Yorker, March 12, 1960 | Pigeon Feathers (1962) |
| Giving Blood (The Maples) | 1963 | New Yorker, April 6, 1963 | The Music School (1966) |
| Twin Beds in Rome (The Maples) | 1963 | New Yorker, February 6, 1964 | The Music School (1966) |
| The Bulgarian Poetess (Bech) | 1964 | New Yorker, March 13, 1965 | Bech: A Book (1970) |
| Bech in Rumania | 1966 | New Yorker, Oct. 8, 1966 | Bech: A Book (1970) |
| Bech Takes Pot Luck | 1968 | New Yorker, Oct. 7, 1968 | Bech: A Book (1970) |
| Rich in Russia (Bech) | 1969 | New Yorker, Jan. 31, 1970 | Bech: A Book (1970) |
| Bech Swings? | 1969 | New Yorker, Jan. 31, 1970 | Bech: A Book (1970) |
| Bech Panics | 1970 | No magazine publication | Bech: A Book (1970) |
| Bech Enters Heaven | 1970 | No magazine publication | Bech: A Book (1970) |
| The Gun Shop | 1972 | New Yorker, Feb. 25, 1972 | Problems (1979) |
| Believers | 1972 | Harper's, July 1972 | Problems (1979) |
| How to Love America and Leave It at the Same Time | 1972 | New Yorker, Aug. 19, 1972 | Problems (1979) |
| Nevada | 1972 | Playboy, January 1974 | Problems (1979) |
| Sons | 1973 | New Yorker, April 21, 1973 | Problems (1979) |
| Daughter, Last Glimpse Of | 1973 | New Yorker, November 5, 1973 | Problems (1979) |
| Ethiopia | 1973 | New Yorker, Jan. 14, 1974 | Problems (1979) |
| Transaction | 1973 | Oui, March 1974 | Problems (1979) |
| Augustine's Concubine | 1974 | The Atlantic, April 1975 | Problems (1979) |
| | | | |
| | | | |
| | | | |
| | | | |
| | | | |
| | | | |
| | | | |
Except for most of the Maples stories and the Henry Bech stories, the summaries and analyses are based on the texts presented in the two-volume Library of America edition of the complete stories (2013).