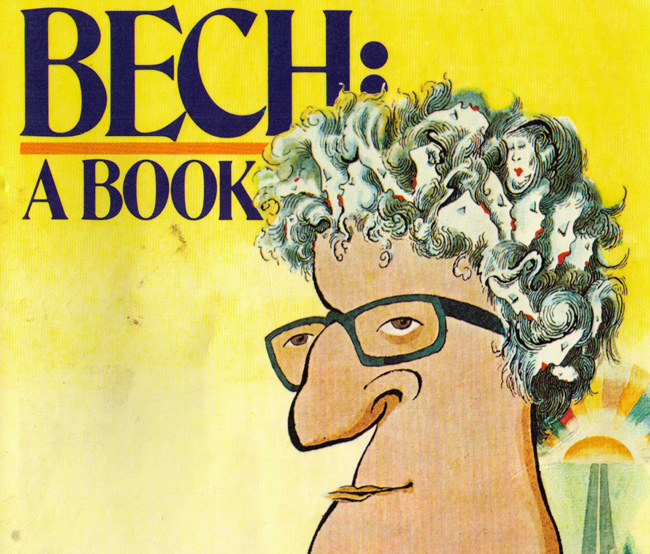 "The Bulgarian Poetess" (1964)
Reading John Updike's Complete Stories
This series is a re-reading of John Updike's short stories in the wake of the publication of "The Collected Early Stories" and "The Collected Later Stories," the twin-volume set by the Library of America (2013). A comprehensive table of the complete stories with links to each story summary appears below. The commentaries include the Maple and Bech stories, most of which are excluded from the Library of America edition. Contact the editor for questions, debates or corrections. A hyperlinked list of the compete stories appears below.


["The Bulgarian Poetess," written in Ipswich in 1964, was published in the March 13, 1965 issue of The New Yorker, collected in The Music School, Bech: A Book, The Early Stories, The Complete Henry Bech, and the Library of America's Collected Early Stories. It has also been anthologized many times.]
Henry Bech, the Jewish protagonist and Updike alter ego, was born in Bulgaria during a trip Updike made in East Bloc countries and the Soviet Union. He would become over the next 40 years the most recurring character of Updike's fiction other than Harry Angstrom in the Rabbit books, and almost his best realized, though in that (pointless but fun) hierarchy, Bech would have to fall in third place behind Angstrom and Richard Maple. All three, of course, are variations on a theme of Updike, each providing a different lobe of Updike's life and character to probe.
Bech is the writer, giving us an intimate look into the irascibilities and absurdities of the trade. He is middle aged, celibate, Jewish and has writer's bloc–all characteristics that should position him safely beyond the Updike persona, Updike being obsessively theological about his Christianity, Updike being a twice-married slut, Updike being incapable of not writing ("Blogger-like in his determination to turn every scrap of knowledge and experience into words," as Michiko Kakutani described the facility of his pen, or, as James Wood put it, "It seems to be easier for John Updike to stifle a yawn than to refrain from writing a book." But it doesn't. It all goes back to Updike. Bech writes, thinks, smells like his creator, who made him in his image, but with endless room for play.
"Well," Bech writes Updike in a Foreword to Bech: A Book, "if you must commit the artistic indecency of writing about a writer, better I suppose about me than about you. Except, reading along in these, I wonder if it is me, enough me, purely me . At first blush, for example, in Bulgaria (eclectic sexuality, bravura narcissism, thinning curly hair), I sound like some gentlemanly Norman Mailer; then that London glimpse of silver hair glints more of gallant, glamorous Bellow, the King of the Leprechauns , than of stolid old homely yours truly. My childhood seems out of Alex Portnoy and my ancestral past out of I. B. Singer. I get a whiff of Malamud in your city breezes, and am I paranoid to feel my "block" an ignoble version of the more or less noble renunciations of H. Roth, D. Fuchs, and J. Salinger?"
To which Christopher Lehmann-Haupt wrote in his New York Times review: "One picked up Bech: A Book, or Bech: A Buch, or Bekabook, or however it's pronounced — and one groaned. One had never been a particular fan of Mr. Updike's. One had never quite been able to stomach the preciousness of his descriptive powers; the message, "Look, Ma, I'm writing," that wafted off his pages; the ultrafine sensibility that seemed to rob twigs and leaves and even pubic hairs of their rights to an unapprehended existence. The sensibility seemed so inquisitive and objectifying that it had had the ironic effect of casting an Updikean pall over everything it touched with its verbal necromancy. And now, in Bech, A Book it was invading the kingdom of the Jews, inventing, in the writer Henry Bech, a fictional composite of N. Mailer S. Bellow, A. Portnoy, I.B. Singer, H. Roth, D. Fuchs, and J. Salinger. Bad show, J. Updike, poor sport, one thought. You, among the few who stand outside the renaissance of Jewish letters, you have the least right to schmoozle your way in, to climb aboard the caravan. Bech? Fech!"
Lehmann-Haupt, however, declares himself to have been wrong. He likes Bech in a backhanded compliment sort of way. It is difficult not to, not necessarily backhandedly. Bech is a cry against, as Bech wrote Updike, "the silken mechanism whereby America reduces her writers to imbecility and cozenage. Envied like Negroes, disbelieved in like angels, we veer between the harlotry of the lecture platform and the torture of the writing desk, only to collapse, our five-and-dime Hallowe'en priests' robes a-rustle with economy-class jet-set tickets and honorary certificates from the Cunt-of-the-Month Club, amid a standing crowd of rueful, Lilliputian obituaries."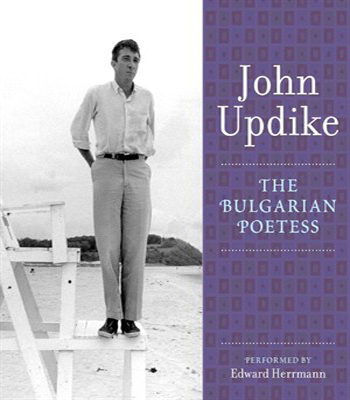 Who wouldn't want to be at ringside to watch and experience the diminished life of the American writer? Well, most of us wouldn't. That's what's diminished it. But there's always the cult following. Bech extends the invitation. We accept.
It all began in Bulgaria, though "The Bulgarian Poetess" is the fourth in the cycle of seven stories that make up "Bech: A Book." He is in Sofia after his trip to Moscow. And there, at the Writers' Union, he meets the Bulgarian poetess, never named but memorable. She is not the prototypical Updike woman–marginal, grating, there to be used and discarded. the Bulgarian poetess presented herself to him as needing nothing , as being complete, poised , satisfied, achieved." There is nothing Bech can give her, but there's plenty he wants from her. "But I have nothing to say to her. I'm just curious about such an intense conjunction of good looks and brains. I mean, what does a soul do with it all?" It is indeed a rare apparition in an Updike book, so rare that the lucidity of it, in contrast with all the women that have come before, may have had more to do with the story's cult status than its inherent literary qualities. There is a tension the reader knows cannot be released. It pulls you along as the poetess exudes, "again, that impalpable warmth of intelligence and virtue."
They talk literature, the French fad of the nouveau roman, of Bech's own writing and its undercurrent of nostalgia, and as they talk the conversation's intimacy builds to the point where literally and figuratively, we have, like liftoff, orgasm: Bech tells Vera that he'd once written an essay on the orgasm "as perfect memory. The one mystery is, what are we remembering?" The wall is briefly, tenderly breached even though Bech and Vera are not alone. But it's a brief encounter, and it has to end. It has to take its place in what Orhan Pamuk would later call (and make) his museum of innocence, a repository of memories whose purpose is to elicit nostalgia. The most he can tell her in a note he scribbles before leaving is: "DEAR VERA GLAVANAKOVA— It is a matter of earnest regret for me that you and I must live on opposite sides of the world."
It is also fortunate for the reader. Bech and his creator would have spoiled the poetess had she lingered in either's corrosive hands.

John Updike: The Complete Stories (Click on Links for Summaries and Analyses)
| Title | Year Written | First Published | First Collected |
| --- | --- | --- | --- |
| Ace In the Hole | 1954 | New Yorker, April 9, 1955 | The Same Door (1959) |
| Friends From Philadelphia | 1954 | New Yorker, Oct. 30, 1954 | The Same Door (1959) |
| A Game of Botticelli | 1954 | The Liberal Context, Fall 1963 | Collected Early Stories (2013) |
| Tomorrow and Tomorrow and So Forth | 1955 | New Yorker, Apr. 30, 1954 | The Same Door (1959) |
| Dentistry and Doubt | 1955 | New Yorker, Oct. 29, 1955 | The Same Door (1959) |
| Snowing in Greenwich Village (The Maples) | 1955 | New Yorker, Jan. 21, 1956 | The Same Door (1959) |
| The Kid's Whistling | 1955 | New Yorker, Dec. 3, 1955 | The Same Door (1959) |
| Toward Evening | 1955 | New Yorker, Feb. 11, 1956 | The Same Door (1959) |
| Who Made Yellow Roses Yellow | 1956 | New Yorker, April 7, 1956 | The Same Door (1959) |
| Wife-wooing (The Maples) | 1960 | New Yorker, March 12, 1960 | Pigeon Feathers (1962) |
| Giving Blood (The Maples) | 1963 | New Yorker, April 6, 1963 | The Music School (1966) |
| Twin Beds in Rome (The Maples) | 1963 | New Yorker, February 6, 1964 | The Music School (1966) |
| The Bulgarian Poetess (Bech) | 1964 | New Yorker, March 13, 1965 | Bech: A Book (1970) |
| Bech in Rumania | 1966 | New Yorker, Oct. 8, 1966 | Bech: A Book (1970) |
| Bech Takes Pot Luck | 1968 | New Yorker, Oct. 7, 1968 | Bech: A Book (1970) |
| Rich in Russia (Bech) | 1969 | New Yorker, Jan. 31, 1970 | Bech: A Book (1970) |
| Bech Swings? | 1969 | New Yorker, Jan. 31, 1970 | Bech: A Book (1970) |
| Bech Panics | 1970 | No magazine publication | Bech: A Book (1970) |
| Bech Enters Heaven | 1970 | No magazine publication | Bech: A Book (1970) |
| The Gun Shop | 1972 | New Yorker, Feb. 25, 1972 | Problems (1979) |
| Believers | 1972 | Harper's, July 1972 | Problems (1979) |
| How to Love America and Leave It at the Same Time | 1972 | New Yorker, Aug. 19, 1972 | Problems (1979) |
| Nevada | 1972 | Playboy, January 1974 | Problems (1979) |
| Sons | 1973 | New Yorker, April 21, 1973 | Problems (1979) |
| Daughter, Last Glimpse Of | 1973 | New Yorker, November 5, 1973 | Problems (1979) |
| Ethiopia | 1973 | New Yorker, Jan. 14, 1974 | Problems (1979) |
| Transaction | 1973 | Oui, March 1974 | Problems (1979) |
| Augustine's Concubine | 1974 | The Atlantic, April 1975 | Problems (1979) |
| | | | |
| | | | |
| | | | |
| | | | |
| | | | |
| | | | |
| | | | |
Except for most of the Maples stories and the Henry Bech stories, the summaries and analyses are based on the texts presented in the two-volume Library of America edition of the complete stories (2013).