"Bech Swings?" (1970)
Reading John Updike's Complete Stories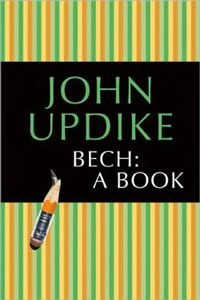 This series is a re-reading of John Updike's short stories in the wake of the publication of "The Collected Early Stories" and "The Collected Later Stories," the twin-volume set by the Library of America (2013). A comprehensive table of the complete stories with links to each story summary appears below. The commentaries include the Maple and Bech stories, most of which are excluded from the Library of America edition. Contact the editor for questions, debates or corrections. A hyperlinked list of the compete stories appears below.


["Bech Swings?" was written in 1969 or early 1970 and was published in the March 28, 1970 issue of The New Yorker and collected in Bech: A Book and The Complete Henry Bech.]
If there is to be a sense of continuity between one Bech story and another, it's very slight–slighter still than episodic television series, where characters' moods can arc from one week to the next. Bech appears to bounce back sprightly from whatever ailed him before. "In Bech Swings," there is hardly a memory of his bleak, self-loathing travels to the end of night in "Bech Panics." Not only Norma but Beatrice are distant memories. He's off to London, looking to fall in love so he can write his next big book. "[I]t was high time to write something to justify his sense of himself as a precious and useful recluse. A stimulus seemed needed." The trip would do. Having to plug an English anthology of his works, The Best of Bech, will help.
Updike himself around that time was in an opposite boat. He was enjoying the success of Couples, so much so that he and his family decided to spend a year in London to get away from the attention in the United States. (He made the cover of Time on April 26, 1968.) "The publicity, however," writes Adam Begley in Updike, "proved hard to avoid; he permitted himself to be fêted by literary London and, with the novel lodged comfortably atop British bestseller lists, freely granted interviews to Fleet Street hacks."
"Bech Swings?" is that year's travelogue.
Bech meets the mysterious Merissa, who tells him neither her last name nor her profession as they sleep together and sight-see such places as Canterbury, where Merissa gets in a fight with someone over the exact spot where Beckett was murdered. (The cathedral folks seem pretty certain of that spot.) And he meets a literary journalist, L. Clark Tuttle, who wants to interview him at length. It's Updike's chance to give the reader an inside look of the author interviews he so loathed and loved: as much as he claimed either not to give them nor to love them, he gave an awful lot of them. Bech refers to Tuttle as a "boy." But the boy, persistent, patient, always willing to give Bech the benefit of the doubt–at least in person–won't give an inch. They have a series of interviews, dances of wit, evasion and quite a bit of mumbo jumbo on Bech's part: you never know if he really means what he's saying, or if he intends at times to be that meaningless. He sounds like a French author enraptured by his own wordy labyrinth.
An example: "Bech talked of fiction as an equivalent of reality, and described how the point of it, the justification, seemed to lie in those moments when a set of successive images locked and then one more image arrived and, as it were, superlocked, creating a tightness perhaps equivalent to the terribly tight knit of reality, e.g., the lightning ladder of chemical changes in the body cell that translates fear into action, or the implosion of subatomic mathematics consuming the heart of a star." OK.
In fairness to Bech, he doesn't like to talk seriously. He's shown it enough times. "Strange, how dirty the attempt to speak seriously made him feel. Comparable to his sensation when he saw someone press an open book flat and complacently, irreparably crack the spine."
At a cocktail party for Bech he begs the question of the title: women circle around him, flirt, he flirts back, but it's Merissa who has his attention. The scene is not well realized and appears thrown in there like a stream of consciousness passage out of Bech's drunkenness. As intended, Merissa inspires him. He will call his next novel Think Big (a pun, of course, on so many Updikean themes). He'll transpose Merissa from London to the United States. Reinvigorated, he becomes more docile to the parading in London, the interviews included, though Bech is Bech: he understans that he cannot quite love Merissa withoiutthinking about the bad reviews to come.
They come sooner than he thinks. In the plane home, he reads the paper, the paper that includes the two punch lines of the story: Tuttle's derisive article and the revelation of Merissa's identity as the daughter of a newspaper magnate. She has a column called "Merissa's Week." She writes about Bech tenderly, herself understanding that "his heart belongs to dirty old New York." Tuttle is not kind. His piece is titled "Bech's Best Not Good Enough," and in the end he compares Bech to Ronald Firbank, the modernist English author Tuttle had asked Bech about in the last interview only to retort, snidely and with a hint of bigotry, that the only affinity he felt for Firbank was the one he feels "with all Roman Catholic homosexuals." Ronald Fiorbank's novels were not unlike Bech's, or Updike's, religion and sex playing a central role. He died in 1926, as old as Chekhov when he died: 40. That gives Bech hope. "forty. Still gaining altitude, he realized he was not dead; his fate was not so substantial. He had become a character by Henry Bech."
It's a well constructed story, its beginning and end more taut than its midriff, its themes more interesting than their execution.
Ironically, it was on the way to London that Updike had so savored reading "Bech Takes Potluck" in the Oct. 7, 1968 issue (the Begley autobiography incorrectly cites the Set. 7 issue). "Going abroad and burrowing deeper into Bech are related activities," Begley wrote. "Leaving home and living in the skin of an invented character are ways of escaping from oneself, and in both cases the distance achieved is instructive; impersonation teaches us something about who we are— as does travel, which uncovers, as Updike wrote, a 'deeper, less comfortable self.'"
Bech's first mistress is discomfort.

John Updike: The Complete Stories (Click on Links for Summaries and Analyses)
| Title | Year Written | First Published | First Collected |
| --- | --- | --- | --- |
| Ace In the Hole | 1954 | New Yorker, April 9, 1955 | The Same Door (1959) |
| Friends From Philadelphia | 1954 | New Yorker, Oct. 30, 1954 | The Same Door (1959) |
| A Game of Botticelli | 1954 | The Liberal Context, Fall 1963 | Collected Early Stories (2013) |
| Tomorrow and Tomorrow and So Forth | 1955 | New Yorker, Apr. 30, 1954 | The Same Door (1959) |
| Dentistry and Doubt | 1955 | New Yorker, Oct. 29, 1955 | The Same Door (1959) |
| Snowing in Greenwich Village (The Maples) | 1955 | New Yorker, Jan. 21, 1956 | The Same Door (1959) |
| The Kid's Whistling | 1955 | New Yorker, Dec. 3, 1955 | The Same Door (1959) |
| Toward Evening | 1955 | New Yorker, Feb. 11, 1956 | The Same Door (1959) |
| Who Made Yellow Roses Yellow | 1956 | New Yorker, April 7, 1956 | The Same Door (1959) |
| Wife-wooing (The Maples) | 1960 | New Yorker, March 12, 1960 | Pigeon Feathers (1962) |
| Giving Blood (The Maples) | 1963 | New Yorker, April 6, 1963 | The Music School (1966) |
| Twin Beds in Rome (The Maples) | 1963 | New Yorker, February 6, 1964 | The Music School (1966) |
| The Bulgarian Poetess (Bech) | 1964 | New Yorker, March 13, 1965 | Bech: A Book (1970) |
| Bech in Rumania | 1966 | New Yorker, Oct. 8, 1966 | Bech: A Book (1970) |
| Bech Takes Pot Luck | 1968 | New Yorker, Oct. 7, 1968 | Bech: A Book (1970) |
| Rich in Russia (Bech) | 1969 | New Yorker, Jan. 31, 1970 | Bech: A Book (1970) |
| Bech Swings? | 1969 | New Yorker, Jan. 31, 1970 | Bech: A Book (1970) |
| Bech Panics | 1970 | No magazine publication | Bech: A Book (1970) |
| Bech Enters Heaven | 1970 | No magazine publication | Bech: A Book (1970) |
| The Gun Shop | 1972 | New Yorker, Feb. 25, 1972 | Problems (1979) |
| Believers | 1972 | Harper's, July 1972 | Problems (1979) |
| How to Love America and Leave It at the Same Time | 1972 | New Yorker, Aug. 19, 1972 | Problems (1979) |
| Nevada | 1972 | Playboy, January 1974 | Problems (1979) |
| Sons | 1973 | New Yorker, April 21, 1973 | Problems (1979) |
| Daughter, Last Glimpse Of | 1973 | New Yorker, November 5, 1973 | Problems (1979) |
| Ethiopia | 1973 | New Yorker, Jan. 14, 1974 | Problems (1979) |
| Transaction | 1973 | Oui, March 1974 | Problems (1979) |
| Augustine's Concubine | 1974 | The Atlantic, April 1975 | Problems (1979) |
| | | | |
| | | | |
| | | | |
| | | | |
| | | | |
| | | | |
| | | | |
Except for most of the Maples stories and the Henry Bech stories, the summaries and analyses are based on the texts presented in the two-volume Library of America edition of the complete stories (2013).