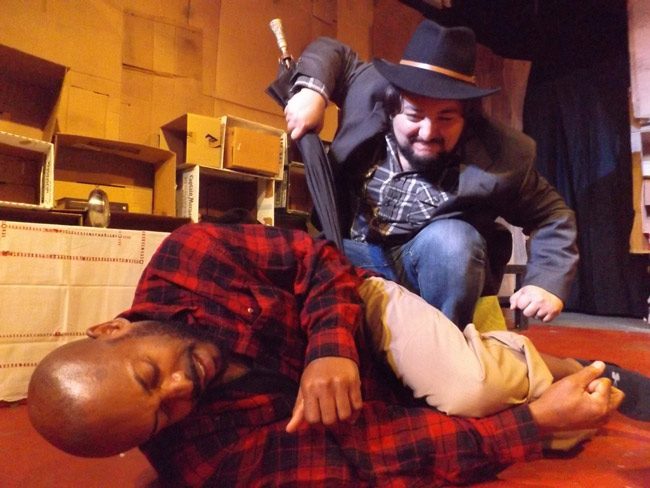 Note: to easily book tickets online here.
The Athol Fugard play "Blood Knot" tells the story of two South African brothers in the early 1960s–– the dark-skinned Zach and the light-skinned Morris, who has returned to live with his sibling after years of passing as white.
That means that Fugard's play, which runs March 23 through April 1 at City Repertory Theatre in Palm Coast, is a work in which issues of apartheid, race and racism rear their ugly heads. That's especially so when Zach inadvertently strikes up a pen-pal relationship with a white woman.
But "Blood Knot" is not so . . . er, black and white, says director John Sbordone.
"As much as you can talk about the race issues in the play, and they certainly are a factor, it's a story about two brothers – the way in which they learn to cope and deal with each other," Sbordone says.
Josh Fagundes, who portrays Morris, read through the first half of the script and, he says, "I was like, OK, so it's very 'Of Mice and Men' set in apartheid: one brother caring for the other brother, one brother doing the work and the other one is trying to protect him."
But Fagundes' unenthusiastic if not quite dismissive comparison to the John Steinbeck work changed as he made his way through "Blood Knot."
"I read the play all the way through and went, 'Oh, OK, there's a lot more going on here, so much more on a character level,' " says Fagundes, a City Rep and Flagler Playhouse veteran whose credits include "Avenue Q," "Godspell," "Little Shop of Horrors," "Hairspray" and many more plays. "I liked this intimate situation of two brothers, and you spend the length of the play exploring the relationship between them. It seems very simple at first, but it grows increasingly complex by the page."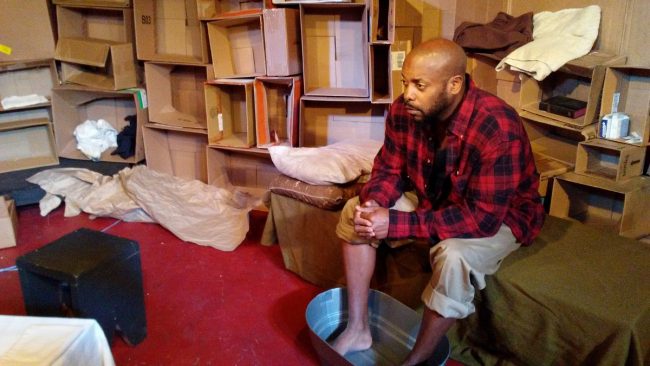 Nico Hicks, a Navy veteran who is making his theatrical debut, says, "What you may believe to be the storyline on the surface is a minor aspect of the true story. You can ask 10 different people what they believe about the story and you'll get 10 completely different answers."
Morris and Zach have different fathers but were raised by the same black mother. The educated Morris is a planner who lives by the clock and wants to save money to buy a farm. The ebullient Zach is a carpe diem type who was happy with his simple existence in his shanty in the "colored" section of Port Elizabeth – an existence which has been complicated by the return of the world-wise Morris.
More complications arise when Morris helps Zach write a letter to a pen-pal – a woman who turns out to be white and who doesn't know her suitor is black. When the woman writes to say she will be coming to visit, the brothers realize the dangers involved with a black man romancing a white woman, and so they hatch a scheme that Morris will pretend to be Zach.
However much "Blood Knot" revolves around sibling dynamics, the apartheid system of South Africa – a veritable caste system based on skin color – snakes its way into the brothers' relationship.
"Because Morris is the lighter brother, he can pass as white and so he has had opportunities," Fagundes says. "But it takes him a bit to confront the idea that he has been afforded these opportunities when his brother hasn't. So he tries to push it away, and when it comes up, he's not very good at dealing with it."
Sbordone turns journalist and asks Hicks if he finds it "interesting that this play was written by a white man?"
"That long ago – yeah," Hicks says. "From South Africa — double yeah. If it were today, like a Tim Wise (author of "White Like Me: Reflections on Race from a Privileged Son") or someone like that – sometimes it's kind of fashionable to be that guy to stand up and say it. But in that day, where he wrote it – yeah, that's surprising.
"It also makes me wonder who he was hanging out with back in the day, who were his friends to have that insight, because he'd have to be mingling. There's no way you could just –
"Know without seeing it," Fagundes chimes in.
"You can go to a zoo and watch zebras, but you don't know their behavior unless you're there with them," Hicks says.
"When we think about South Africa and we think about apartheid, we're thinking about a ruling class," Sbordone says. "But there were many, many, many white and black people who lived and worked together who were not in that ruling class. And I think that's what we're talking about when we're talking about Fugard. He's a person of the people."
City Repertory Theatre will stage "Scapino!" at 7:30 p.m. Friday and Saturday March 17-18 and March 24-25, and at 3 p.m. Sunday March 19 and 26. Performances will be in CRT's black box theater at City Marketplace, 160 Cypress Point Parkway, Suite B207, Palm Coast. Tickets are $20 adults and $15 students, available online at crtpalmcoast.com or by calling 386-585-9415. Tickets also will be available at the venue just before curtain time.
Click On:
---
And why would Sbordone choose to stage "Blood Knot" rather than Fugard's much better-known and more acclaimed, semi-autobiographical apartheid drama, "Master Harold . . . and the Boys"?
"I ran into this play 45 years ago and loved it immediately," Sbordone says. "I looked and looked and looked – nobody has been doing it. 'Master Harold' is done every now and then, and I'm always looking for something that people haven't seen in the area."
Though apartheid, with its system of institutionalized segregation and discrimination, was ended in South Africa in 1994, Fagundes and Hicks believe Fugard's portrayal of racial fault lines is all too relevant today.
"You got time?" Fagundes asks rhetorically – that is, time to discuss the many ways "Blood Knot" is relevant.
Race matters "seep into all kinds of modern issues as people increasingly try to deflect from it," he says, citing pro football players' "peaceful protests to address beatings and killings of unarmed black people, and being attacked for the fact they're just trying to raise awareness."
And race issues hit close to home for Fagundes – his wife, Laniece, is African-American (and she's an actress who also has frequently appeared in City Rep plays).
"It's more the insidious layer of it — not outward hatred but that thin layer of superiority, of someone saying comments they think are OK and they're absolutely not," he says.
He recalls a conversation with a woman about their children, "and somehow I mentioned my wife is black and she goes, 'Oh, you're in an interracial relationship. That's so cool. That's awesome. I'd never let my daughter do that, but I think that's so cool.' "
Hicks is hesitant to go into too much detail about personal encounters with racism, but he does say that Fugard's play "could have been written yesterday."
"The same reason this play may make you uncomfortable is the exact same reason you should see it," Fagundes says. "Sometimes you need to watch or be confronted with something that makes you uncomfortable. There's no growth that comes from just sitting back and turning off. Race is a conversation people don't want to have. So, let's make them have it."
–Rick de Yampert for FlaglerLive

"Blood Knot,", directed by John Sbordone, 7:30 p.m. March 23-24 and 30-31, and 2 p.m. March 25 and April 1. Performances will be at CRT's venue in City Market Place at 160 Cypress Point Parkway, Suite B207, Palm Coast. Tickets are $20 adults and $15 students. For more information or tickets, call the CRT box office at 386-585-9415 or or easily book tickets online here.
During the play's run, the venue's lobby will feature an exhibition of the Caribbean carnival paintings of Palm Coast artist Weldon Ryan.