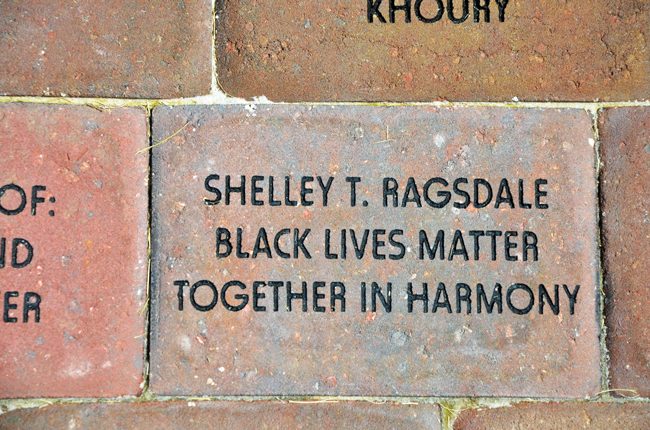 Black lives matter. I speak the phrase without qualifiers. No need for "all lives matter," or "white lives matter." That's implied, and it's not the point. Nor is it the time to change the subject. Not this soon. To add those qualifiers is to replace a black exclamation mark with white quote marks, to co-opt precisely the black call for equality of rights that the phrase implies with a white equivalence of abuse, casualty, and grief that simply does not exist except in the forgeries of white grievances.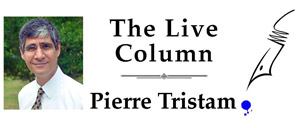 In the context of the police killings of unarmed black men we've been witnessing with nauseating regularity for two years, what matters is to say precisely that black lives matter, because they seem to not, as they did not for 400 years, when the white killing of a black human being profited from the same immunity that licensed Christian killings of Jews in old Europe. We don't have rampant anti-Semitism. Our rampant crime, descended from no less of a holocaust, is color-coded.
We may prefer to forget that past. It changes the subject. We may even have a right to. Times do change, and have changed a great deal. But times haven't changed enough if it's still a mortal danger just to be black, and it is, because parents of white children don't have to warn them about what to do in a police encounter. Parents of black children do. And times haven't changed enough if simply saying that black lives matter is perceived as an insurgent statement.
But that, too, is the history the phrase is struggling against–a history of assumption that as long as blacks keep their place, as long as they're good Negroes (as whites prefer their Negroes: silent, submissive, playing by white rules), then all is fine. But the moment they stand up for themselves, the moment they protest or assert their humanity in the face of authority–the moment they go Malcolm on their tormentors–then they're trouble-makers, they're hate-filled, they're thugs, that code word that now substitutes for the more inflammatory word white bigots used for centuries until it became impolitic even for them to use.
And in this world of white delusions, saying black lives matter, that noble, simple, unthreatening phrase that says nothing other than what it says, a three-word anthem to the dignity of inalienable rights, becomes an insult. It becomes Emmett Till looking at a white woman the wrong way.  
There's nothing new about the crisis. Blacks have been terrorized by cops for years. But just as fax machines broke the hinges in the Iron Curtain in the decade's run-up to the fall of the Berlin Wall, so today social media is giving us for the first time a view into police brutality unfiltered by the old falsehood of a cop's unfailing word. We just don't know if that honorable blue line that's grown into a wall will actually fall. The rare indictments that follow those killings suggest not. At least not yet. It takes talking about it. It takes not changing the subject.
Various rattlers of denial desperately want not only to change the subject, but to lynch it. As with the fool who this week, taking a break from manicuring the Trump  signs on his lawn, complained to Palm Coast government that a Black Lives Matter fund-raising paver appearing among the bricks at the Palm Coast Arts Foundation represents–in his Ebola-wormed vocabulary–an "anti-American, anti-white, anti-Semitic, anti-police, anarchist hate 'organization.'" He wanted the city to have the paver removed. Not that it was for the city to decide (it was not: the decision was the arts foundation's, and its president took the right stand to spurn the bigotry), but the city put the brick brain in his place anyway. "We intend to treat everyone with respect and try to keep the peace and harmony in our community," City Manager Jim Landon wrote him. "We would ask that you do the same."
The man's errant ignorance would not be anything to worry about if it didn't echo that hiss of hate directed at the black lives matter movement across the country, and amplified by the likes of Donald Trump and Rudy Giuliani, New York's twin twiddlers of bile. Giuliani's way of changing the subject this week was to call the movement "racist" and lecture Bill Cosby-like about black-on-black crime.
Black-on-black crime is an issue. There's room for that discussion. But not as a tactic to divert from the crisis at hand. Even when five cops are murdered in a sniper attack by a black terrorist who thinks he was retaliating for something. The attack–by a trained sniper and military veteran of our twice-failed wars–was heinous, like the execution-style murder of two NYPD cops in their car in 2014. But these killings aren't the rule. They're the perverted blowback of a perversion, the all-too routine killing of unarmed black men by armed police.
Cops are owed all the appreciation and respect their profession commands. Blacks are owed their right to life. The two are not mutually exclusive. Cops are more admired, beloved and supported than implies the narrative of spurned victimhood they disseminate with every killing, as if they were today's equivalent of spit-upon Vietnam vets in the early 70s. They're not. Locally you need go no further than last Thursday's vigil for the Dallas cops at Palm Coast's Elks Club or next Monday's "Backing the Blue" fundraiser at European Village to see the throngs of support those events are getting, compared to the fractional–and factional–support their equivalent in the black community are getting. Unsurprising exceptions aside, I doubt any of the politicians and candidates for office pandering at the cops' events will deign appear in company of the Black Lives Matter marchers in Bunnell Sunday. But "The Final Inspection," a poem read at the Elks vigil, doesn't apply to white soldiers alone.
Nor does it displace "Between the World and Me." It's not a competition. But certain differences matter, especially when they falsely color perceptions, and when those falsehoods then absurdly paint cops as the victims and blacks as the aggressors. Exceptions to the rule don't excuse Giuliani-like table-turning oiled by slurs. So it's not showing less admiration for the overwhelming majority of cops who do their work honorably every day to say that black lives matter. But it is denying black lives their right to exist in dignity when they can't even say those words without being branded racists or thugs. The pot has rarely so tragically, so ironically called the kettle black.
And so I'll say it again without qualifiers or excuses: black lives matter.

Pierre Tristam is FlaglerLive's editor. Reach him by email here or follow him @PierreTristam. A version of this piece aired on WNZF.