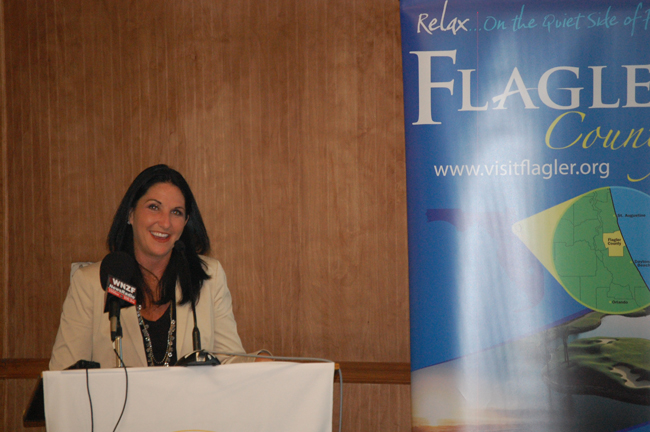 Flagler County's bed tax will increase from 3 percent to 4 percent beginning Jan. 1, raising projected revenue for marketing and advertising the county's tourism from roughly $453,000 this year to $728,000 next year. Overall, tourist tax revenue will rise from $824,000 this year to $1.1 million next year.
"We have an untapped resource in this community, and that is our tourism," County Commissioner Milissa Holland said late Monday evening, more than four hours into a commission meeting. She was on the verge of one of her biggest victories in her dual role as a county commissioner and as chairperson of the Tourist Development Council. People pay the bed tax when they stay in hotel rooms, RV parks and in short-term rental properties.
Holland sprang the increase on the tourist council in August as the second prong in a two-pronged approach to pushing tourism closer to the center of the county's economic development efforts. If tourism is to grow, it has to be marketed, she argued, and marketed more than it has been. Current marketing efforts are paying off, Holland says: tourist tax revenue locally is up 14 percent over last year, while it's down in other parts of the state (actually, not in every part). "So it's worked. I think the momentum is there," Holland said. She wants to build on it.
Not so, Commissioner Barbara Revels said, Revels. "We need to stay the course and not raise taxes. I just am greatly opposed to this. I think there are other ways" to bring in money, namely through better enforcement of short-term rental tax payments.
Andy Blair of the Hammock Beach Resort, also a member of the Tourist Development Council, spoke in opposition to the tax, arguing that Hammock Beach collects over $2 million in sales taxes, including 45 percent of the tourism taxes (average nightly rates are $250 there), employs 500 employees, and invests hundreds of thousands of dollars of its own to promote tourism and visits. "So our voice should be important to this issue," Blair said. "If the increase is approved, we need help to market Hammock Beach properties."
"You've just made my point," Holland told him.
By early September, the proposal had made it to the county commission,which voted 4-1 to agree to hear the proposal. Monday evening Holland had the three votes necessary to get the higher tax: Hers, Alan Peterson's and George Hanns's.
But a problem arose. Tourist tax dollars are divided three ways, though not evenly. The largest portion goes to promotion and advertising of tourism, 30 percent goes to capital projects, and 15 percent goes to beach maintenance. To win Peterson's support, Holland agreed to ensure that the portion of tourist tax dollars devoted to beach maintenance also increase proportionately. Once Holland made that motion, County Attorney Al Hadeed informed the commissioners again (as he had in writing, in documentation prepared for the commissioners ahead of the meeting) that to increase the tax proportionately, the commission needed a super-majority vote: 4 votes for passage, not just 3.
Holland didn't have those four votes. Barbara Revels and Bob Abbott were opposed. And when the vote was called, the motion failed, 3-2. But Holland immediately put forward another motion betting that Peterson would stick with her and agree to forgo his issue with beach maintenance. Peterson did just that, and the same 3-2 vote carried the matter to conclusion.
As the tourist tax breakdown stands, 62.5 percent of the revenue will go to advertising and marketing (which also means adding staff), 22.5 percent will go to capital projects, and 11.5 percent will go to beach maintenance.