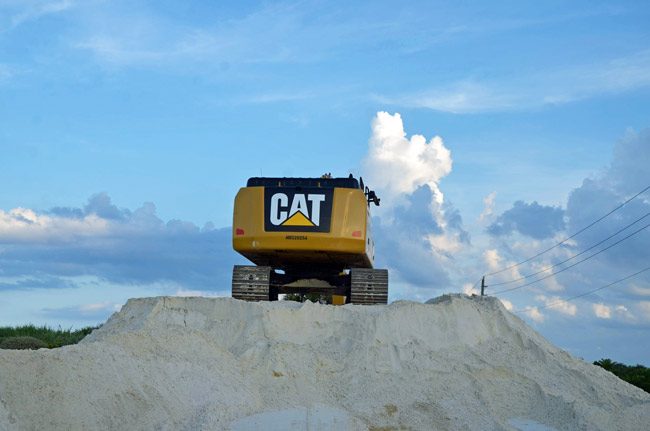 For two hours on Tuesday U.S. Army Corps of Engineers officials spoke to a joint meeting of the county commission and the Flagler Beach city commission to describe the scope of the beach renourishment project the corps plans to carry out on 2.6 miles of the city's beaches. The 50-year project will cost at least $100 million in today's dollars. Half must be paid by the county, or with money the county is responsible for securing. The corps secured only the first $17.5 million, and a large portion of that is an advance to the county, to be paid back with interest. The corps is dangling that money like the heroin dealer pushing freebies on newbies, to get them hooked. It worked: the two commissions injected Tuesday.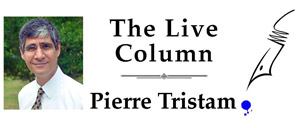 This project has all the makings of a boondoggle. They already take it as fact that they will have to replenish the 320,000 cubic yards of sands on average every 11 years, more frequently if necessary. But every replenishment will cost the county at least $10 million, just for 2.6 miles of beaches.
Think about this for a moment: in an entirely separate project, the county is currently dumping somewhere in the range of 750,000 cubic yards of sand along 12 miles of beaches north of the city, at a cost of $28 million (quietly up from $25 million when the project rolled out in January). The county got some state money to pay for that, but it's covering its portion of the cost with revenue from the tourism sales surtax it raised to 5 percent last year. That's not a lot of money for beach repair: $2 million in 2017, going down to $500,000 a year starting in 2020. The tourism tax can't be raised further.
That means the county is tapped out as far as revenue sources to pay for renourishment on those 12 miles of beach, where dunes aren't going to behave any differently than the Corps'– they're going to wash out to sea sooner than later. If the county can't pay to renourish its own dunes, how the hell does it expect to pay for the Corps' renourishment project in Flagler Beach?
A Flagler Beach commissioner asked County Administrator the most salient question of the meeting: "How are we paying for all this? Are we going to defer our payments?" Coffey's answer: "We don't have to solve that today." Easy for him to say. His future in Flagler is as uncertain as his dunes. He nevertheless went right ahead pushing the two commissions to mortgage theirs and the county's future to colossal, unaffordable sums. And the two commissions inexplicably went along.
That's before we get in the business of what kind of sand the Corps, never known for aesthetic discernment, will be dredging in from the depths seven miles offshore, a vaguely nauseating-brown mush that'll "blend" with coquina sands about as well as Hernando de Soto's lead blended with Timucua Indians on those less-eroded shores five centuries ago.
I don't dispute their desire to save the beaches that are the hub of the county's tourism industry. If it were just a matter of dumping sand in the way of erosion, without regard to cost, I'd be all for it. But this is like getting in the habit of Hoover-damming the impossible. Do we really want to get into the business of futility at that cost, with no idea how we'll pay for it once the commitment to the Corps is in place? I imagine that if you were to put the matter to a vote, and levy any kind of local tax on Flagler County residents to pay for this, they would vote no. Yet that's what county commissioners and city commissioners approved this week: to go ahead with what will require a backdoor tax one way or another, because the tourism tax mathematically cannot bear that burden alone.
Equally concerning was this: for two hours, the Corps and local officials spoke as if they lived in a bubble. Even though the project stretches to 2070, they never once asked or talked about how climate change and rising seas will impact it. Even before the project is completed seas in Florida are projected to rise by as much as 34 inches by 2060. That's almost three feet. No renourishment project will survive long, not at those costs. And still, not a word about climate change.
It's not as if it hasn't been in the news on a daily basis. On Thursday we learned from two new studies that greenhouse gas emissions are surging at unprecedented rates, just as it's becoming certain that without reducing emissions, not just holding them steady, we might as well kiss goodbye our coastal lands over the next decades. At the end of November a report issued by 13 federal agencies warned of hundreds of billions of dollars in projected economic losses in the United States because of global warming, including infrastructure damage. You can be sure that wasted beach renourishment will be among those losses. And two months ago, the United Nations issued the latest of its series of alarming reports pointing to major crises by 2040, including coastal flooding and wildfires among coming disasters, something we know too much about here.
Our response in the United States and in Florida? Burying our heads in that renourishing sand. President Trump has vowed to get the United States out of the Paris Accords by 2020 even though it's the closest, and really the only, global compact we now have as a possibility of salvation, terribly flawed as it is. Diplomats from 200 countries are meeting over the next two weeks to write rules on how to implement the Paris accords. The United States is still at the table, but as a disrupting force, not a constructive one. In or out of Paris, Trump has been scrapping Obama-era regulations to reduce methane emissions or raise fuel-efficiency standards, underwriting the coal, oil and gas industries with Teapot Dome abandon, and denying climate change with infantile stupidity (but catastrophic consequences).
Incoming Governor Ron DeSantis, a man who measures his effectiveness by the glow of his television makeup, will be at least as indifferent to climate change's effect on Florida as his predecessor. And on we go, ignoring the slow, cataclysmic erosion of our once-upon-a-time normalcies.
No wonder no one said a word about any of this at Tuesday's workshop. Good thing we're getting 330,000 cubic yards of sand for the Corps' project, because we'll need at least one cubic yard for every Flagler County resident's head to bury.

Pierre Tristam is FlaglerLive's editor. Reach him by email here or follow him @PierreTristam. A version of this piece aired on WNZF.