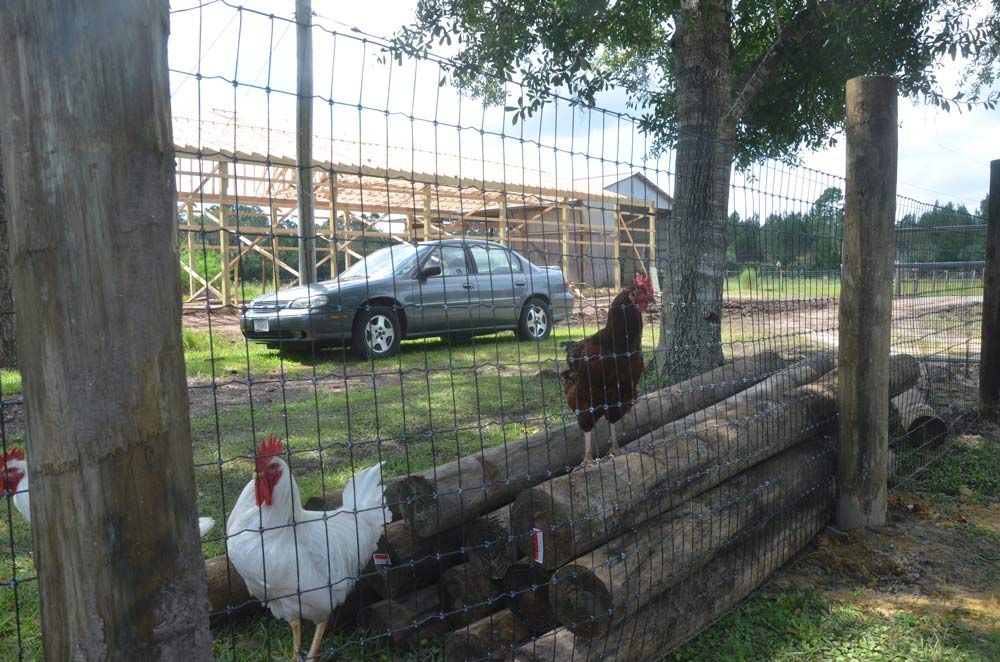 The Palm Coast City Council is not excited about allowing chickens in city backyards. But it may enact a strictly limited pilot program involving a few households, or set aside some public land for a community garden where residents could tend their chickens. There's also the possibility that backyard chickens could be on the 2024 ballot as a referendum.
"The push for backyard chickens is not new. It's been around Central Florida for at least 10 years," Code Enforcement Manager Barbara Grossman told the council Tuesday.




It's also been gaining new adherents, particularly as the price of eggs rose sharply a few months ago, as did the price of food, though both have been coming down significantly. "The city of Orlando conducted a pilot program into backyard chickens, and it was successful, so they codified regulations,"  Grossman said. The city was ready to issue up to 100 permits in certain city districts. Not all permits have been used up.
In Palm Coast last spring, Eric Olsen established the "Palm Coast Chicken Alliance" political action committee in an effort to get a measure on the 2024 ballot. "We believe that keeping chickens in one's backyard can be an environmentally sustainable and ethical way to source fresh eggs and promote local food production," the committee's website states. It has no reported contributions so far.
Council member Theresa Pontieri is championing the proposal. "I'm an advocate of: if you own your home and it's not a nuisance or you're not conducting anything illegal, that you should have great discretion as to what occurs in your home," Pontieri said. "This is a step in that direction. And being that a municipality like Orlando does it, I don't think it's unreasonable that Palm Coast is considering this. There's incredible benefits to backyard chicken. So I really hope that council looks closely at this and that we have a robust discussion on how we can regulate it in a responsible way."
The discussion was robust. The push back against the proposal was almost as robust.




The council had directed the administration to study the matter and report back, as it did Tuesday. The city analyzed eight communities that allow back-yard chickens outside of homeowner associations. (A chart summarizing the findings includes Flagler Beach and Vero Beach, where chickens are not allowed.) All allow it in residential zones, though most also require a minimum lot size of some sort and limit the allowance to four female chickens–no roosters. Most require permitting when chickens are housed in backyards. Some require a class with University of Florida extension agents. All forbid the commercialization, breeding or slaughter of backyard chickens. Only three have a manure-management requirement, only one regulates noise, and only one requires a permit.
Backyard chickens afford residents a measure of self-sufficiency. Chickens produce fresh, quality, steroid-free eggs. They help combat backyard pests. But they also draw more raccoons, coyotes, snakes and the like, and could potentially create unsanitary conditions. Chickens are also vulnerable to certain diseases, and they can be a nuisance to neighbors.
Rogue chickens can be a problem, adding burdens on animal control officers, so the consequences would fall on building, zoning and code enforcement officers, since the building department would have to permit chicken coops and code enforcement officers would have to follow-up on complaints.
The city's code enforcement department has collected evidence of chickens in Palm Coast, what amounts to violations of current code, with sanitation issues, coops so low to the ground that they are invitations to predators, or to next-door dogs barking incessantly. "So there is a domino effect sometimes if you don't know how to responsibly take care of chickens," Grossman said.
Some coops are professionally built, and expensive (one image Grossman showed lists a $600 price), some are do-it-yourself.
But Pontieri discovered that there is little appetite on the council for the proposal, which may have little chance of success when both Council members Ed Danko and Nick Klufas, usually the council's  polar opposites, find themselves allied against it.




"My own personal feelings right now is this is not Mayberry RFD. This is a community of residential homes," Danko said, preferring it to go on a ballot as a referendum (where its chances of success in a city of fussy retirees are dubious.) Alternately, he suggested using public property owned by the city to cede to a non-profit where people interested in having chickens could have a "community chicken garden."
Council member Cathy Heighter is also opposed, calling backyard chickens "a nuisance" that would open the way for other animal husbandry, though only moments before that possibility had been essentially neutralized. "I don't want to see farms in backyards," she said.
Klufas recalled his experience in New York with 20 chickens and other animals on sizeable acreage. "It is a different area around here where you can't have free range per se, but that's not necessary for chickens to be happy and be successful," he said. "With that being said I do not foresee just allowing chickens in the city of homes because I don't think that's something that would be overall beneficial."
But he was open to a pilot program with "vigorous" regulations that would weed out people who are not entirely committed to having chickens. It would have to be "a very elaborate pilot program that is very rigid, gets rid of the vampire rules for code enforcement where they don't have to invite you out to the backyard," he said.
Danko is also looking for answers from the real estate community. "Wouldn't allowing chickens and backyards increase the value of our properties or decline the values of our properties? And I think that's something we need to think about." (There is plenty of anecdotal evidence on the question–supporters say it doesn't hurt property values, opponents say it does–but reliable evidence is scant.)
Palm Coast Mayor David Alfin, a Realtor, has horses, not chickens. He worried about opening the door to other animals populating backyards. "This is somewhat precedential, and are we willing to consider all of these animals as a group" as opposed to singling out chickens, he asked.
The existing ordinance needs some amendment to start with, Pontieri said. For example, the current ordinance doesn't allow for rabbits. But there are plenty of rabbits running around in people's homes and backyards. "We can certainly single out certain animals without it becoming a slippery slope," Pontieri said. (The city had to deal with a "rabbit mill" in a house, Grossman noted, but that was a different issue.)

The administration gave the council three options. It could develop a pilot program. It could write an ordinance that would allow for backyard chickens. Or it would leave the code as is: no chickens. The council added two more: the community chicken-garden possibility, and the possibility of a referendum. But when the council discusses the matter again at an August meeting, it'll only consider the pilot program and the community garden. Meanwhile, the administration will be responsible for crafting those proposals in concrete terms, while the city attorney will study the community garden approach, since it's not a common one.
Alfin complimented Grossman for "a rather masterful but balanced presentation, and yet another example of listening to the public when they come in and talk, so the turnaround time on this has been quite, quite spectacular."
Pontieri had to resign herself, for now, to a pilot program as the best hope for the initiative.
"With regards to the possibility of a nuisance, we've had a lot of fodder about Airbnbs in our city yet we still allow them," Pontieri said. "So I think that we need to yes, recognize that anything can be a nuisance. I get emails and calls on barking dogs. So to to disallow a homeowner the responsibly have chickens because we're afraid it could be a nuisance, I think is a slippery slope especially when we have ordinances in place to regulate other pets."

Correcting the Record on "A Chicken in Every Pot"
It was a matter of time during the Palm Coast City Council's discussion on backyard chickens before someone mentioned "a chicken in every pot," at once one of the most famous phrases in American political history–and one of the most mis-attributed.
"Wasn't that Harry Truman that said a chicken in every pot?" Mayor David Alfin asked at one point, as Council member Ed Danko was discussing the potential effect of backyard chickens on home values.




Danko began saying Herbert Hoover, then conceded that he did not remember. He was a bit closer to the truth than Alfin.
The phrase was mis-attributed by Democrats to Herbert Hoover, a Republican, because of a 1928 campaign flyer produced not by Hoover's campaign, but by a political action committee called the Republican Business Men Inc. The flyer, written with the same flair for black-and-white exaggeration, boasts and smears, indeed referred to "Republican prosperity" building better homes, better roads, better jobs and so on. It claimed that Republican prosperity "put the proverbial 'chicken in every pot.' And a car in every backyard, to boot."
The proverbial nature of the phrase goes back to King Henry IV of France, as celebrated for his phrasemaking as for his enlightened tolerance, who'd said: "I wish that there would not be a peasant so poor in all my realm who would not have a chicken in his pot every Sunday."
The closest Hoover came to saying anything like it was toward the end of a very long Oct. 22, 1928 speech before 22,000 people at Madison Square Garden–a year and three days before the Great Crash–when he said: "Today there are almost nine automobiles for each ten families, where seven and a half years ago only enough automobiles were running to average less than four for each ten families. The slogan of progress is changing from the full dinner pail to the full garage." Though it became one of his most famous lines, the New York Times did not quote it in its long article on the speech, leaving it to the full text transcript (back in the days when newspapers filled pages with speech transcripts) to carry the line, if readers got that far.
Four years later, Democrats would not let Republicans–or Hoover–live that phrase down, first by falsely attributing it to Hoover, then by repeating it derisively every chance Democrats got, starting with Democratic presidential hopeful Al Smith in 1928. Smith held up the Republican Business Men flyer without attributing its words to Hoover directly, but by 1932, Democrats had combined the garage and chicken imagery and were piling it all on Hoover.
They wouldn't let go. John Kennedy in a 1960 campaign speech in Tennessee again falsely attributed the phrase to Hoover.
backyard-chickens