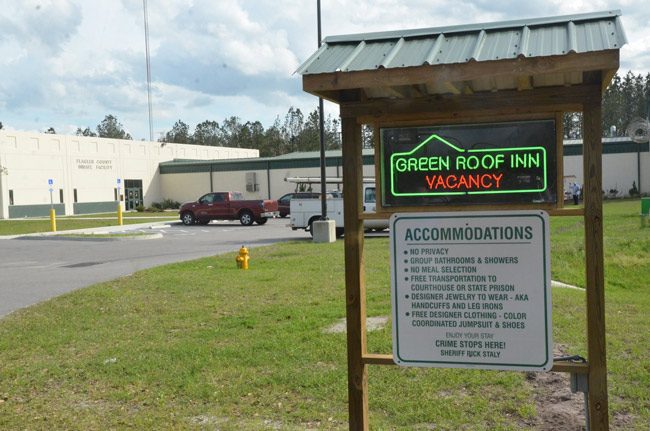 A lot of things are not yet known about what led to the death of 23-year-old Anthony Fennick last week, after he deteriorated before other inmates' eyes and nurses at the Flagler jail earlier this month. Some of those things may never be known. Theoretically he did not die at the jail but went brain-dead soon after arriving at the hospital, thus creating an ideal gray zone for lawyers defending against a liability suit. The hospital can blame the jail. The jail can blame the hospital. The Sheriff's Office can blame Armor Correctional, its contracted health provider. Meanwhile the autopsy may well show that no one was to blame. We don't yet know.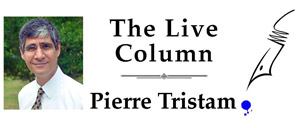 But what's not known doesn't diminish what is known. And what is known is disturbing enough, no matter what the findings of the autopsy or the sheriff's ongoing investigation will show.
What we do know is that Anthony entered the jail after failing a urine test for cocaine in late December and getting kicked out of drug court. He was otherwise relatively healthy. He got sick about five days before he was wheeled out of the jail, with high fevers and degradation day after day starting around Jan. 30. He got some attention from nurses at the jail, some of it caring, some of it dismissive, according to his mother. The dismissive part is alarming, that he never saw a doctor even more so. He was never sent to the hospital for a more thorough work-up despite five days of high fevers.
The night of February 4 Anthony was vomiting, was out of it, and had a seizure, finally prompting his transfer to the hospital. There he went into cardiac arrest and never regained consciousness after his heart was revived. His breathing machine was turned off last Saturday.
Here's what we also know. Less than two years ago the sheriff's office contracted with Miami-based Armor Correctional Health Services to provide what's dubbed as 24-hour care for inmates, keeping in mind that a medical director of physician was required to be at the jail only two hours a week. The rest was covered mostly by LPNs, with a charge nurse on duty 40 hours a week–for the current price of $641,200 a year, for any size inmate population up to 225. (The benchmark population was 195 in September, 179 in October, 156 in November.)
What's also known is that Armor is a magnet for lawsuits. After taking over health services in Volusia jails four years ago, it piled up four wrongful death lawsuits and so much dissatisfaction from the county council that by last summer the council fired Armor. A quick scan of recent reports unearths a morgue of scabrous stories. The company was under investigation in Lake County over the death of an inmate. Last year the state of Wisconsin charged in a lawsuit that Armor intentionally falsified inmates' records.  The year before a federal jury found Armor and Nassau County, New York, negligent in an inmate's death, awarding its family $7.9 million in damages.
I could go on, though in fairness to Armor, the problem isn't necessarily Armor itself (Centurion, Volusia's previous provider, was a prisonhouse of lawsuits too), but the privatization of inmate health care. "Winning bids for prison contracts are often separated by pennies per day," Joseph Hallinan wrote of privatization in his book on prisons a few years ago. "Those pennies mean the difference between a profitable prison and a money-loser. To save them, corners are cut, promises are broken, and sometimes inmates die." He was referring to entirely privatized institutions. But the principle applies just as starkly to privatized contracts like Armor's.
The sheriff was wrong to go that route last year when he had a county-based alternative that had been providing care at lower cost. That arrangement unquestionably needed modernizing, and it did not provide 24-hour coverage. But that standard could have been written into the new arrangement without a private contractor's knee-jerk instinct to cut corners with inmates popularly and enthusiastically held in low regards, including, by the way, by our own sheriff.
Which brings me to one last thing we do know: the advertised contempt Sheriff Rick Staly shows inmates from the outset, before they even cross the jail's threshold, with that odious Green Roof Inn sign at the jail's entrance. Sure Staly has good programs to help inmates inside the jail. But the sign undermines the intention. The sheriff, with unfortunate mimicry of law enforcement zealots like Polk County's Grady Judd or Volusia's Mike Chitwood, tells inmates, most of whom have not been adjudicated, that they'll be wearing "designer jewelry" in the form of handcuffs and leg irons and "free designer clothing" in the form of "color coordinated jumpsuits and shoes." The sign tells each inmate to "enjoy your stay" and finishes up with a guilty-until-proven-innocent "crime stops here" statement above the sheriff's name. A second sign directed at departing inmates isn't more creditable.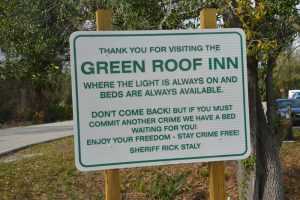 Judging from the initial response the Green Roof Inn smear got on the sheriff's Facebook page a year ago (its first-year anniversary grimly coincides with Fennick's death), most people love it. Most people think it's funny and deserved. It appeals to that gladiatorial lust for punishment as an entertainment, which costs spectators nothing. That's the problem. Staly is directing the sign as much at inmates as at his applauding constituents, boosting his popularity. But justice and law enforcement are not popularity contests, and inmates are not political pawns. The sign  is demeaning of this community because it reflects on it. It blares contempt for human beings, whether found guilty or not. And it sets an indefensible tone at the top that, when deaths like Anthony Fennick's occur, can turn into a lawyer's most convincing closing statement in a negligence lawsuit against the sheriff. How can the sheriff demand that his health provider treat inmates with dignity when he doesn't? The sign is, on its face, a legal and moral liability. 
I've had many more reasons to admire Staly than not. This is not one of them. Sheriff Staly, tear down that sign.

Pierre Tristam is FlaglerLive's editor. Reach him by email here or follow him @PierreTristam. A version of this piece aired on WNZF.