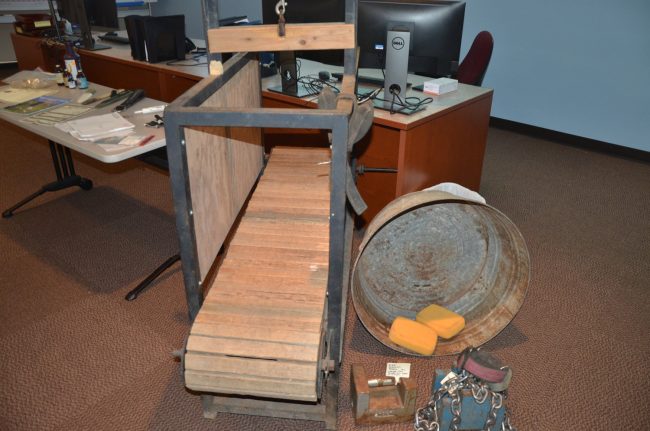 Cockfighting, dog fighting, animal cruelty as an industry: it's an underground world no less lurid, no different and lo less prevalent than child pornography, snuff movies or the torture of others for entertainment, gambling, gratification.
Many of that world's tools seized from raids across Florida were laid out at the front of the large operations room at the Emergency Operations Center in Bunnell last week as part of a two-day statewide training conference organized by the ASPCA and Flagler agencies that drew upwards of 60 police and animal control officers involved in animal cruelty investigations.
The "paraphernalia" was like a small museum of sadistic ingenuity: a five-cell cage used to transport roosters used in cockfighting. "Practice gloves" placed over the natural spur of the bird while they're "sparring" and being conditioned to become fighting birds. Small scythe-like knives and "gaffs" that are placed over the same spurs in actual fights, when the birds are trained to use to slash their "opponent." A stack of magazines peddled by cockfighters, advertising the wares and illustrating means of the trade, are laid out next to "vitamins" and other boosters used by breeders.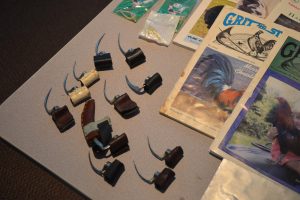 "These were made illegal in 2009, to put through the postal system," says Adam Leath, the ASPCA's regional director for field investigations and response, who's been involved in seizing such tools in Florida. "But you'll still see them around because they advertise for things like cutting or dubbing your bird, so cutting off the combs and wattles, which are the things on the head, which they typically do in fights, you'll see them advertise for where you can actually get services, for how people train your birds–you can pay for that, you can pay for people to transport your birds. Same thing for dog fighting on the other end. They also have similar publications. Most of it is done online now, and through chat rooms and direct contact, but it's really great evidence. They're advertising for services of an illegal activity."
A few feet away, a medieval-looking dark-wood contraption about three feet long vaguely resembles a horizontal guillotine or restraining chamber. On closer inspection it's a strange, antique treadmill: it's used to train fighting dogs by hooking them to the center portion of the treadmill, forcing the dog to run in place to exhaustion as a bait of some sort is dangled a foot or so in front. On the ground, a heavy metal chain is hooked to 50- and 60-pound weights. A dog would be hooked to those and forced to walk, to build up stamina.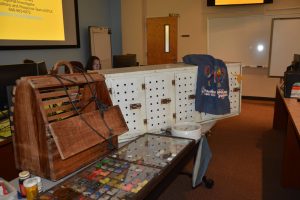 "It's a felony in all states but there's still places where it's legal in the world," Leath said. But asked how prevalent those blood sports are in Florida, he said: "In every county in every city across the entire state, I've worked cases." But he said law enforcement will often see those tools of torture in places but won't recognize the connection to animal cruelty or felony animal-fighting. "The possession of these implementations alone is a felony in the state of Florida," Leath said. "the paraphernalia, that's what we refer to as all of this is. transporting the birds, weighing the birds, supplements, injectables, vitamins, medication, leg bands, wing bands, there's all sorts of things that they use. But law enforcement will see this and not really know, hey. What is that, or let me ask more questions. And so that's why we're kind of bringing this up."
The two-day conference last week (Nov. 8-9) was presented by the ASPCA in partnership with the Flagler Humane Society, the Flagler County Sheriff's Office and other local police agencies, and featured among the speakers County Attorney Al Hadeed and attorney Sean Moylan, Sheriff's detective Annie Conrad, who has long specialized in animal abuse investigations, along with Leath, Jennifer Chin, vice president for legal advocacy at the ASPCA and a former federal prosecutor (as are many of the ASPCA's 11 attorneys who work with law enforcement around the country), and Leigh Anne Garrad, a member of the ASPCA's field investigations and response team.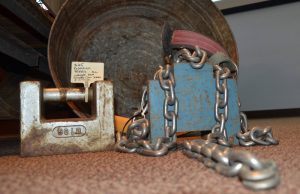 "We were proud that ASPCA chose us to host the very beneficial training for officers throughout the state," Amy Carotenuto, executive director of the Flagler Humane Society, said.
"A lot of domestic violence in our community starts as animal abuse," Sheriff Rick Staly said in welcoming remarks to those attending the training. "Just like many of the victims we deal with in law enforcement, they need somebody to speak for them," he said of abused animals.
Documented cases of dog fighting or even cases that may be related to dog fighting are rare in Flagler. In 2010, a man who goes by the name of Kenji X was found guilty on nine first-degree misdemeanor charges of animal cruelty when nine pit bulls, most of them puppies, were discovered in his yard at at 45 Sederholm Path in Seminole Woods, many of them tethered to the kind of heavy chains and weights displayed at the EOC last week. In 2002, thefts of pit bulls in Flagler were believed by the Sheriff's Office at the time to be related to a dog-fighting ring.
But documented cases of animal abuse are almost routine, with only a fraction ending up in prosecution of abusers. Training officers is a way to fill that gap.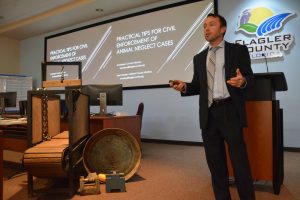 "We really want to be able to give them the tools that they need to respond to animal cruelty in their communities," Chin said, previewing law enforcement strategies cops and animal control officers may not be aware of as they observe suspicious scenes–or even scenes that may have nothing to do with animal cruelty. Domestic violence households top the list: Garrad, the field investigator, describes how often cops responding to a domestic violence should take note of where the pets in the house are.
"Have you ever noticed where the dog is? Where is it, most of the time?" Garrad asked the audience. "Cowering somewhere, and it's usually behind her [the victim], or the children," and will be "visibly shaken" from the voices and noise of domestic disputes. The victim may tell investigators that everything is fine. "The dogs will tell you: it ain't fine," Garrad said, going on to explain that animal abusers have been found to be five times more likely to be perpetrators of violent crimes, four times more likely to commit property crimes, and three times more likely to be involved in drug crimes.
That nexus between animal cruelty and other crimes was a recurrent theme of the training, as were strategies that could intensify penalties against abusers through creative means. Garrad described the case of a severely burned dog. Its owner could have been charged with animal cruelty, now a third-degree felony. Instead, prosecutors thought creatively: animals are property under Florida law. Burning an animal is burning property. The man was charged with arson, a first-degree felony.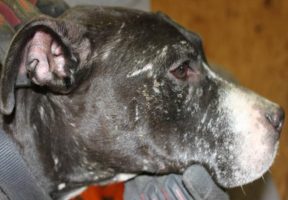 That's how officers can think creatively, Chin said. "There's a lot of objective evidence in the same way that there is with other crimes," whether it's paraphernalia or the conditions animals are found in. "The victim itself isn't able to speak to what it's experience is, so a lot of that is gleaned from the evidence collected around the incident, as well as a lot of the testimony of veterinarians is really important in cruelty cases because they can speak to the type of injury or harm or illnesses."
Remarkably, Chin said, "there aren't reliable statistics for reporting animal cruelty across the country." The FBI has only recently started collecting data, which still relies heavily on police agencies self-reporting. "We know anecdotally based on the request for assistance that we receive that it's very pervasive in all kinds of communities, whether it's urban, suburban, rural, no one region is spared these sort of crimes. It's pretty widespread."
And criminal prosecution isn't the only tool. "Our county attorneys shared cases where county attorneys can help animal services and law enforcement in some cases when state attorneys may not be able to," the Humane Society's Carotenuto said.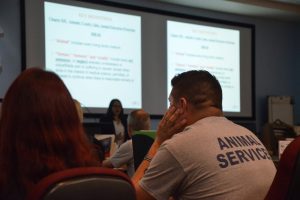 Hadeed and Moylan addressed the audience to lay out the civil penalties available, and how to go about securing them while protecting animals in abuse cases.
"What we're here to do is to explain how to utilize these statutes in the civil justice system," Hadeed said, "how to prepare a case and how to present a case to the judiciary., how to make sure that you are comprehensively collecting and conveying the evidence that is witnessed, that is seen, that is evaluated by a veterinarian," and what remedies to ask for in order to protect the animals that have been abused. "We, the county attorney's office, do not do any criminal cases. Animal cruelty can be a criminal charge. Our role on the civil side is to focus on the protection of the animals, which means possibly seizing the animals, taking custody of them, giving them the medical care, the restorative care that they need, getting an order barring the individual from possessing animals, making them pay for the cost of that rehabilitation. Our case doesn't resolve in criminal adjudication."
It's not rare: "I couldn't count the numbers but I'd say we have at least one case a month that we do," Hadeed said. It's not just cats and dogs, but farm animals, horses and so on. His office in the mid-1990s handled a nationally-followed case of a 400-dog puppy mill, litigated locally and appealed to the Fifth District Court of Appeal and decided in 2000. The court upheld the sheriff's deputies' entry onto private property without a warrant because of the severity of the emergency (dead dogs, feces everywhere, plenty of evidence of abuse) and found that the property owner's due process rights had not been violated. "It remains the definitive, authoritative statement about the application of these laws and the protection of animals," Hadeed said. "It is by accident that that precedent was created in Flagler before it was created elsewhere in the state."