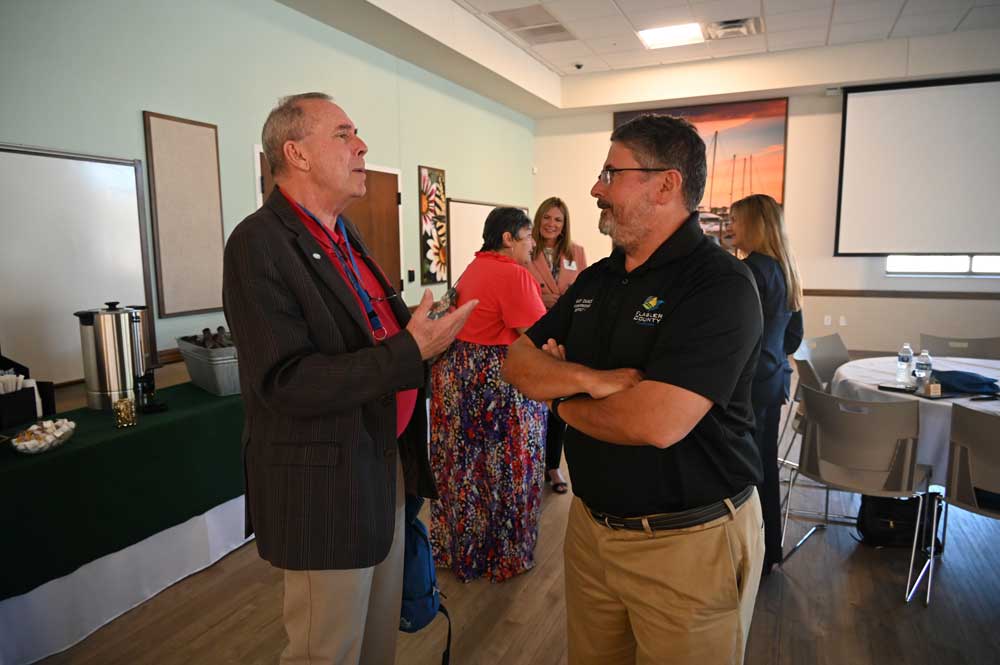 Palm Coast Mayor David Alfin said today he is "staying put." After over a month's thought, he has decided to forego a run for Rep. Paul Renner's House seat.
"I'm going to honor my commitment to the folks that voted for me and to the residents of the city Palm Coast to continue to serve as mayor for as long as the residents of Palm Coast consider I'm up to the job," Alfin said this morning.
Alfin was elected in a special election in July 2021 to complete the four-year term that Mayor Milissa Holland had resigned. That term ends in 2024. Since Alfin was elected in a special election, the three years he will have served do not count against Palm Coast's term limits. So he can run for two more four-year terms. He has already drawn a challenger for the 2024 run: Mike Norris, a retired Army captain, professor and human resources manager.
Late last year Alfin seriously considered running for the Renner seat, calling it–in characteristic trial-balloon style–a definite maybe. He did not want the county to lose a direct voice in Tallahassee, as Renner's has been. Alfin also is focusing his and the city's energies on Palm Coast's westward expansion past U.S. 1, on land–annexed a decade and a half ago–that could potentially double the size of the city at build-out. The city, he says repeatedly, will have only one shot to get it right, and he wants support from the state capital. (See: "Is Palm Coast Mayor David Alfin Running for Paul Renner's Seat? Maybe.")




If it is to be a Flagler voice, it won't be his. "There's no question in my mind that we stand on the doorstep of opportunities for the city of Palm Coast that are unprecedented in the history of the city," Alfin said. "I would very much like to be a part of the decision making for all the collaborative efforts that we can work on together." He added: "I have always believed that the city of Palm Coast and Flagler County need to have a voice locally, as well as a voice in Tallahassee in order to explain all of the great opportunities that we have. It's my decision to do my best to remain a voice for Palm Coast and Flagler County."
Alfin today also categorically dismissed as "fake news" a rumor he'd been hearing: that he was in discussions with county commissioners and County Administrator Heidi Petito to hire Petito as city manager, in part to oversee that western expansion. The rumor limbed in other directions, too, seeing Jorge Salinas, the deputy county administrator, getting lifted to administrator (or former Administrator Jerry cameron making another play for it) and Denise Bevan, the current city manager, taking a role as chief planner.
"Somebody else asked me that rumor the other day. I've never heard anything about that," Alfin said. "I would have to guess that somebody is creating fake news on that rumor." To the contrary, Alfin said: "The relationship and the collaborative effort between the city manager Denise Bevan and the county administrator, Heidi Petito, has never been better and stronger than at any time in the history of the city of Palm Coast. And I would value that relationship to continue as far into the future as I could say."




Petito and Salinas themselves today dismissed the rumor as well. Neither had heard of the rumor. Petito at first thought it was a joke. There is no basis to it, "none," Petito said. "We work so well with the city," she said. County commissioners Dave Sullivan–who spends long stretches of time with Alfin, driving up and down to regional planning council meetings in Jacksonville, a panel on which they both serve–and Andy Dance said they'd heard nothing to that effect.
Alfin's term ends concurrently with the end of Renner's House term, so had he decided to run, the resign-to-run law would not have applied. It applies only when one term overlaps with another. Either way, the matter is now moot, opening the way for a season of speculation about Renner's successor. The District 19 seat covers all of Flagler County and a sliver of St. Johns–but a considerable enough sliver to account for 40 percent of the district's electorate.
Three council seats are up in 2024: that of the mayor, Nick Klufas's District 3 seat–Klufas is term-limited, and has previously indicated he would run for the County Commission–and Ed Danko's District 1 seat.
Reader Interactions