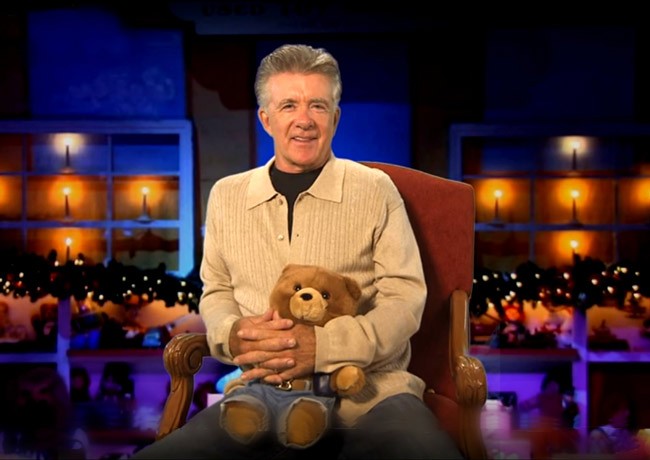 Alan Thicke isn't being green with Grinchy envy when he hopes parents and kids will be in the mood for a different Christmas villain — and hero — this holiday season.
Thicke, the Canadian-born actor, TV theme song composer and talk show host known for his role as the dad on the sitcom "Growing Pains," is starring in the touring musical "The Toy Shoppe."
The play, which was co-created by country music superstar Kenny Rogers, will be staged at 3 p.m. Sunday Nov. 29 at Flagler Auditorium in Palm Coast.
Thicke confesses that his heart still grows two sizes too big whenever he views Scrooge and "A Christmas Carol," or the that green meanie in "How the Grinch Stole Christmas."
"As a parent and now as a grandparent, I look forward to sharing the old Christmas classics with the kids in my family — those things that give you that warm, fuzzy feeling," Thicke said by phone during a tour break in Orlando. "But at the same time, wow you get where you've memorized every line (laughs).
"I think maybe for parents it's refreshing for something to come along once in awhile that they can take their kids to that they haven't seen a dozen times."
That said, "The Toy Shoppe" doesn't stray too far from the bah-humbug territory of Srooge and the Grinch.
The musical tells the tale of Hank Longley (played by Thicke) and his century-old toy shop. The grouchy Mr. Baxter plans to foreclose on Hank's shop and replace it with a burger joint — on Christmas Eve no less! (It's not fiction anymore: Rogers wrote his "Toy Shoppe" in 2000. Last July, Toys R Us, the Walmart of toy stores, applied its plastic sensibilities to its bottom line and closed FAO Schwarz, the 153-year-old toy store that had spent 84 of its iconic years between two locations on Fifth Avenue in New York.)
But Hero the Dog, Cheeseball the Mouse, Bruno the Bear and other toys in Hank's shop may have a Christmas miracle or two up their magical sleeves.
The play's story was written by Rogers and Kelly Junkermann, and it features songs and music by Rogers, Steve Glassmeyer and Warren Hartman. The production toured for seven seasons with Rogers playing Hank.
The show features a coterie of cute kids as young as 6 years old. As for that old Vaudeville adage that you don't share a stage with kids or animals — well, the 68-year-old Thicke obviously isn't afraid of being upstaged by cuteness.
"Well, either that or I'm doomed," said Thicke, whose stage credits include portraying Billy Flynn in "Chicago" on Broadway and in the national touring company in the mid-1990s.
"With my demographic I'm always going to be the father or the grandfather from now on," he said. "So I might as well learn to embrace that.
"I've never felt like a competitive-type of actor who worries about where his next close-up is going to come from or how much screen time he has. I'm happy to have long breaks in between. That was one of the great things about 'Chicago' (laughs) — the Billy Flynn character could go away for 20 minutes."
In "The Toy Shoppe," Thicke said, "I'm on and integrated with the kids a lot. But it is a bit of a challenge too because they're quite talented and very precocious. So I have to get my game up to their level."
Despite its kids appeal, the musical touches on serious themes, too.
"A couple of songs — 'Heroes,' 'Til the Season Comes Round Again' — are quite sentimental about our feelings this time of year," Thicke said. "They're about making sure we take advantage of our time to be together as families, because you never know what next year brings. The implication is some relatives get lost along the way. It's difficult to sing 'Til the Season Comes Round Again' and address those scenes without getting sentimental and being aware of the fact that your grandparents aren't around anymore, my mother's not around anymore, that kind of thing. There are some sentimental moments that cause us all to pause and reflect and be thankful that we are here. I'm looking at that this year with a couple of people in my family. That's the good and bad of the season. We hold on to our memories and we keep spirits alive and at the same time there's definitely a sense of loss."
Though his Jason Seaver character on "Growing Pains" made TV Guide's list of "50 Greatest TV Dads of All Time," Thicke's resume boasts a few dada moments among the dad gigs.
He's hosted game shows throughout his career, including "Animal Crack-Ups" in the late 1980s. Norman Lear pegged Thicke to produce and head the writing staff of "Fernwood 2-Night," a faux talk show based on characters from Lear's sitcom "Mary Hartman, Mary Hartman."
Thicke has hosted his own legit talk shows both in Canada and the U.S., including the syndicated late-night show "Thicke of the Night."
He's a prolific composer of TV theme songs, including those of the sitcoms "Diff'rent Strokes" and "The Facts of Life" and the game shows "The Wizard of Odds," "The Joker's Wild" and many others.
He's penned several parenting books including "How to Raise Kids Who Won't Hate You: Family Wisdom and Humor From a Favorite TV Dad."
His numerous TV and film roles include parts on "Hope & Gloria," "The Bold and the Beautiful," "Alpha Dog," "Just Shoot Me," "Celebrity Wife Swap" and many others.
The third season of his sitcom-reality show "Unusually Thicke," which he describes as "reality-ish," returns in January on the POP network. The show stars Thicke, his wife Tanya Callau and his teenage son Carter. Akin to Larry David's "Curb Your Enthusiasm," the series is loosely scripted and the family improvises dialogue, with celeb guests dropping in to play semi-fictional versions of themselves.
But do viewers get that "Unusually Thicke" is not a pure reality show?
"I think they get it now that the network described it as a sitcom reality," Thicke said. "Our stories are real. The dialogue is real — we are improvising the dialogue and we talk the way we really talk. But we know that we're trying to tell a certain story in that episode. And so the scenes are plotted out. So in that sense its always kind of the format of a sitcom.
"True reality no longer exists on television. They don't set up the cameras and lights in a certain room with a particular gathering of people knowing nothing at all about what's going to happen or where they're going to go.
"Where they set it up at some party so all these women can yell at each other for bad manners or who didn't get invited or who said what — the days of that kind of true reality are long gone. What we do is tell real stories."
But for now Thicke's attention is focused on "The Toy Shoppe." The current tour has 15 remaining performances throughout the Eastern United States through Dec. 20.
"I enjoy the sentiment of it all," Thicke said. "I'm kind of old school that way. It's a wonderful family, Christmas magical fantasy kind of production where very colorful life-size toys come to life and young children in the audience — their faces light up."

"The Toy Shoppe," a Christmas musical starring Alan Thicke, will be presented at 3 p.m. Sunday Nov. 29 at Flagler Auditorium, 5500 E. State Road 100, Palm Coast. Tickets are $45 adults, $38 ages 17 and younger, and are available at the auditorium box office. Information: 386-437-7547 or flaglerauditorium.org.