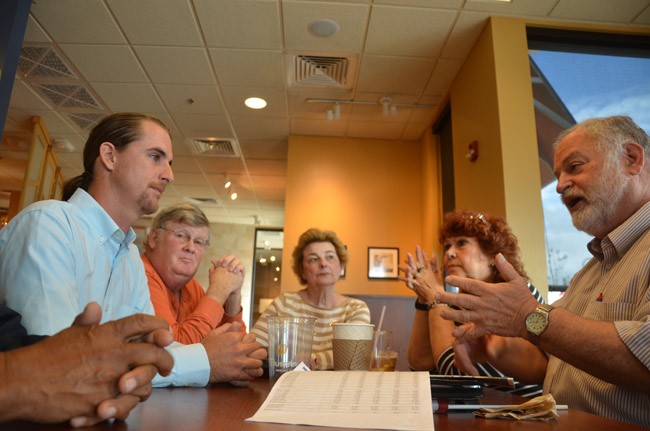 Note: On Feb. 25, Adam Morley falsely claimed on his Facebook page that "Flagler Live pretty much rewrote this entire article after it had passed it's [sic.] peak exposure time…this article wasn't all that bad lol." The article below was never edited after its original publication just before 5 p.m. on Feb. 2. The only addition, four hours later, was the disclosure statement about Merrill Shapiro, below the article. Morley subsequently explained that he'd mistaken this article for another, and apologized.

No Democrat has represented any part of Flagler County in Tallahassee since 2002, when Doug Wiles was the last State House member to do so. Melissa Holland came close two years ago but fell short against Travis Hutson, who took the seat in a newly drawn district that includes all of Flagler County and enough of Volusia and St. Johns to tilt the district decidedly Republican.
The GOP candidates' campaigns have also been significantly richer. That's made their victories almost a lock—even when the candidate is a virtual unknown who's just moved to Palm Coast to win a seat, as is the case with Paul Renner. Renner faced nominal opposition for the Republican primary from two candidates who couldn't muster 30 percent of the vote between them. Renner, a Jacksonville attorney who'd lost his last primary by two votes last year, took no chances. He spent $190,000 in this primary. His two opponents combined spent $14,000.
Renner is just as unlikely to lose come the April 7 general. His Democratic opponent is 30-year-old Adam Morley, a St. Johns County idealist and boat captain who describes himself as an entrepreneur: he just sold a recycling business he started in 2008 and is devoting himself to the campaign for State House full-time. His total contributions to date: $1,600.
All non-recognition being equal—aside from his brief exposure during a primary in which fewer than one in five Republicans voted—Morley is as much of an unknown as Renner in Flagler. But a 90-minute get-acquainted meeting with his local Democratic supporters Monday pointed to the challenges he faces, starting with his own: sincere, well-meaning and often well-spoken as he is, Morley has little grasp of the issues, he is uncomfortable with questions of substance, and he portrays his campaign as an attempt to go outside the norms of money-driven-electioneering—the oft-repeated claim of candidates who have no money and, usually, no chance of winning.
"If we try to compete we're going to lose," Morley said, referring to the financial competition, "so we have to be more creative and do things with more alternatives whenever we try to get the word out." Morley wasn't clear beyond using social media, the web and word of mouth, particularly when it came to formulating a coherent strategy to get that done.
---
An idealistic candidate's inability to formulate a strategy in a meeting with Flagler County's Democratic leaders.
---
Morley's problem went deeper: when asked repeatedly by some of the people around the table—ostensibly, his best political friends in Flagler, including the head of the Democratic Executive Committee and the head of the Democratic Progressive Caucus, as well as long-time party faithfuls—about his strategy, he could not formulate a clear answer. When asked what would convince the people around the table that they should campaign for him, he had just as much difficulty answering. He has no campaign manager. He considers "traditional advertising" inefficient.
The fact that there were just five people around the table, plus a reporter, was part of Morley's challenge: short-notice though it was, the call to meet him went out by email and Facebook Sunday, but drew a minimal response. Morley, visibly uncomfortable at fielding the many questions he faced, did not appear ready to take on the sort of campaign that would inspire too many people to campaign for him or volunteer for him, other than because he is running as Democrat—and Merrill Shapiro, the caucus chief, made clear, Democrats are craving an alternative to the last decade and a half's run of Republicans.
Renner did not return a call Monday.
Morley's perplexing candidacy unraveled early in the discussion Monday morning, when he bristled at being called an environmentalist. "I try to stay away from the environmentalist label," he said, describing the word as one that "doesn't sit well with me." Yet for all the haze surrounding Morley's ideas and strategy, if there is one relatively clear marker that defines him, it's his environmentalism—and the sort of environmentalism that would make a Greenpeace activist envious: he grew up on the Princess Place Preserve when his mother was its caretaker, he started a recycling business (which he insisted was a business, not an environmentally inspired venture), in August he just moved into a fully self-sustaining, solar-powered house, he describes himself as  "100 percent solar." One of his top priorities in the Legislature, said, would be to reduce regulations on the solar industry. Earlier today he chose to stand in the sands in front of the Flagler Beach Pier to make a video pitch about his candidacy.
"Not only do I not want my community to be used as a doormat by outside politicians looking to get entry into politics," he said in an unveiled swipe at Renner's recent move to Flagler, "I want my child and the children in the community to be able to grow up with dreams of their own and the resources necessary to make those dreams a reality—not just become part of the workforce building and protecting someone else's empire." (Morley was insistent with his Democratic colleagues today that he is not interested in negative, attack-style rhetoric, though his video clip shows him eminently capable at the sport.)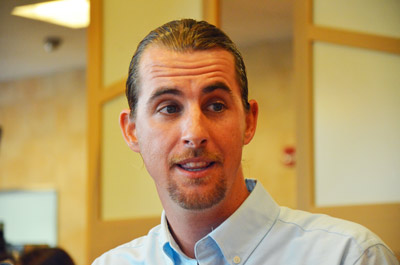 Several times Shapiro asked him explicitly: "What can we do to help?" And several times Morley could not formulate the sort of direct answer that would give his supporters something to work with other than generalities about needing people who "know the real world, to get out there and get the word out." When Shapiro asked him if he wanted a campaign manager, "maybe" was Morley's answer, an equivocation that reflected the irresolution of his campaign more than he intended. Shapiro asked the question again.
"You have to come up with a program that you can put forward so that people can gravitate to you," Ivory Johnson, who at 80 has seen his share of underdogs in politics, told Morley. "I'm waiting for you to convince me that you're the guy I can go out there and work for."
"We need to have a Democrat win in this community," Shapiro said.
Then Morley said something his supporters were not expecting to hear: "We need to have a win for the people no matter what the party," Morley said.
"That's idealistic," Johnson said, "that's idealistic."
Morley rejected the characterization, saying his recycling business and his solar-powered homes had also been seen as impossibilities before he got them going.
He addressed leading issues, sometimes uncomfortably, sometimes directly: he's for the de-criminalization of marijuana, he's pro-choice, he's against Common Core (the education standards), he's for the expansion of Medicaid in Florida, in accordance with the Affordable Care Act, and he's not ready to answer a question about his stance on a proposal before the Legislature that would allow students to be armed on Florida's college campuses, though he slipped in that on Wednesday he had an appointment to get his concealed weapon permit.
Throughout, Ralph Lightfoot, the new head of the Democratic Executive Committee in Flagler, sat quietly listening, and when he spoke, lending Morley whatever support he'd ask for. But the candidate who, in that video this morning, also described himself as "the swing dancer, the captain, the dunk tank dude," would revert, when asked for more specifics, to the sort of generalities that made him sound less the millennial-generation representative than a latter-day flower child of the 1960s: "I can plant seeds and mend bridges."  "We need to build working relationships with people." "Stay positive."

Disclosure: Merrill Shapiro chairs FlaglerLive's Board of Directors.