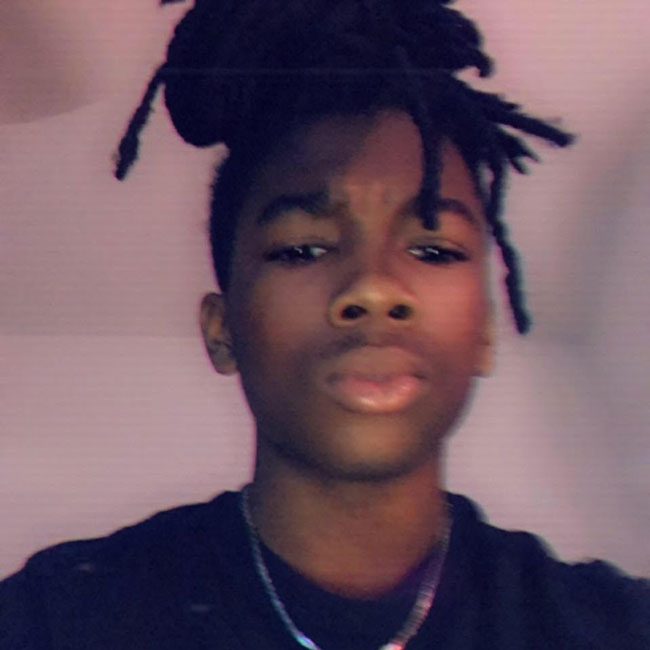 Last Updated: Sunday, 12:25 p.m.
Benjamin Allen, a 16-year-old, was arrested in the early hours of Sunday (July 14) in the shooting death of 17-year-old Elijah Rizvan on Westford Lane Friday evening.
Allen is charged with first degree murder. He is a resident of Tidelands, in Palm Coast. The sheriff is asking the State Attorney to charge Allen as an adult.
Detectives made the arrest barely 30 hours after the shooting, which took place in the street in front of 7 Westford Lane–and in front of Rizvan's girlfriend. A neighbor heard a single gunshot. Rizvan was killed with a .380 caliber bullet. A single shell casing was located near the victim's body.
Deputies and detectives had been looking for two black men in a silver sedan that was captured on surveillance video made available by neighbors. But detectives also had in their possession personal electronic devices belonging to Rizvan that appear to have aided in possibly reconstructing the time that led up to the shooting, then in leading to his assailant or assailants.
The crime was set up on SnapChat. Unknown to Rizvan, his assailants were planning to rob him, not pay him for the marijuana they were arranging to buy from him. "So he lost his life for a bag of weed and what he was hoping for $125, pretty sad," Sheriff Rick Staly said.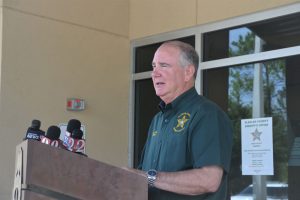 According to one witness who spoke with detectives–likely the girlfriend of the victim–"a silver or gray sedan pulled up to the residence and two black males exited the vehicle, grabbed Rizvan by his arms, and one of them shot him in his chest," Staly said this morning. "The males then get back in the car and the car speeds off."
Using SnapChat, detectives located a potential witness who lives in Island Estates. In the driveway of that residence was a silver Kia Forte and a gray Ford Focus. We also used our LPR data system to search for vehicles that matched the description provided by the witness, which also provided leads," the sheriff said, referring to license plate readers. Those readers essentially traced the route the suspects' car followed on the way to the shooting and on the way back from it. The car detectives were looking for was a Ford Focus.
Three witnesses were interviewed, each independently speaking of being with the shooter, whom they identified as "Ben," later identified as Benjamin Allen, of 70 South Riverview Bend Drive in Palm Coast's Tidelands subdivision.
Here's the timeline detectives established:
7:09 p.m.: The Ford Focus is recorded by LPR traveling westbound on Palm Coast Parkway.
7:15 p.m.: Four individuals in the Ford are seen on video surveillance at the Cue Note Billiard Room in Palm Coast, in City Marketplace. That is where the transaction is believed to have been set up.
8:15 p.m.: The four individuals, all of whom are teens, all of whom are from Palm Coast, are seen leaving Cue Note.
8:24 p.m.: The Ford Focus is seen through neighbors' video surveillance in the area of the shooting, and by the witness at 7 Westford Lane, where the grandmother of the victim's girlfriend lives.
8:26 p.m.: The 911 call reporting the shooting is placed.
8:27 p.m.: A Sheriff's deputy arrives at the scene and finds Rizvan laying in the street. By then, Staly said, Rizvan had urged his girlfriend to pull out the marijuana he had in his pocket: he was worried about being found out with it. She complies, but doesn't remove the full amount. Staly said it was a large enough amount to have made the possession a felony.
8:32 p.m.: The Ford Focus is seen traveling Eastbound on Palm Coast Pkwy by the sheriff's LPR system.
8:50 p.m.: The Ford Focus enters Island Estates. Rizvan is dead.
The sneakers, hoodie and jeans Allen was believed to have been wearing at the time of the shooting were recovered at his home.
The 16 year old initially admitted to being in the vehicle, then asked for an attorney, so the questioning, which took place with his parents present, stopped. He was arrested at the Flagler County Courthouse at 3:48 a.m., processed at the county jail, then transferred to the Juvenile Justice system's jail in Daytona Beach. Everyone involved had been identified within 15 hours. Detectives made contact with Allen at his home at 5:20 p.m. Saturday evening, less than 24 hours after the shooting.
"We believe this was a planned and deliberate murder. This is the second young man murdered in Palm Coast this year," Staly said, speaking with reporters this morning. "Parents, get involved in your children's life. Make sure you know who they are talking to, where they are going, what they are doing. Kids and adults living their lives in the drug world are setting themselves up for dangerous situations. This incident started with the sale of marijuana, and now a 17 year old is dead and a 16 year old is likely to spend the rest of his life in prison."
"If you're going to live in criminal world of drug dealing, unfortunately this is one of the consequences you're going to face," the sheriff added.
The victim had been Baker Acted in the past and had been a runaway. Deputies were also called to his residence in connection with a domestic violence allegation involving a parent, though no charges were filed. Allen had had no previous contact with law enforcement.
The sheriff said the case pursued by his detectives through difficult space constraints at the county courthouse, where the sheriff's personnel has been using space for lack of space of its own. "What we really had to do was commandeer part of the space from the clerk of the court–he probably now knows we did that–so that we could do a debriefing and assign additional tasks that needed to be done to follow this case. Fortunately I have a very resilient team," the sheriff said.
The sheriff credited Cpl. George Hristakopoulos and detective Gabe Fuentes as leads in the case, but added that it was a team effort.
"There is likely to be additional charges and arrests," the sheriff said.
The earlier stories are below

In Shooting Death of Elijah Rizvan, 17, Sheriff Says "All Theories Are On the Table"; Person of Interest Identified
Saturday, July 13, 4 p.m.–Flagler County Sheriff Rick Staly said this afternoon that "we have multiple theories that we are looking at" in the shooting death of 17-year-old Elijah Rizvan Friday night on Westford Lane in Palm Coast. "Everything is on the table. Would that include gangs? Yes, but there's also other theories out there." Staly did not rule out a connection with drugs or even a connection with other recent shootings in the city.
"I would say it was not random," Staly said. "We have nobody in custody for the shooting, we have conducted a number of interviews and we have, through those interviews, we have identified a person of interest."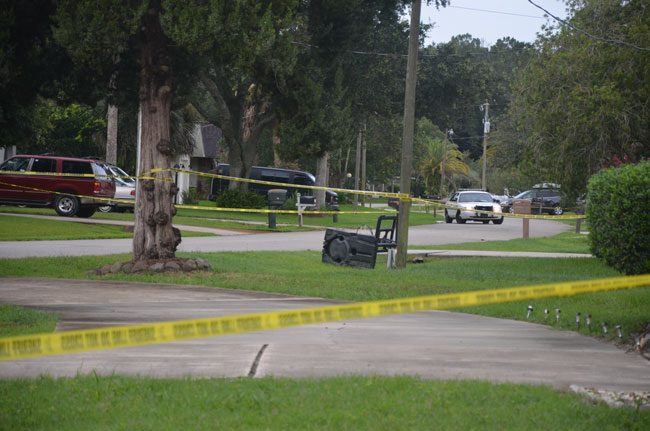 The sheriff would not disclose a number of elements surrounding the murder so as not to jeopardize the investigation. For example, he would not say whether Rizvan's phone was recovered. But he did say that the investigation involves a number of "technological autopsies," the sort of language associated with personal electronic devices that can yield a number of clues, establish timelines and potentially point to suspects. But those autopsies are time consuming. They depend on securing search warrants first, and they are being conducted both at the Sheriff's Office, which has its own Crime Scene Investigations unit, and at other agencies when necessary.
Staly attended a noon briefing involving all those investigating the case. "Those things could take a while, not only to get the search warrant to do it but also go through all the data, assuming you can easily access the data," Staly said. "I'm confident we can solve this case in a relatively quick manner but I hate to put a time frame on it."
It is known to investigators but not releasable publicly whether Rizvan was armed or not, whether the weapon used in the murder was recovered or not, and how much interaction, if any, there had been between Rizvan and his assailants. What is also known is that Rizvan did not live on Westford Lane, but was visiting a friend there at the time of the shooting. (Early this morning, a woman was seen escorting another woman into one of the houses nearest the scene of the shooting. One of the women was sobbing.)
Staly stressed that while it could be frustrating to the public to have only small bits of information, it also reflects a deliberate approach to the investigation, or any investigation: "The one thing you don't do in a homicide or really in any investigation is jump too quickly to a conclusion and then try to prove your theory," he said, an approach, he explained, that would develop a tunnel vision that could easily harm the factual basis of the investigation. So a more broad-minded analysis applies "until you can narrow it down based on the evidence." He added: "You don't want to prematurely focus in on one theory or one individual because that could very well cause you not to be successful."
Earlier in the day, a sheriff's spokesperson said the sheriff's office had never had any interaction, or reason to interact, with Rizvan. Rizvan's father, John Gorman, said as much in a comment on FlaglerLive's Facebook page: "As far as my son Elijah, he was not in the juvenile justice system. He was having some issues," Gorman wrote. "I tried every service and rehabilitive program that was available for him. All to prevent him from ending up in the system. So they are out there, but the problem is the quality of those programs."
In the same thread, Shoshanah Mercado, a psychologist in the school district, reacted with shock at the news. "this one really hurts. He was one of my favorites. Poor kid. This is so messed up," she wrote.
Shortly before the interview, Staly appeared in front of the old Sheriff's Operations Center in Bunnell to provide a brief update to a few television reporters.
The previous story is below.

Elijah Rizvan, 17, Is Shot Dead on Westford Lane in Palm Coast; Deputies Looking for Suspects
Friday, July 12, 10:50 p.m.—Elijah Rizvan, 17, was shot and killed on Westford Lane Friday evening (July 12). The shooting took place in the road. Flagler County Sheriff's deputies were looking for suspects.
The shooting took place around 8:45 p.m. in the area of 7 Westford Lane.
According to the sheriff's office, a neighborhood canvass is being conducted for evidence and any home video surveillance. Two suspects, believed to be black males wearing dark hoodies, fled in a silver vehicle, thought to be a sedan, with a spoiler. Deputies are actively searching for this vehicle.
Rizvan–whose name had initially been spelled with an "s" when the sheriff's office disclosed the identity–had been a student at Flagler Palm Coast High School until October 2018, when he withdrew, according to a district spokesman.
He was identified as a white male in sheriff's dispatch notes.
"This is the beginning stages of an apparent homicide investigation," Sheriff Rick Staly said. "During this active investigation, we ask that the public come forward with information that will help locate these suspects. If you saw or heard anything, we need to know about it."
Early Saturday morning much of Westford Lane itself was still off limits, blocked off by yellow tape and a sheriff's deputy's patrol car at either end of the no-go zone. Neighbors nearby were going about their morning stroll, walking their dog, jogging, some of them plugged in more to their earbuds than the dissonant surroundings. Some gathered in small groups and talked.
One older woman, who lives at the corner of Westford and Westfield Lane, and who's lived in Palm Coast for 30 years, had been alerted to the incident by the flashing emergency lights through her windows: her house has a direct view onto Westford Lane and the scene of the crime. Another woman said deputies examined surveillance video from her house and were able to determine what vehicles had driven by. The woman was under the impression that authorities had an idea who the suspects were, though until now the sheriff's office has not said as much.
"Not that I'm aware of, no," a sheriff's spokesperson said around 8 this morning. The spokesperson said there'd been no updates through early morning.
Anyone with information on this case is asked to contact the FCSO at 386-313-4911 in reference to Case Number 2019-65304. You may also contact Crime Stoppers at 1-888-277-TIPS where you could be eligible for a reward up to $5,000.
It is the fourth time in seven months that Palm Coast and Bunnell have been the scenes of a shooting with teen victims, and the second time that a shooting led to a fatality. In late December, an 18-year-old victim was shot in the stomach in a drive-by shooting on Bressler Lane in Palm Coast. A suspect was quickly arrested. On April 13, 18-year-old Curtis Gray, a student at Flagler Palm Coast High School, was shot and killed outside a smoke shop off Belle Terre Parkway. His alleged assailant turned himself in. Barely a week later, an 18-year-old was shot and wounded in the back during an argument outside of a Circle K in Bunnell.
Surrounding agencies are assisting in looking for the vehicle. "The street is blocked off because the crime scene is outdoors, so they have CSI, detectives and I'm sure the medical examiner out there," a sheriff's spokesperson said. "We don't think the suspects are still in the area, but the only reason is because we don't think they'd stick around, not because we know where they are. So we don't think there's like a madman on the loose: we do think it's isolated, but we don't know the relationship between the suspects and the victim."