Monday Briefing: A New Storwmwater Fee in Bunnell, Cremaine Booker's Adagio, After Dallas, O'Hara's Early Youth
FlaglerLive | July 11, 2016
Today: Partly cloudy. Slight chance of showers and thunderstorms in the morning…then chance of showers and thunderstorms in the afternoon. Highs in the lower 90s. South winds 5 mph shifting to the southeast in the afternoon. Chance of rain 40 percent. Heat index readings 101 to 105. Tonight: Partly cloudy. A 20 percent chance of showers and thunderstorms in the evening. Lows in the mid 70s. South winds 5 to 10 mph. Details here.
Today's fire danger is moderate. Flagler County's Drought Index is at 301.
Today's tides: at the beaches, at the Intracoastal Waterway.
Today's document from the National Archives.
The OED's Word of the Day: agonism, n..
The Live Community Calendar
Today's jail bookings.
Today's Briefing: Quick Links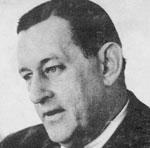 "After I became reconciled to middle age and the quieter life I made another discovery: that the sweetness of my early youth was a persistent and enduring thing, so long as I kept it at the distance of years. Moments would come back to me, of love and excitement and music and laughter that filled my breast as they had thirty years earlier. It was not nostalgia, which only means homesickness, nor was it a wish to be living that excitement again. It was a splendid contentment with the knowledge that once I had felt those things so deeply and well that the throbbing urging of George Gershwin's 'Do It Again' could evoke the original sensation and the pictures that went with it: a tea dance at the club and a girl in a long black satin dress and my furious jealousy of a fellow who wore a yellow foulard tie. I wanted none of it ever again, but all I had I wanted to keep."

–John O'Hara, from "Imagine Kissing Pete," in "Sermons and Soda Water" (1960).
Note: all government meetings noticed below are free and open to the public unless otherwise indicated. Many can be heard or seen live through each agency's website.
The Flagler County Land Acquisition Committee meets at 3:30 p.m. at the Government Services Building in Bunnell. The county's website doesn't specify where, though the group usually meets in the first-floor conference room of the GSB. No agenda was posted.
The Bunnell City Commission meets at 7 p.m. at City Hall, 201 West Moody Boulevard. Commissioners will consider creating a stormwater utility, whioch would entail a proposed fee of $4 a month for a typical household, generating $72,000 a year for the city. and discuss their legislative priorities for 2017.
The Library Board of Trustees meeting scheduled for today was cancelled.


Updated jail bookings and day and night shift incident summary reports are available here.
Chris Sousa, 21, Matanzas Graduate and Driven Entrepreneur, Struck and Killed by Car in Ormond Beach: Chris Sousa, a Palm Coast resident of Island Estates and a 2013 graduate of Matanzas High School, was killed early this morning when a vehicle struck him in Ormond Beach.
Flagler Schools Take a Beating as All But One See Grades Drop; District Maintains B:
For the first time in the 15-year history of school and district grades, Flagler County schools did not earn a single A in 2016. Nor did any school improve its grade from last year. Only one traditional public school, Rymfire Elementary, managed to maintain its grade from 2015. Imagine School at Town Center, the charter school, also maintained its B. Every other school dropped by at least one grade. Old Kings Elementary dropped by two, from an A to a C.
Sheriff Manfre Issues Statement on Shootings in Dallas, Falcon Heights and Baton Rouge: "As a law enforcement agency, we must maintain an open line of communication with the minority community and our community as a whole," the sheriff said.
Corrine Brown, Representing Northeast Florida in Congress for 23 Years, Indicted Over Sham Charity: Longtime Democratic Congresswoman Corrine Brown was indicted Friday on charges that she and a top aide used a sham education charity to pay for personal expenses and luxurious events, allegations that pose the most serious challenge yet to her 23-year congressional career.
The Mostly Bogus Case Against Kimberle Weeks: There may have been a larger case against Weeks. A person of her wiles and shades should have never been in charge of an office that depends on transparency and trust. The elections she ran are suspect. But that's not the case the state went after.


In Florida and in State Government:
Note: Some proceedings below can be followed live on the Florida Channel.

–Compiled by the News Service of Florida and FlaglerLive


In Coming Days in Palm Coast, Flagler and the Occasional Beyond:
♦ July 14: The Flagler County Democrats host a candidate forum featuring all mayoral and Palm Coast City Council candidates , from 6 to 8 p.m. at the African-American Cultural Society, 4422 North U.S. 1 in Palm Coast. The event is free and open to all. For additional information, call 386/283-4883.
♦ July 16: North Florida Open Chess Championship, $1,000 total purse. Ramada Inn I-95 & 9150 Baymeadows Road, Jacksonville. Three Sections: Open, U1550 and U900. Prizes: $1000 (60% guaranteed) b/o 35 (paid entries). Cash prizes for best players U2000, U1800 & U1200. 5SS (5 rounds of games) 1st Round G/45;d5 all other rounds are G/55min + d5sec. $45 Walk-up Registration $35 Online price. Players in grades K-12 $25. Register here. Details here. The tournament director for this event will be our own Steve Lampkin.
♦ July 18: The trial of Anna Pehota, 77, who faces a second-degree murder charge over the alleged killing of her husband in the Hammock in September 2015, is scheduled to begin with jury selection.
♦ July 22: The latest pre-trial hearing in the case of Florida v. Kimberle Weeks is scheduled for 2:30 p.m. before Circuit Judge Margaret Hudson in Courtroom 401 at the Flagler County Courthouse. Weeks now faces nine third-degree felony counts, down from 12, stemming from allegations that she illegally recorded various individuals in her capacity as supervisor of elections and in her private life. Weeks resigned that post in January 2015.
♦ July 23: The annual Back to School Jam, where families can get $5 backpacks, find their bus routes and location, help with access to the district's computerized records-keeping system, meet with innumerable coordinators and directors of after-school activities and programs and a lot more, is scheduled for 10 a.m. to 1 p.m. at Flagler Palm Coast High School, in the gym.
♦ July 23: Midnight fishing on the Flagler Beach pier, from midnight Saturday to 6 a.m. $6 per person. Register at the pier.
♦ July 25: The Plantation Bay Utility Customers Community meets at 6 p.m. at Club de Bonmont, 300 Plantation Bay Drive, Ormond Beach.
♦ July 20: The Flagler League of Cities, a gathering of the county's mayors, meets at noon at Flagler Beach City Hall.
♦ July 30: Solar Plunge to benefit the Flagler Beach National Flight Academy Scholarship. Registration will be $10 per person and includes a t-shirt and goody bag. Late registration will be from 7:30- 8:30 a.m. in Veterans Park followed by The Plunge at 8:45 a.m. After the Plunge enjoy music in the park and light refreshments.


Many rest areas are just stunning. See these vanishing rest stops of the American West: https://t.co/E17G6WrQI9 https://t.co/QceIcG9B87

— High Country News (@highcountrynews) July 7, 2016
How do Muslims feel about ISIS?
Depending on your perspective, the answer is a relief…and a horror. pic.twitter.com/W4PrLQXLqg

— ian bremmer (@ianbremmer) July 9, 2016
"Police kill an average of 3 people per day. It doesn't have to be this way, yet never seems to change." https://t.co/3ETj3PxvQq

— Brookings (@BrookingsInst) July 9, 2016
For anyone who utters that ugly "Angry Black Woman" stereotype, this one is for you #BlackLivesMatter #BatonRouge pic.twitter.com/u4zI5iatDl

— Jose Antonio Vargas (@joseiswriting) July 11, 2016
Killings of cops are down since the 70s. But can police reform efforts survive Dallas? https://t.co/hj08Iq2pY1 pic.twitter.com/KLIdXZrHMC

— The Marshall Project (@MarshallProj) July 9, 2016
Should those who drive drunk lose their 'license to drink' for a certain period of time? https://t.co/AF1PnVDHjx pic.twitter.com/gko15MxmYR

— RAND Corporation (@RANDCorporation) July 9, 2016
Hubble captures gorgeous shot: Crab Nebula's pulsing 'heart' https://t.co/GnoJm7wzLy pic.twitter.com/pyLrAjdAEo

— CS Monitor (@csmonitor) July 9, 2016


Fact-Checking the Knaves:



Palm Coast Construction and Development Progress Reports
The following is an update of ongoing permitting, construction and development projects in Palm Coast, through June 15 (the city administration's full week in review is here):
<![if !IE]><![endif]>


Road and Interstate Construction:


Cremaine Booker Performs Barber's Adagio for Strings, By Himself in a Four-Cello Arrangement
Cremaine Booker, who calls himself The Cello Guy, wrote on his Facebook page: "With all the recent stuff that has happened in society, it has really taken a toll on me mentally/emotionally. My heart is hurting and there's nothing I can really say. So since music is the thing I know best I figured I'd just play. Here's a bit of Adagio for Strings by Samuel Barber." The video has been viewed 1.5 million times on Facebook as of July 10.
Previous Codas: