Wednesday Briefing: Tourism Office Seeks Bigger Digs, Pot Nurseries, Paul Ryan's Tax Flight, The Bikini at 70
FlaglerLive | July 6, 2016
Today: Partly cloudy. A 20 percent chance of showers and thunderstorms in the afternoon. Highs in the mid 90s inland…in the lower 90s coast. West winds 5 to 10 mph shifting to the south in the afternoon. Heat index readings 103 to 107. Tonight: Partly cloudy. A 20 percent chance of showers and thunderstorms in the evening. Lows in the upper 70s. Southwest winds 5 to 10 mph. Details here.
Today's fire danger is moderate. Flagler County's Drought Index is at 198.
Today's tides: at the beaches, at the Intracoastal Waterway.
Today's document from the National Archives.
The OED's Word of the Day: peccable, adj..
The Live Community Calendar
Today's jail bookings.
Today's Briefing: Quick Links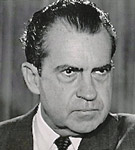 SCOWCROFT: The switchboard just got a call from 10 Downing Street to inquire whether the President would be available for a call within 30 minutes from the Prime Minister. The subject would be the Middle East.
KISSINGER: Can we tell them no? When I talked to the President he was loaded.
That exchange was recorded at 7:55 p.m. on October 11, the fifth night of the [1973 Arab-Israeli] war and the day after [Vice-President Spiro] Agnew resigned.
–From Tim Weiner, "One Man Against the World: The Tragedy of Richard Nixon" (2015).
Note: all government meetings noticed below are free and open to the public unless otherwise indicated. Many can be heard or seen live through each agency's website.

The Flagler County Commission meets at 9 a.m., a meeting originally scheduled for last Monday, but moved to today because of Independence Day. Commissioners will consider reappointing James Ulsamer to the Library Board of Trustees for an additional three-year term. Ulsamer, an ardent advocate for the library system, has never hesitated to take the commission to task for insufficiently supporting or prioretizing library matters. The commission will also likely approve a move for its tourism offices to the county airport, though the move increases rental costs on the office considerably, while also increasing the space available to the office. In board chambers at the Government Services Building in Bunnell.
Palm Coast's Code Enforcement Board meets at 10 a.m. at City Hall's Intracoastal Meeting Room.
In Court: The case of Dorian Buzz Coppedge, the 37-year-old Palm Coast resident just placed on probation for failing to register as a sexual offender (now predator), goes before Circuit Judge Matthew Foxman as Coppedge's attorney, William Bookhammer, argues a motion to determine whether Coppedge's two-year probation must also mean that he may not have any contact with his 6-year-old daughter. Coppedge was rendered homeless by the previous determination of probation last week.
Wednesday, Thursday, Friday: Navy training schedules indicate that inert bombing and helicopter operations will take place at the Pinecastle Range Complex located in the Ocala National Forest as follows: July 6, 10:30 a.m. to 10 p.m., helicopter operations. July 7, 10 a.m. to 10 p.m., helicopter operations and inert bombing runs from 2 to 3:30 p.m. July 8: helicopter operations from 9:45 a.m. to 3:45 p.m. The telephone number for noise complaints is 1-800-874-5059, Fleet Area Control and Surveillance Facility, Jacksonville, Fla. For additional information, call (904) 542-5588.
Palm Coast's Planning and Land Development Regulation Board meets at 5:30 p.m. for the latest in a series of workshops on the land development code, at City Hall in Town Center.


Updated jail bookings and day and night shift incident summary reports are available here.
County Officials Downplay Clean-Up Work at Old Courthouse as Routine and Preventative:
For more than a week the air conditioning system in the old portion of the old Flagler County Courthouse—now the First Baptist Christian Academy, a thriving parochial school—has been undergoing some adjustments and repairs after a problem was discovered late in the school year. ServPro, the local environmental clean-up company, has been carrying out the work under contract by the county, which still owns the building.
Flagler Beach Parent Accused of Brutalizing And Humiliating 2 Children Over Chores: According to his two children–one is 12, the other is 13–Jason Moffit, who is 36 and almost 6 feet tall, would repeatedly abuse them, humiliate them, punch, slap, kick and hit them.
Trial in Gas Station Murder Likely in Late Summer But Suspect, On Meds, Still Unpredictable: Joseph Bova, the impenetrable, unpredictable 28-year-old suspect in the execution-style murder of a Palm Coast gas station clerk and mother of six in 2013, has yet to be cleared for trial. He's had issues with meds: he doesn't like to take them. He doesn't like doctors evaluating his competency. He walked out on one recently. Whether any of that enigmatic behavior is tactical or psychosomatic has been no less a mystery than any motive for the alleged killing.
The Observer has a gallery of the Miss Flagler County pageant.
Here are some moments from the last Entrepreneur Night at @salvo_art (June 28, 2016). pic.twitter.com/m8MeqIIBlz

— Entrepreneur Night (@EntrepreneurNgt) July 4, 2016


In Florida and in State Government:
Note: Some proceedings below can be followed live on the Florida Channel.

Pot: Administrative Law Judge R. Bruce McKibben will hear a challenge from Loop's Nursery, a grower trying to get a medical-marijuana dispensing organization license in the state's Northeast region. Health officials granted a license to Gainesville-based Chestnut Hill Tree Farm and later granted a license to San Felasco Nurseries. (9 a.m., DeSoto Building, 1230 Apalachee Parkway, Tallahassee.)
The state Agency for Health Care Administration is slated to hold a hearing on a proposal to the federal government for an amendment to a state Medicaid "waiver." The amendment would allow the state to move forward with a pilot housing-assistance program for people with mental-illness or substance-abuse issues. (10:30 a.m., Agency for Health Care Administration, 400 West Robinson St., Suite S309, Orlando.)
Florida population: The Demographic Estimating Conference will analyze state population numbers. (1:30 p.m., 117 Knott Building, the Capitol.)
–Compiled by the News Service of Florida and FlaglerLive


In Coming Days in Palm Coast, Flagler and the Occasional Beyond:
♦ July 7: Flagler County Sheriff Jim Manfre and the County Commission hold a ribbon-cutting at the expanded county jail at 10 a.m., 1002 Justice Lane, Bunnell. There will be limited tours.


♦ July 7: U.S. Senate candidate Carlos Beruff, a Republican running for Marco Rubion's seat, is be the guest speaker at the Flagler County Young Republicans Club meeting, which is open to the public. 7 p.m., Hilton Garden Inn, Palm Coast. Beruff, 58, is a Manatee County developer and major contributor to more than 100 political candidates since 2002, including a few Democrats, according to the Miami Herald.
♦ July 8-9: Book Blowout: The Friends of the Library of Flagler County are holding a discounted book sale. The public is invited to attend and take advantage of these bargains. The sale is scheduled for 9 a.m. to 4 p.m. each day. All books are 25 cents each – these two days only. No limit. Books will be continually replenished. Sale will be held at the Friends Book Shop, Flagler County Public Library, 2500 Palm Coast Pkwy NW. For questions, call 386/446-6763.
♦ July 9: Art and Poetry Show, the annual exhibit sponsored by the Gargiulo Art Foundation, opens with a free reception at 6 p.m. at the Flagler County Art League at City Marketplace in Palm Coast. The exhibit runs through Aug. 9. For information, call 386-986-4668.
♦ July 14: The Flagler County Democrats host a candidate forum featuring all mayoral and Palm Coast City Council candidates , from 6 to 8 p.m. at the African-American Cultural Society, 4422 North U.S. 1 in Palm Coast. The event is free and open to all. For additional information, call 386/283-4883.
♦ July 16: North Florida Open Chess Championship, $1,000 total purse. Ramada Inn I-95 & 9150 Baymeadows Road, Jacksonville. Three Sections: Open, U1550 and U900. Prizes: $1000 (60% guaranteed) b/o 35 (paid entries). Cash prizes for best players U2000, U1800 & U1200. 5SS (5 rounds of games) 1st Round G/45;d5 all other rounds are G/55min + d5sec. $45 Walk-up Registration $35 Online price. Players in grades K-12 $25. Register here. Details here. The tournament director for this event will be our own Steve Lampkin.
♦ July 18: The trial of Anna Pehota, 77, who faces a second-degree murder charge over the alleged killing of her husband in the Hammock in September 2015, is scheduled to begin with jury selection.
♦ July 22: The latest pre-trial hearing in the case of Florida v. Kimberle Weeks is scheduled for 2:30 p.m. before Circuit Judge Margaret Hudson in Courtroom 401 at the Flagler County Courthouse. Weeks now faces nine third-degree felony counts, down from 12, stemming from allegations that she illegally recorded various individuals in her capacity as supervisor of elections and in her private life. Weeks resigned that post in January 2015.
♦ July 23: The annual Back to School Jam, where families can get $5 backpacks, find their bus routes and location, help with access to the district's computerized records-keeping system, meet with innumerable coordinators and directors of after-school activities and programs and a lot more, is scheduled for 10 a.m. to 1 p.m. at Flagler Palm Coast High School, in the gym.
♦ July 25: The Plantation Bay Utility Customers Community meets at 6 p.m. at Club de Bonmont, 300 Plantation Bay Drive, Ormond Beach.
♦ July 20: The Flagler League of Cities, a gathering of the county's mayors, meets at noon at Flagler Beach City Hall.
♦ July 30: Solar Plunge to benefit the Flagler Beach National Flight Academy Scholarship. Registration will be $10 per person and includes a t-shirt and goody bag. Late registration will be from 7:30- 8:30 a.m. in Veterans Park followed by The Plunge at 8:45 a.m. After the Plunge enjoy music in the park and light refreshments.


America's trade deficit wasn't always a jobs killer. It is now. https://t.co/a3u3GolNGg pic.twitter.com/p0QH5xKuUR

— Slate (@Slate) July 6, 2016
House GOP tax plan would increase economy's size by nearly double digits: study https://t.co/yfDBqplWxV pic.twitter.com/jCiQmttqWp

— The Hill (@thehill) July 5, 2016
Trump cannot pretend ignorance. The facts are clear.

He must renounce anti-Semitic tropes. https://t.co/0kUPghN5Oo pic.twitter.com/j8R97u86Tk

— J Street (@jstreetdotorg) July 5, 2016
Political independents in US (like me!): Way Up. Surely will continue after this year's election. pic.twitter.com/yxOKeQmC2k

— ian bremmer (@ianbremmer) July 5, 2016
Most Americans are represented by people who believe one of the most pressing issues of our generation is a fiction. pic.twitter.com/reBN9CzNyH

— ThinkProgress (@thinkprogress) July 5, 2016
Light-speed camera captures split-second action https://t.co/Uh7tz82KvV (By @lggreenemeier) pic.twitter.com/6dqqE8hSgJ

— Scientific American (@sciam) July 6, 2016


Fact-Checking the Knaves:



Palm Coast Construction and Development Progress Reports
The following is an update of ongoing permitting, construction and development projects in Palm Coast, through June 15 (the city administration's full week in review is here):
<![if !IE]><![endif]>


Road and Interstate Construction:


Valentina Lisitsa plays Liszt's Hungarian Rhapsody No. 2
Previous Codas: