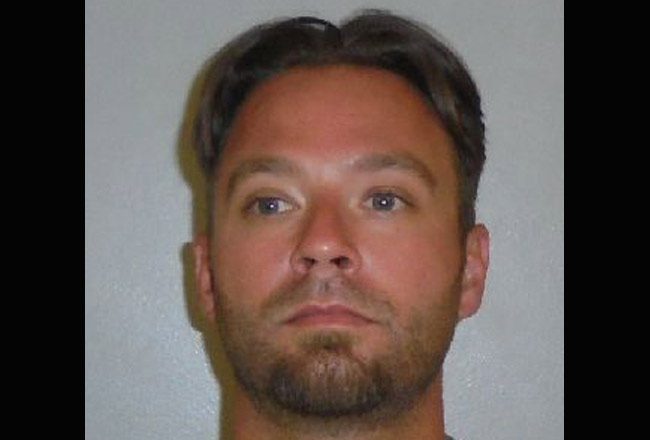 According to his two children–one is 12, the other is 13–Jason Moffit, who is 36 and almost 6 feet tall, would repeatedly abuse them, humiliate them, punch, slap, kick and hit them.
It was happening often enough that a week ago, when they confided the alleged brutality to a neighbor–and told her that Moffit and his girlfriend had been in a fight in front of them–the neighbor helped the children "create a safety plan to come to her if they were ever abused or hurt again," according to Moffit's arrest report.
They allegedly were–Saturday afternoon. This is the account they gave Flagler Beach police and a Child Protection Investigator, as related in Moffit's arrest report.
Moffit, who lives on North Daytona Avenue in Flagler Beach, had returned home from somewhere. He was upset, dissatisfied with how they'd gone about fulfilling the chores he'd assigned them. So he started allegedly physically, emotionally and verbally abusing them, and by purposefully humiliating them. One punishment was to cut the girl's waist-length hair to above her shoulder. He also allegedly shaved the boy's hair in addition to the physical abuse.
A police officer documented "multiple bruising and cuts" on the boy's face, head, arms and abdomen. He had "noticeable swelling to his face," his head had been "freshly shaved," with "multiple red razor burn brush strokes and abrasions to his scalp." His right bicep was bruised. He had an abrasion to his abdomen. The child told police that Moffit had "hit him in the arm and had kicked in his lower abdomen," the arrest report states.
The girl was bruised at the brow bone above both eyes. She had a bruise to her left bicep. She told a detective that she had a bruise to her right hip where Moffit had punched her.
After hours of abuse, around 2 a.m., the children managed to sneak out of the house and go to their neighbor's house to seek help. The neighbor called police and took the children to the police department, where a detective and a victim's advocate reported and spoke with the children.
Moffit was arrested last year for failing to pay child support. In 2005, he faced a battery charge and a charge of contempt of a domestic violence injunction. Both charges were dropped. On Saturday, he was charged with two counts of "abuse with great and cruelty toward a child," or aggravated child abuse, first-degree felonies. He posted $10,000 bond and was released.