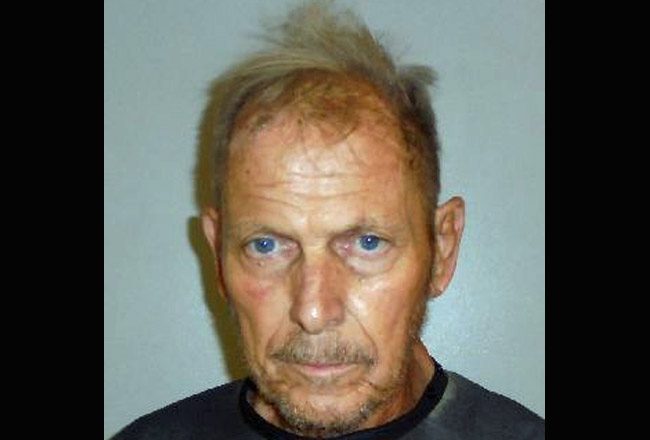 Note: James Tussing died in February 2017, before the case was resolved.
James Tussing, a 72-year-old homeless man, was arrested on two felony counts of lewd and lascivious exhibition early this morning after exposing himself to two teen-age girls at the Flagler Beach pier.
The incident took place after midnight near the A-frame of the pier. According to one of the girls, who is 15, both girls were taking a shower at the open-air shower near the pier, where Tussing had followed them. He told them he was waiting for his ride and asked them if they needed a ride home. The girls told him they had a ride and were getting ready to leave.
At that point Tussing allegedly asked them if they wanted "some of this" as he put his hand down his pants, rubbed himself briefly then pulled out his penis. The girls said "they did not and walked away," according to Tussing's arrest report. He then followed them and said he'd been kidding. The girls walked back toward the pier bathrooms and told their friends what had happened. One of the girls told police she was offended and disgusted. The other girl was visibly upset and vomited, the report states.
The girls are friends, and one of the girls' mother was picking both up for the night. She immediately responded to the scene after the incident, took custody of both children, and said she wanted to pursue charges on behalf of both. Police could not reach the father of the second child on his phone.
Tussing, who has no previous arrest record in Florida, told police that the girls had initiated a conversation with him. He told them he was waiting for a friend. The girls left and went to the ocean. He said he watched them, then saw them return and tell him they were going home. "He then stated he was aroused from the verbal contact with the girls," his arrest report states, "but denied exposing himself." Nevertheless, he said he did touch himself, the report states. And when a different Flagler Beach police officer took over the interview, Tussing confessed to exposing himself, according to the arrest report and asking the girls if they wanted "some of this."
Tussing, throughout the interview, blamed the girls for wearing bikinis at such a late hour, according to the report—a common tactic among sexual offenders who turn the blame on their victims.
Tussing faces two third-degree felony counts. Thursday afternoon he was still being held at the Flagler County jail on $10,000 bail. In Mid-May, Mark Hall, a 60-year-old deaf man, was arrested for exposing himself to a young girl on Shady Lane in Palm Coast. Hall also remains in jail on $10,000 bond. His arraignment and conditional release is scheduled for June 15.