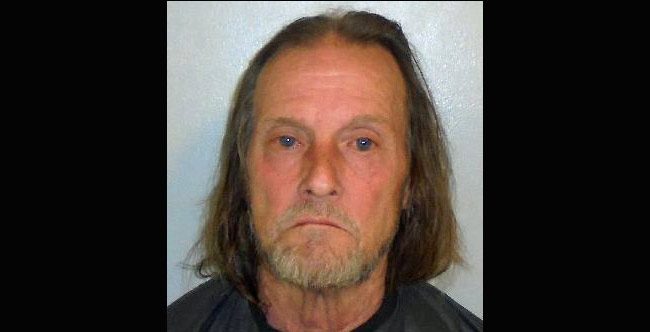 Mark Hall, a 60-year-old resident of Shady Lane in Palm Coast, is at the Flagler County jail today on an accusation that he exposed himself to an 8-year-old home-schooled girl Saturday (May 14). He is charged with lewd and lascivious exhibition to a victim under 16, a second-degree felony. If convicted of the charge, Hall, who is deaf, could face up to 15 years in prison and be required to register as a sexual offender.
The girl, after she assured a deputy that she understood the difference between lying and telling the truth, told the deputy that she had been playing outside when "he did that." She described her neighbor as being deaf, with long hair, wearing a gray or blue shirt–descriptions that matched Hall's appearance that day. She said he was in his yard, and that he motioned to get her attention. "When she looked over, he exposed his penis to her," the arrest report states, based on the girl's account. "He did not pull his pants down all the way, but just showed her his penis." The girl "did not believe he was trying to urinate but was showing 'it' to her."
Hall, according to the arrest report, then motioned to the girl to come over to him. She did not, and went to her house instead and told her mother. As she spoke of the incident with a deputy she was visibly upset and began crying. Her 47-year-old father, who had been working in the yard at the time of the incident, told the deputy he was restraining himself from going to Hall's house and "doing something he would go to jail for, for a long time," in a quote from the report.
The deputy had difficulties communicating with Hall at first, whom he found sitting on his front porch with David Gregory, his 55-year-old roommate. The deputy addressed Hall in writing several times–"What have you been doing for the last hour," "Do you know your neighbors across the street?" but every time Hall appeared confused, writing back only, "What mean." Eventually deputies were able to find a neighboring individual who knew sign language. With his help, Hall said he'd been sitting on his porch and walking around his yard. When asked if he'd urinated in his yard, he said no. (A deputy tried to get in touch with a certified sign language interpreter, through the 911 center, but was unable to do so.)
The neighbor who knew sign language told the deputy, according to the report, that "the only thing he was able to get from [Hall] was that there was someone over the house four hours earlier named 'ed' and he urinated in the front yard."
Hall has no prior arrest record in Flagler. Wednesday evening he remained at the county jail on $10,000 bond.