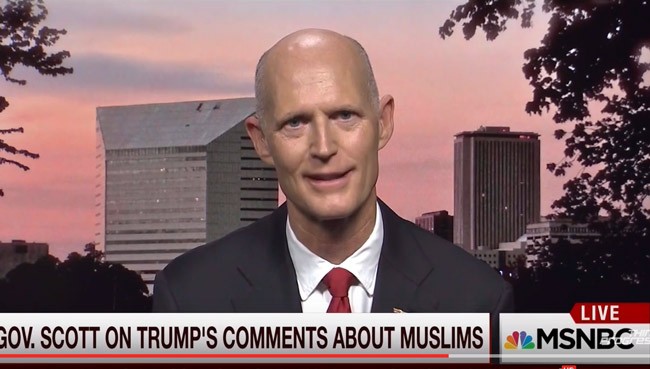 In a CNN interview Wednesday evening, Anderson Cooper and Donald Trump had this exchange:
Cooper "Do you think Islam is at war with the West?"
Trump, without hesitation: "I think Islam hates us. There's something, there's something there, that–there's a tremendous hatred there. There's a tremendous hatred. We have to get to the bottom of it. There is an unbelievable hatred of us."
Cooper: "In Islam itself?"
Trump: "You're going to have to figure that out, OK? You'll get another Pulitzer, right? But you're going to have to figure that out. But there's a tremendous hatred, and we have to be very vigilant, we have to be very careful, and we can't allow people coming into this country who have this hatred of the United States and of people that are not Muslim."
Cooper: "I guess the question is, is there war between the West and radical Islam, or is there war between the West and Islam itself?"
Trump: "Well, it's radical but it's very hard to define, it's very hard to separate, because you don't know who is who."
No surprise. Trump going back to his Mexicans-are-rapists slur in June established himself as a bigot who'd tailor his campaign on the threads of any hate that resonates with apparently masses of Americans who have been longing for the man who'd give them license finally to wear their brown shirts in the open. That's Trump. That's his supporters who, in the end, represent a disturbingly large but still relatively contained minority of die-hard whites and idiots.
When the support crosses over into a more significant sphere and Trump hatred gets amplified in our name, it's a bit of a more serious problem. New Jersey long ago dug Chris Christie's political grave before he so enthusiastically grabbed the shovel a couple of weeks back to make himself Trump's chief acolyte. But now we have our own Rick Scott smearing Florida in Trump's name, and at the expense of Muslims.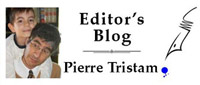 Scott has openly all but endorsed Trump, penning a bromance-like valentine to Trump in USA today a few weeks ago and angling himself as a vice presidential choice since, on the assumption I imagine that two fraudsters are better than one. Scott was on Joe Scarborough's show this morning. In a two-minute stretch, Scarborough again and again asked him about Trump's statement regarding Islam.
"Would you tell your friend Donald Trump that he should walk back his statements that Muslims, that Islam, hates America? Do you think Muslims in the state of Florida hate America?" Scarborough asked him. It's not a small matter. Florida's Muslim population, estimated at 164,000 in 2010, forms the largest non-Christian group in the state (as it does in about 20 states), Muslims' work ethic, as with immigrants generally, is humbling, and judging from the veils and impromptu prayer bursts at Disney, it forms no small part of the state's tourism business. So for a governor eager to spur the state's economy and its welcoming image, welcoming Muslims should be a no-brainer.
---
The smear on Florida is the latest of many lows in a lurid election season.
---
Not, apparently, to this governor's brain. Scott refused to disavow the blanket bigotry. He dodged. He weaved. He pulled a Rubio, steering the conversation to a scripted talking point, all the while smiling that translucent smile that veils loathing in pearly whites.
It was no different than if he'd been asked to disavow any one of those endless variations of hate's stereotypes (about Mexicans, blacks, gays or Jews) and he'd refused. Had he done so, his political life would have ended before sundown. But because his targets are Muslims, he skates.
Scarborough was furious. "I want you to answer the question," he said. "Do you personally think that Islam is a religion that hates America?"
Scott, among the governors who wanted Syrian refugees prevented from entering the state, kept up his charade: we have a lot of Muslims in the state, a lot visit as tourists, he said, "we all get along," but he would not refute the notion that Muslims hate America. It was reminiscent of Trump's initial refusal to disavow the KKK, though Trump at a stretch could be excused for maybe, maybe having misunderstood the question. There was no such misunderstanding here. Scott was asked simply whether he renounced the absurd notion that Muslims hate America. He refused.
I've never been a fan of Scott. But that's generally had to do with what's passed as governance. I never took him to be a bigot. Not a blatant one, anyway. Now he is.