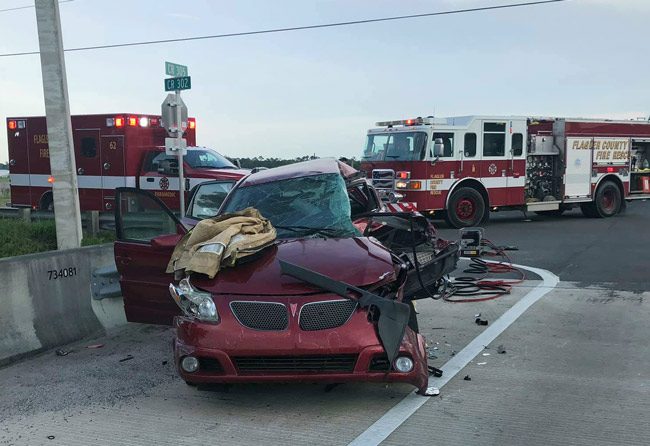 Last Updated: May 18
The intersection of County Road 302 and County Road 305 in west Flagler, one of the most crash-prone intersections in the county, was the scene of another t-bone collision between vehicles Saturday evening, leaving Brandon Taylor Schwartz, 18, of Ormond Beach, in critical condition.
The Florida Highway Patrol investigated the crash but did not issue a report until six days after the crash, as has frequently been the case with Flagler crashes recently.
According to Flagler's 911 dispatch notes, the crash occurred at 6:50 p.m., involving a white truck and a maroon Pontiac Vibe. The Pontiac was struck violently on the driver's side, smashing in that side of the car and entrapping the driver, who was knocked unconscious by the blow and was bleeding from the mouth.
Schwartz came to moments later, barely, but was unable to speak and was seriously injured. There were no reports of injuries to Michael Emerson Snyder, the driver in the Dodge Ram.
Fire Flight, Flagler County's emergency helicopter, launched at 7:05 p.m. Firefighters managed to extricate him by then and take him to Fire Flight after administering considerable aid. Fire Flight took off for Halifax hospital in Daytona Beach at 7:24, reaching the hospital. It was back at the airport in Flagler at 8:14.
A caller to 911 reported that before the crash the caller had witnessed the Pontiac "swerving all over the road." The Florida Highway Patrol report states Schwartz ran a stop sign. The crash is not attributed to driver's distraction. Svhwartz was not suspected of having been impaired, and no test was given.
The Flagler County Sheriff's Office was initially at the scene, turning the scene over to FHP around 7:45 p.m. Flagler County Fire Rescue was among the responders to the scene. County Road 305 was shut down at West State Road 100 until the crash scene was cleared later that evening.